FSD Hot Rod Ranch creates 'rugged truck' for national company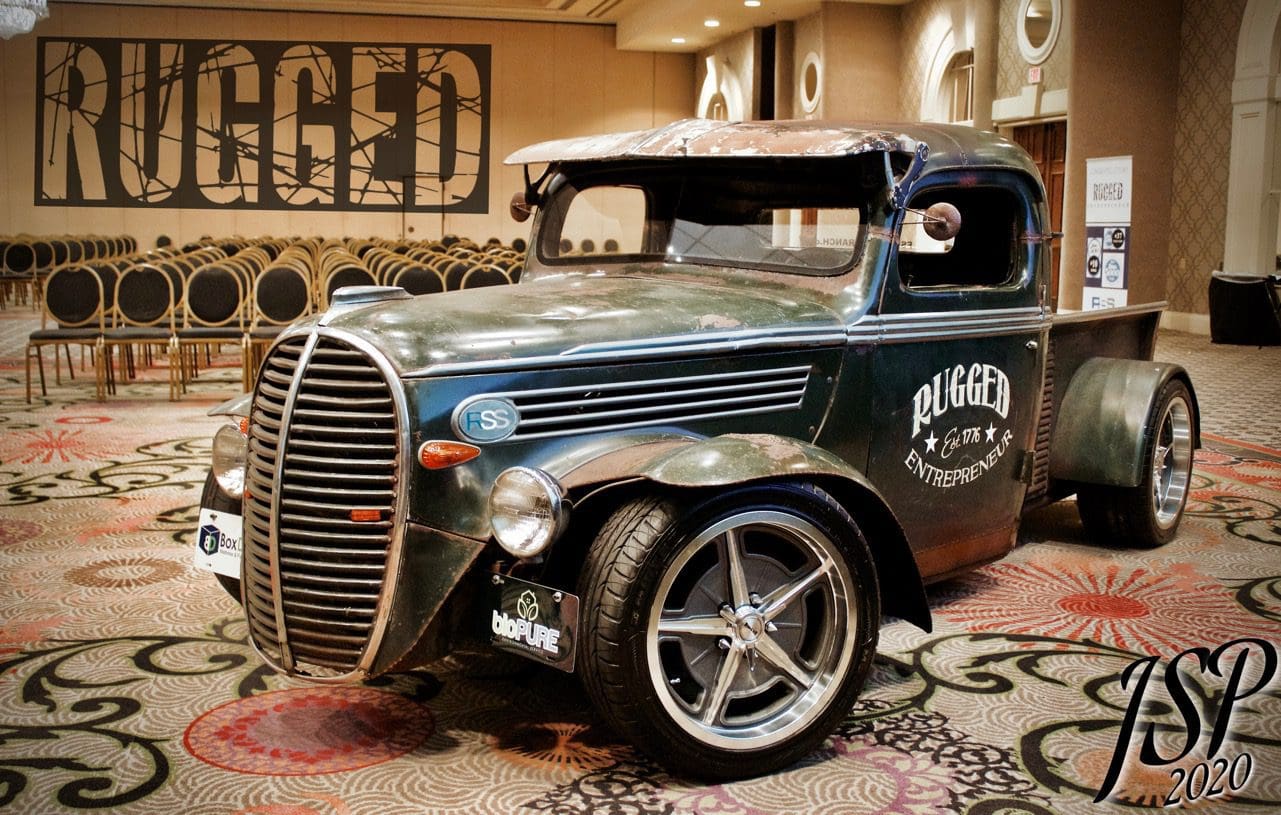 The Phelps family—father Steve and children Josh and Loreanna—owners of the FSD Hot Rod Ranch in Eustis, recently traveled to Louisville, Kentucky, to unveil their first commissioned build.
Scott Andrew, founder and CEO of Columbus, Ohio-based Retail Service Systems (RSS) had visited the FSD ranch looking for a "rugged truck" to use as the corporate "mascot," a news release states. RSS has been ranked as one of lnc. Magazine's 5,000 Fastest Growing Companies for several years and has several branded businesses that it franchises throughout the United States.
Scott told the FSD team that one his franchise businesses, BoxDrop, with more than 350 locations, would be holding its annual meeting in January in Louisville. He explained his vision to unveil a "rugged truck mascot" during this event because RSS refers to its business owners as "rugged entrepreneurs." He added that he was in the process of writing a book entitled "The Rugged Entrepreneur." He wanted a "rat rod"-type vehicle covered with corporate identification for RSS, BoxDrop and other franchise entities.
FSD has a full shop and reconditioning center at the ranch and an expert team with many years of combined restoration and build experience. However, the team had never accepted a job for a complete build of a specialized vehicle, the release states. But Steve Phelps, the FSD founder and a rugged entrepreneur himself, could not pass up this opportunity.
FSD located the perfect rat rod, a 1939 Ford pickup, which could be rebuilt into the corporate vehicle sought by Scott. FSD shop manager Jeff Allen and his team of Dan Belanger (woodworking), Lee Ash (mechanic), Federico Monjaras (mechanic) and Ray Aviles (detailer) worked tirelessly to complete the job on time and to ensure that it was a quality vehicle to represent RSS rugged entrepreneurs.
Steve, Josh and Loreanna each participated in the design process, as well as sourcing parts and materials. Additionally, they coordinated with several outside vendors (including Mikey Ayers at Pinstriping by Mikey in Daytona Beach, David Green at Swamp Daddy Airboats in Eustis, and James Lindhurst at Boathouse Upholstery in Tavares) to create the 1939 Ford Rugged Entrepreneur.
For its annual meeting and convention, RSS rented the Old Forester Bourbon Distillery in downtown Louisville for about 120 of their top "rugged entrepreneurs," as well as the Phelps family, the release states. The keynote speaker was Donovin Darius, a former pro football player with the Jacksonville Jaguars as well as an author and rugged entrepreneur. Keith McCracken, FSD shipping manager and driver, brought the '39 Ford into the ballroom and covered it with an FSD custom black cover.
The following morning, 600 RSS and BoxDrop participants arrived for the convention, and Scott asked them to form a semicircle around the covered truck. Josh Phelps showed a short video about the build, and when it ended, the room lights went down and the truck's unique lighting display was turned on. When the room lights came back up, the crowd went wild for the truck.
In the release, the Phelps family and FSD team thanked Scott and RSS for the opportunity to build their company mascot and for an experience they will never forget.
FSD Hot Rod Ranch is a family-owned classic car and hot rod dealer with a sales office in Orlando and a reconditioning center at the family ranch in Eustis. The company has sold more than 500 classic and hot rod vehicles in the past three years and taken in more than 300 classic and hot rod trades. For more information, visit http://fsdhotrodranch.com.