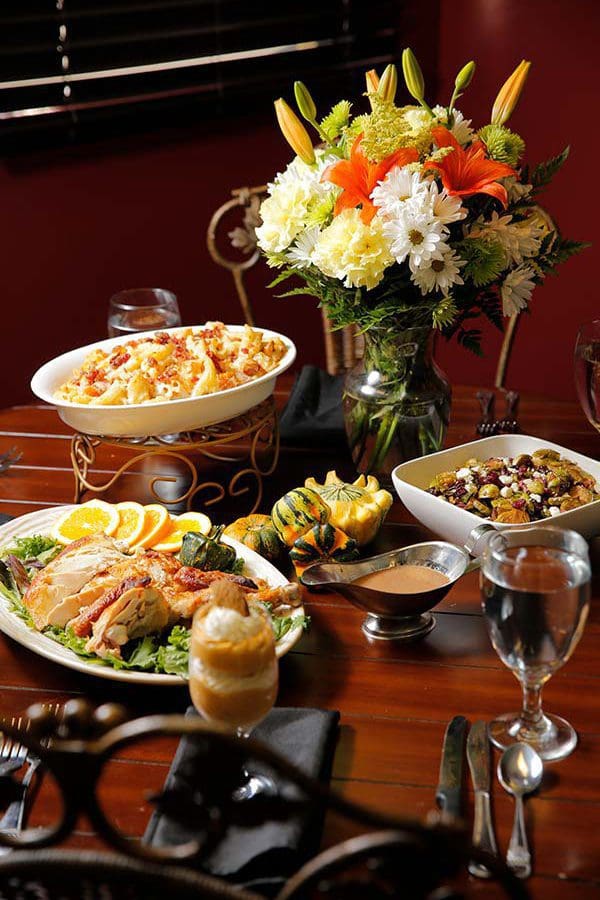 While the turkey may be out front, it's the side dishes that make it a star.
Some of my fondest memories with family, friends, and loved ones have been around the table during the holidays. I mean, sure, every family has their fair share of crazy people, but when you pass the platters around, somehow that disappears, even if only for a moment.
So, how do you prepare the perfect Thanksgiving meal? Maybe it's just me, but I am all about the side dishes at a holiday meal. You can have turkey so many ways, but who turns down an awesome gravy or a fun new side dish? As always, my rules for entertaining do not change. Eighty percent of your work should be done before guests arrive. You may be the host, but you deserve to enjoy it, too! Secondly, if you're going to try new recipes, which I always encourage, try to be conservative with how many you try at one meal because this will help reduce the preparation stress. Lastly, when someone offers help, take it. Many hands make light work. Here are some of my favorite side dishes that will turn up the volume on your Thanksgiving spread.
I totally admit that I am a sucker for good Brussels sprouts. Like most items, when cooked properly they are amazing! I found and tweaked this recipe a few years ago and absolutely love the combination of sweet, salty, tangy, and savory. They are addictive!
Balsamic Brussels sprouts with feta cheese and cranberries
Ingredients
1 pound Brussels sprouts, trimmed and halved 
1 large red onion, chopped
6 cloves garlic, chopped
1/3 cup balsamic vinegar 
1/4 cup olive oil
2 tablespoons maple syrup
Salt and ground black pepper to taste
1/4 cup walnuts 
1/4 cup sweetened dried cranberries 
2 ounces crumbled feta cheese
Directions
Preheat oven to 400 degrees.
Combine Brussels sprouts, red onion, and garlic in a large bowl. Drizzle balsamic vinegar, olive oil, and maple syrup over the sprouts mixture and toss to coat. Season vegetables with salt and pepper; pour onto a baking sheet.
Roast vegetable mixture in preheated oven until the sprouts are tender and the sauce is thickened, about 30 minutes.
Transfer vegetables and sauce to a large serving bowl; add walnuts, cranberries, and feta cheese and stir to mix until cheese is melted, 10-12 minutes.
---
I'm fairly certain squash of one sort or another was present at the first Thanksgiving. This recipe pays homage to my heritage and to a "healthy" macaroni and cheese—two things I hold sacred. Also, this is great to make ahead and reheat before your meal.

Roasted butternut squash and bacon pasta
Ingredients
3/4 teaspoon salt, divided
1/2 teaspoon dried rosemary
1/4 teaspoon freshly ground black pepper
3 cups (1-inch) cubed peeled butternut squash
Cooking spray
6 slices of bacon slices (raw)
1 cup thinly sliced shallots (about 3 large shallots)
8 ounces uncooked penne pasta
1/4 cup all-purpose flour
2 cups 2 percent reduced-fat milk
3/4 cup (3 ounces) shredded sharp provolone cheese
1/3 cup (1 1/2 ounces) grated fresh Parmesan cheese
Directions
Preheat oven to 425 degrees.
Combine 1/4 teaspoon salt, rosemary, and pepper. Place squash on a foil-lined baking sheet coated with cooking spray; sprinkle with salt mixture. Bake at 425 degrees for 30 minutes or until tender and lightly browned. Increase oven temperature to 450 degrees.
Cook the bacon in a large nonstick skillet over medium heat until crisp. Remove bacon from pan, reserving 1 1/2 tsps. drippings in pan; crumble bacon. Increase heat to medium-high. Add shallots to pan; sauté 8 minutes or until tender. Combine squash mixture, bacon, and shallots; set aside.
Cook pasta according to the package directions. Drain well.
Combine flour and 1/2 tsp. salt in a Dutch oven over medium-high heat. Gradually add milk, stirring constantly with a whisk; bring to a boil. Cook 1 minute or until slightly thick, stirring constantly. Remove from heat. Add provolone, stirring until cheese melts. Add pasta to cheese mixture, tossing well to combine. Give it a quick taste and season with salt and pepper to taste. Spoon pasta mixture into an 11×7-inch baking dish lightly coated with cooking spray; top with squash mixture. Sprinkle evenly with Parmesan cheese. Bake at 450 degrees for 10 minutes or until cheese melts and begins to brown.
To wrap up a great feast, you need a mighty dessert. Everyone has pie (and for the record, pie is still my favorite Black Friday breakfast), but let's step it up a notch and make a pumpkin mousse parfait. It meets all the requirements of a dessert when I'm entertaining. It's easy, it can be made ahead, and it is delicious!
---

Pumpkin mousse parfaits 
Ingredients
1/4 cup dark rum
1 packet (2 teaspoons) unflavored gelatin powder
1 (15-ounce can) pumpkin (not pie filling)
1/2 cup granulated sugar
1/2 cup light brown sugar, lightly packed
2 extra-large egg yolks
2 teaspoons grated orange zest
1/2 teaspoon ground cinnamon
1/4 teaspoon ground nutmeg
1/2 teaspoon kosher salt
1 1/2 cups cold heavy cream
1 1/2 teaspoons pure vanilla extract
Sweetened whipped cream
10 chopped ginger cookies
Directions
Place the rum in a heat-proof bowl and sprinkle the gelatin over it. Set aside for 10 minutes for gelatin to soften.
In a large bowl, whisk together the pumpkin, granulated sugar, brown sugar, egg yolks, orange zest, cinnamon, nutmeg, and salt. Set the bowl of gelatin over a pan of simmering water and cook until gelatin is clear. Immediately whisk hot gelatin mixture into the pumpkin mixture. In the bowl of an electric mixer fitted with a whisk attachment, whip the heavy cream and vanilla until soft peaks form. Fold the whipped cream into the pumpkin mixture.
To assemble, spoon some of the pumpkin mixture into parfait glasses, add a layer of whipped cream, then some chopped cookies. Repeat, ending with a third layer of pumpkin. Cover with plastic wrap and refrigerate for four hours or overnight. To serve, decorate with whipped cream and ginger snap cookies (top with cookies right before serving).