Chick-Fil-A In Lady Lake Is Closing March 30th!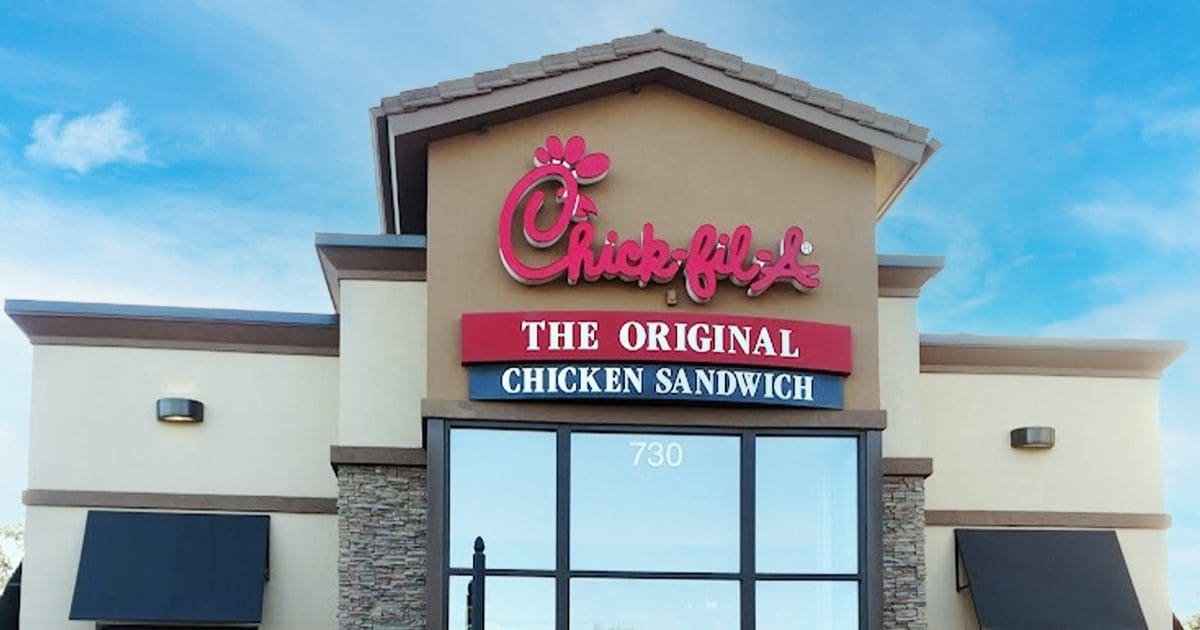 The extremely popular restaurant is shutting down for a remodel
The most popular restaurant in Lady Lake is closing down for a remodel of the entire facility. Residents of the community were shocked when they showed up to Chick-Fil-A this morning in Lady Lake where this sign greeted them. The most popular restaurant in The Villages will close its doors for a complete remodel of the building. At times the delicious chicken establishment was often seen with lines stretching out to highway 441 in The Villages. The already difficult to navigate highway due to the ongoing construction was made sometimes even more difficult by hungry motorists attemping to get to the location.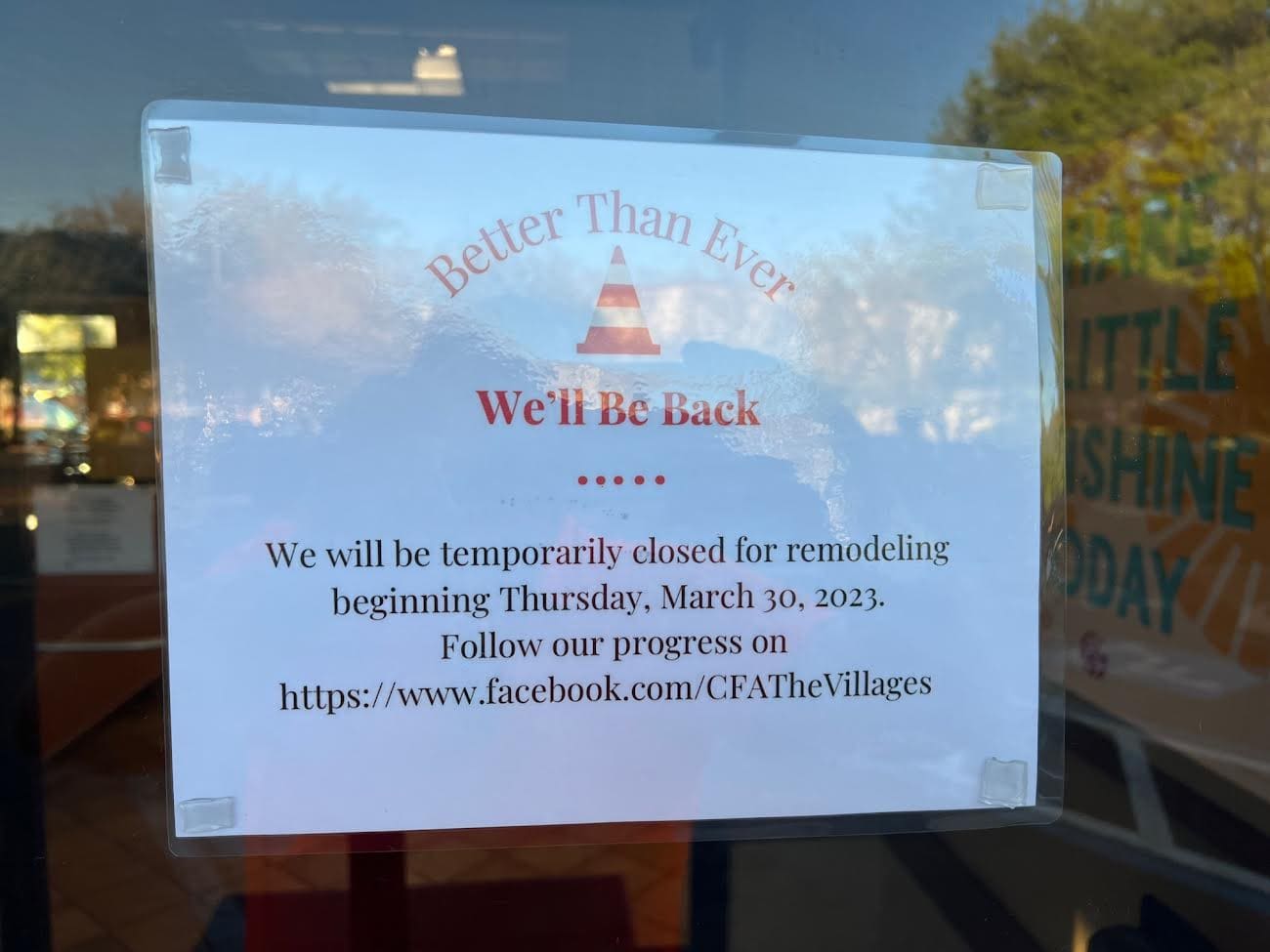 Unfortunately that often created bottlenecks that would affect the flow of traffic. Not to mention the lines often took on average 25 to 30 minutes to get through during peak lunch hours. The quaint location opened its doors in 2006 long before the influx of people to this area occurred. Since then the population of Lady Lake and The Villages skyrocketed.
Complete Remodel Makeover
We have been told that most of the building will be completely torn down leaving perhaps a few pylons standing. The entire inside will be gutted and replaced with a much more modern feel. We have also been told that the childrens play structure will be demolished and more seating added in that section of the establishment.
The finished product will be much better than anything in the area. This particular eatery has suffered from lines out the door and people standing around waiting for food. This will not be an issue when the renovated building opens.
Faster, Sleeker and Less Traffic
The building will have dedicated areas for Door Dash Drivers, Uber Eats and other pickup orders on a completely separate side than where it is located now. At the moment gig app workers stand with dine in or take out patrons which creates a massive potentially hazardous situation at the door. Separating people and spreading them out will be much better for safety and logistically for the workers.
The idea will be to build the new facility on the same footprint but make it appear larger. This has been done many times as of late. Recently designed facilities such as The Dairy Queen in Oxford Florida, Taco Bell in Lady Lake, and Kentucky Fried Chicken in The Villages all make use of a small footprint seeming larger based off of design. Taco Bell is the most recent renovation in Lady Lake and that building is much more friendly to customers.
Faster Drive Through Line
One of the main concerns people had about this location was the drive through line. This is one of the biggest issues to be addressed with this new facility. The drive through lane has long been a problem and patrons have voiced their concerns. You will be happy to know that Chick-Fil-A takes those concerns and listens to the feedback. The amount of traffic is absurd at times. The new location will implement two lanes like most Chick-Fil-A locations with high volume. This should help the traffic situation which currently, is in dire conditions during peak hours of 11:15am – 2:30pm. The lunch rush should not be as hectic with a new location.
Chick-Fil-A Provides Superior Service
As busy as Chick is, they provide a much better service than many other fast food establishments. The food is always served warm and fresh. The employees serve you with a smile. The entire experience is always enjoyable. This is why you see so many families, workers and gig app workers almost lined up out the doors. They simply do it better than any place in the area. Shutting the building down will certainly have an impact on traffic in the area as well as construction so be aware of that.
Rest assured once this location opens again it will take the reign of busiest establishment in Lady Lake. During its absence people will need to get their fast food chicken crave, some place else. There are local places like McDonalds, Panera Bread, Wendy's, Taco Bell, Panda Express and Burger King that can be your backups while the location is closed.
Photos Provided By
Kyle Coppola
Sand C
De Paris
David Gonzalez
Nancy Callas
Kyle Coppola was born in Newton, Massachusetts and received his Bachelor of Fine Arts in Communications from Curry College in 2016. After traveling to Florida on a family vacation, he decided he could not get enough of the warm weather and made the move from snowy Massachusetts to central Florida 8 years ago.
For the last decade Kyle has gained valuable experience in social media content creation, marketing and sales, writing, video production, sports announcing and even broadcasting for local radio stations, such as FM 102.9 in The Villages and FM 91.5 in Massachusetts. Every year he volunteers at The Villages Charter High School as a play-by-play sports announcer for the football games as well as a public address announcer for the basketball games, including the annual Battle at The Villages Tournament.
Outside the office Kyle is a husband and father to two beautiful girls along with their cat. In his spare time he likes to spend time with his family, travel, play golf and swim. He is also a huge sports junkie and even bigger motorsports fan and loves to attend racing events when he can.
Share This Story!