what's cooking? the instant pot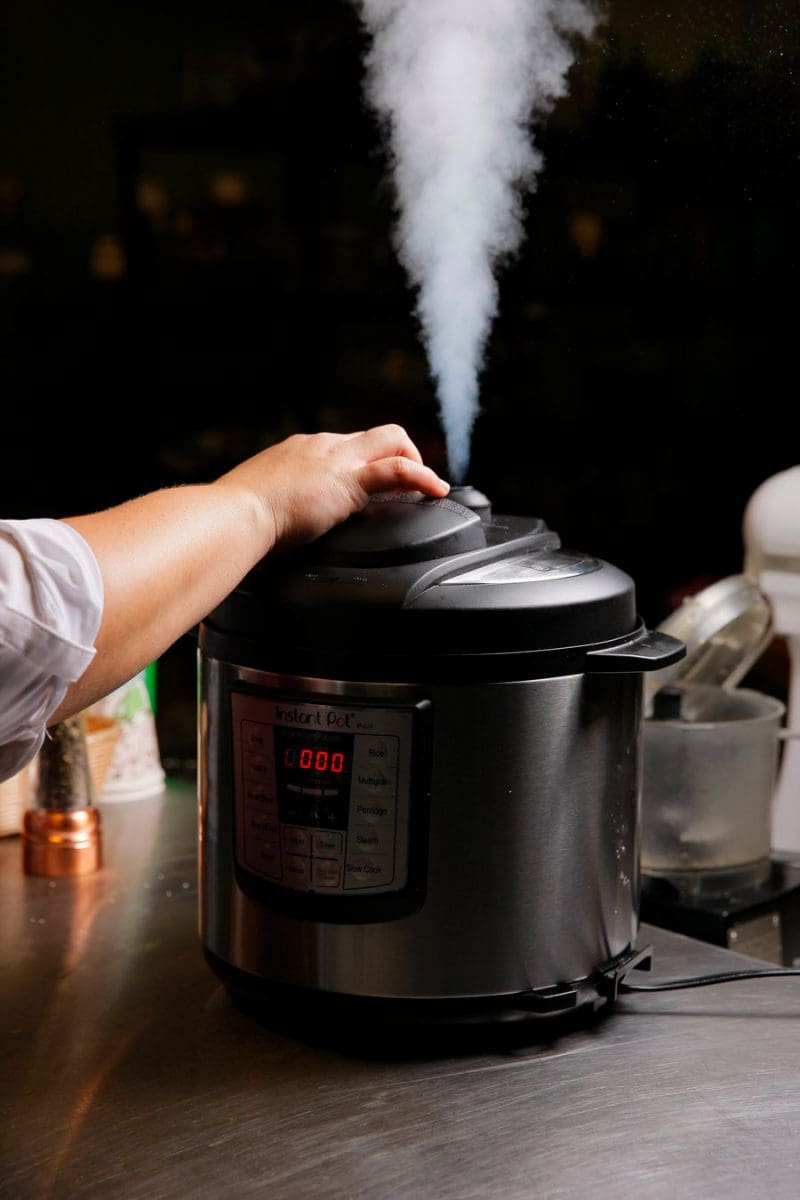 ---
Story: Jessica Flinn
---
Maybe it's just me, but does time fly by faster now than ever before? I can't believe it's January! Maybe it's because we are so busy being busy that time just disappears. When thinking about the New Year and new gadgets in the kitchen, I asked myself: What am I looking for in a new kitchen toy? The answer was simple. It should save me time. Because truly, at the end of the day, isn't time the one thing we always want more of? Well, that and money, but I digress.
Have you heard about the Instant Pot? You may have gotten one for Christmas—and what a Christmas present it is! The Instant Pot is an electric pressure cooker, rice cooker, stockpot, and sauté pan all in one. Before I sound like an infomercial for Instant Pot, I must say I bought this due to peer pressure. Many of my friends, both chef and non-chef, had purchased one. So naturally, I had to give it a go.
I have a natural hesitation about pressure cookers—that pressure release valve is terrifying! This fun gadget takes the danger out of pressure-cooking. Pressure cookers work by trapping steam in a sealed pot that creates enough pressure to break down and infuse food much faster than boiling or other traditional cooking methods. There are many electric pressure cookers on the market now, so the recipe and methods I share in this article also may be utilized with them.
I have a firm belief that unitasking gadgets are a no-no in my kitchen and a waste of space. Seriously, we need a gadget to slice an avocado now? A paring knife and teaspoon can do the trick and save me that money! But having a gadget that multi-tasks appeals to me. Why have a slow cooker, a rice cooker, and a pressure cooker taking up space in my cabinets, when I can have one piece of equipment that does the job?
Fun fact about this Instant Pot—sometimes it's not always faster than traditional cooking methods, but perhaps makes them easier. For example, I can make boiled eggs in my Instant Pot in five minutes. Now granted, it takes five minutes to get to pressure and then five minutes to steam, which means it takes about the same amount of time that boiling eggs in a traditional manner would. BUT! Do you hate fighting to peel boiled eggs? It's the worst! Turns out, steaming eggs, makes their shell come right off. It's very appealing. Get it? A-peel-ing? Ba-dum-tssss!
Let's talk rice. I think people believe it's a faux pas to use a rice cooker. Take a look next time you're in your favorite Asian restaurant. I bet your bill they are using rice cookers in their kitchen. Because rice cookers are awesome! When you follow directions properly, they make perfectly fluffy rice, and then keep the rice nice and warm while waiting to serve it. This is yet another reason I love my Instant Pot, the rice cooking setting! It takes about 10 minutes to cook most white rice and about 20-25 minutes to cook brown rice. That saves me some serious time!
We've talked about the convenience, we've talked about the time saving, but one last thing I love about this pressure cooker—it really does build unbelievable flavor in a short period of time. I've found, because of this, I love making soups in my Instant Pot. I can make a ham and 15-bean Soup in 45 minutes—from dried beans. This is compared to the typical overnight soaking and then two-hour cook time. That's incredible!
Another dish I've made that many of you may enjoy is that addictive sausage, kale, and potato soup from a well-known Italian restaurant chain (while you binge on unlimited breadsticks or maybe that's just me). While it's nice to have someone else cook for me, I love the idea of being at home in my pajamas more. A few tips for making this: plan 30 minutes from start to finish, including chopping, cooking, and serving. You'll need 10 minutes downtime for the pressure cooker to do its magic. You could make this soup in a standard pot in about 30 minutes, but the flavor would not be nearly as developed. While it is true, low and slow is my preferred method of making soups, if you're pressed for time, trust me when I say, the flavor developed from pressure cooking soups is far soup-perior. (Soup-perior…. Ehhh? Ehhh? OK, I know, I'm terrible!)
Try this delicious recipe for Sausage, Kale, and Potato Soup (you may have to make your own breadsticks though. Sorry, friends).
Sausage, Kale, and Potato Soup
• 1 pound hot Italian sausage, casing removed
• 4 slices raw bacon, chopped
• 5 large potatoes, unpeeled and sliced ¼-inch thick
• 1 onion, chopped
• 4 garlic cloves, minced
• 5 cups chicken stock (I prefer low sodium)
• 2 cups fresh kale, (sliced into ribbons)
• 1 1/4 cups heavy cream
• 1 cup grated parmesan cheese
• Salt and pepper to taste
Instructions
Select the sauté or browning function on your pressure cooker and allow it warm up, this takes only a minute or so. I want my bacon shatteringly crispy so I use the highest heat possible on the sauté function. Add the bacon to the pressure cooker cooking pot and cook until crisp. Remove bacon to paper towel-lined plate, this will be a garnish when it's time to serve. Keep that delicious bacon grease in the pressure-cooking pot for flavor! Add your chopped onions to the pot and sauté two to three minutes. Next, add your hot Italian sausage, breaking up into pieces and sauté until browned, about 3-4 minutes. Add the chopped garlic to the cooking pot during the last minute of sautéing onions and sausage. Now add chicken broth and potatoes. Lock on the Instant Pot lid and close the pressure valve to seal. All you do now is select the soup setting and set your timer for 8 minutes. This is when you grab a glass and wine and change into those jammies! After 8 minutes, release the pressure. I do a quick release because I'm impatient and by this point, probably hungry. You'll want to add your fresh kale to the pot, heavy cream, and Parmesan cheese at this time. Stir well, and the heat of the soup wilts the kale perfectly. Season to taste with salt and pepper and serve immediately. Just be sure to garnish with that bacon!