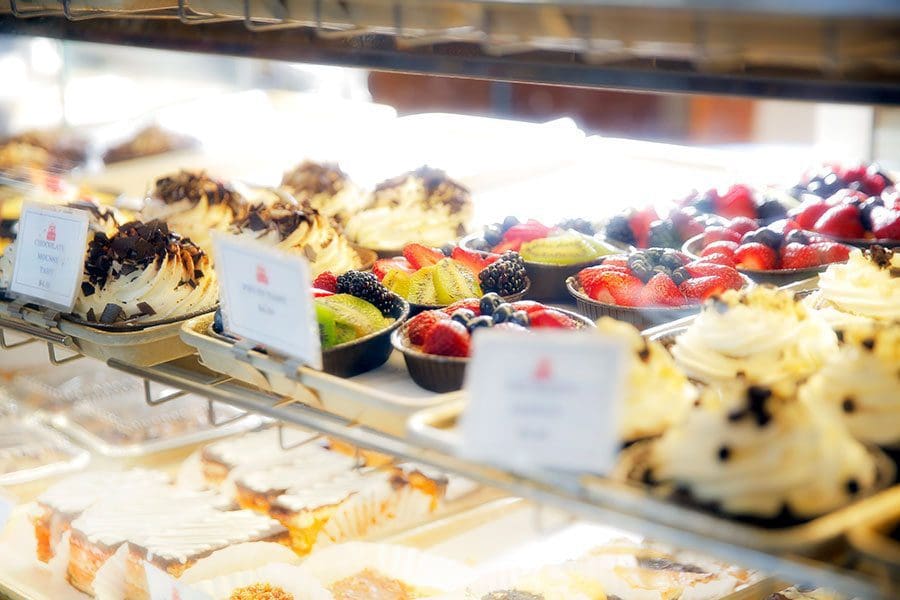 Hidden gem for sweet confections
Picturesque Bavarian-style murals on the building's exterior, an inviting beer garden, German cuisine, and some of the most delicious sweet delicacies await you at Yalaha Bakery on County Road 48.
The bakery's breads, pastries, cakes, cookies, and pies are ideal for those who want something special for their holiday meals.
Several pies will be available for Thanksgiving, including the bakery's famous German apple pie that stands about 6 inches tall, while a smaller version features a streusel topping. Other popular varieties include pumpkin cheesecake pie, pumpkin pie, apple, peach, blueberry, rhubarb with apple, pistachio cheesecake, and raspberry swirl cheesecake, according to Debby Kraemer, who works in customer service for the bakery.
"There are days when we run out of everything," she says, noting the Bee Sting is one of the most beloved desserts: A yeast cake with Bavarian cream in the middle topped with a caramelized glaze of slivered almonds.
Customers can place holiday orders through the bakery's website, preferably no later than two weeks before Thanksgiving since they bake hundreds of pies and other confections for the holidays and ship orders all over the country.
Those who miss or crave German cuisine can savor several menu offerings at the small deli. Among the popular items are the Reuben sandwich served on thick, hearty pretzel cheese bread—a completely different taste sensation than the traditional Reuben on rye. It's served with tasty potato salad and sauerkraut.
I enjoyed the Hunter schnitzel (pork cutlet topped with mushroom sauce) served with spätzle (small egg noodles) and red cabbage with a nice hint of cinnamon. The aroma took me back to my late German grandmother's kitchen.
My friend and I highly recommend saving room for dessert because the bakery has an array of delightful European confections. It's actually difficult to choose! We loved the cherry streusel with sweet Bavarian cream and we couldn't resist buying some sweet treats to take home.
Yalaha Bakery also serves gluten-free products, including cookies, a multigrain bread with sunflower seeds, and several pastries.
"They taste awesome and are surprisingly very good…I didn't even know they were gluten-free," says Debby, showing some of the items, including a pretty flourless chocolate cake with the tasty texture of fudge.
This Lake County gem is open seven days a week.
Yalaha Bakery // 8210 CR 48, Yalaha // 352.324.3366
Originally from Anderson, Ind., Theresa worked for The Herald-Bulletin for many years. After experiencing a winter with 53 inches of snow, her late husband asked her to get a job in Florida, and they headed south. Well known in the area, Theresa worked with The Daily Sun and The Daily Commercial prior to joining Akers.
Share This Story!