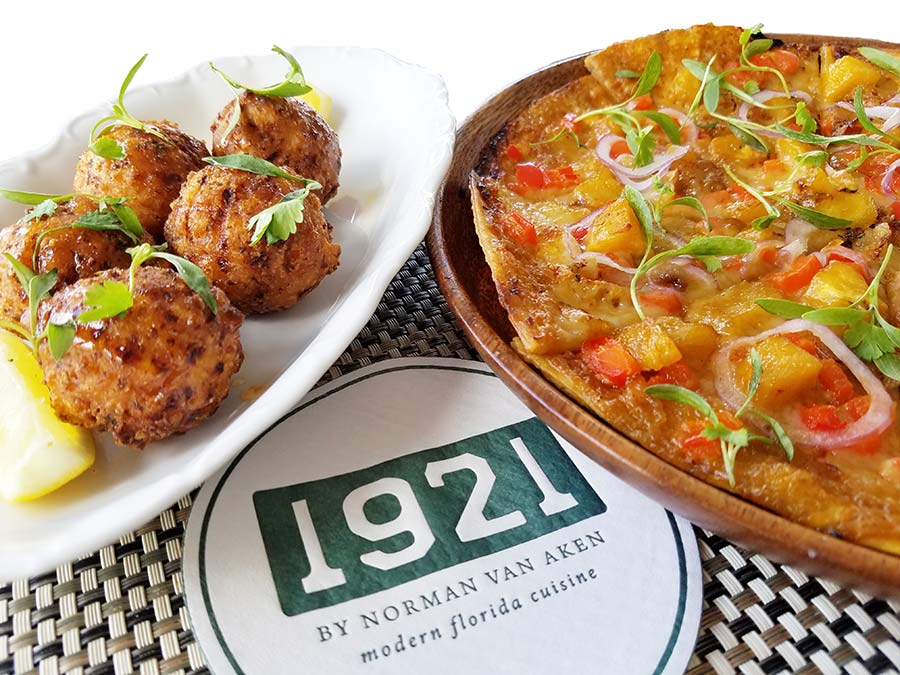 Artistically inspired dining
After walking through a quaint courtyard, 1921 by Norman Van Aken is wonderful. Art surrounds you, but you'll enjoy the food as much as the feast for the eyes.
Each table is a lovely piece of wood left in its natural shape to reveal its splendor. The chairs at each table, however, are styled differently and lend a whimsical touch to the artistic setting.
We began our lunch with conch fritters with hot pepper jelly, which were scrumptious. The delicate crust was the perfect complement to the delicious conch, and the jelly gave it that special sweet spiciness we loved.
I ordered the Full Moon Saloon Fish Sandwich, which was grilled grouper (the fish changes daily) with lemon aioli, Haitian pikliz, tomato, and house frites. The Haitian pikliz was a bit spicy, but, again, it complemented the fish. The house frites were crisp and perfect, just the way I like them.
My friend had beer-battered fish tacos on flour tortillas with avocado and Zellwood corn relish. As we always share a taste of each other's meal, I can attest to how delicious the crunchy fish was in the toasted tortillas.
Dessert was a brownie sundae with vanilla ice cream, chocolate sauce, bourbon caramel, and vanilla whipped cream. Yes, that all goes together beautifully, and we forced ourselves not to lick the bowl.
Since 1921 by Norman Van Aken partners with the Modernism Museum, keep an eye out for special exhibits that include specially priced dinners.
1921 by Norman Van Aken // 142 E. 4th Ave., Mount Dora // 352.385.1921
Leigh Neely began her writing career with a weekly newspaper in the Florida panhandle, where she not only did the writing, but delivered the papers to the post office and dispensers. She has been writing ever since for a variety of newspapers and magazines from New Jersey to Leesburg. With her writing partner, Jan Powell, Leigh has published two novels as Neely Powell.
Share This Story!