801 City Grille: Get grilled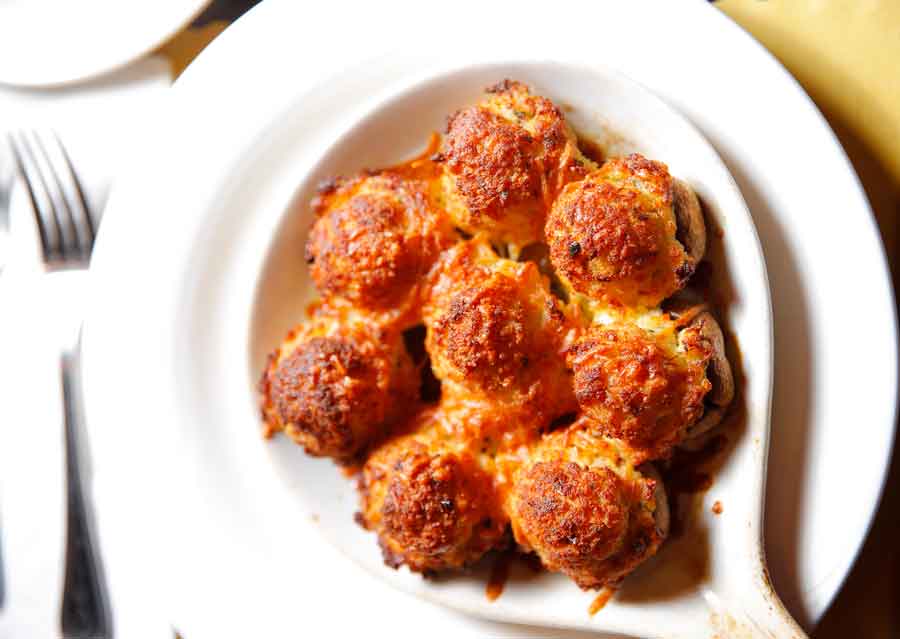 ---
Story: Theresa Campbell photos: fred lopez
---
the heart of Clermont's historical downtown district sits 801 City Grille, which provides a pleasant ambiance and beautifully warm décor that immediately sets the tone for a relaxing experience.
My dining companion and I wished the background music had been just as soothing.
The restaurant's gorgeous atmosphere begs for classical music or strings rather than the slightly distracting radio talk/music we heard on a recent weeknight. Luckily, we were won over with an appetizer of fresh mushrooms stuffed with delicious crabmeat, and it had just the right amount of a spicy kick. Montrose Chicken Frisco, featuring boneless chicken sautéed and smothered with mushrooms, onions, and topped with Swiss cheese and a sherry wine sauce, is listed as one of several house specialties.
The 801 City Grille is also noted for its slow-roasted prime rib, an array of salads, appetizers, sandwiches, steaks, seafood, and other chicken dishes. My friend chose the Chicken Parmesan, featuring three boneless fresh chicken breasts lightly breaded in Italian bread crumbs, sautéed, and topped with Marinara sauce and Mozzarella cheese that was baked and served over Angel Hair Pasta. "It's excellent," she said, pleased by the large serving, which meant she could take half home for her husband to enjoy.
I ordered the prime rib, yet our server returned and revealed the cut of beef was chewier and not as tender as the restaurant wanted to serve, so my order was changed to a delicious 14-ounce New York Steak.
I did appreciate the restaurant charging me for prime rib over the costlier steak.
It's important to keep in mind 801 City Grille is only open for evening hours of 3:30 to 10 p.m.
Monday to Saturday with Happy Hour from 3:30 to 6:30 p.m.
The restaurant has a private banquet room—ideal for groups and special occasion events.
---
801 CITY GRILLE
801 W. Montrose St. Clermont
352.394.6911
Originally from Anderson, Ind., Theresa worked for The Herald-Bulletin for many years. After experiencing a winter with 53 inches of snow, her late husband asked her to get a job in Florida, and they headed south. Well known in the area, Theresa worked with The Daily Sun and The Daily Commercial prior to joining Akers.
Share This Story!