A door closes, a tent opens for Clermont businessman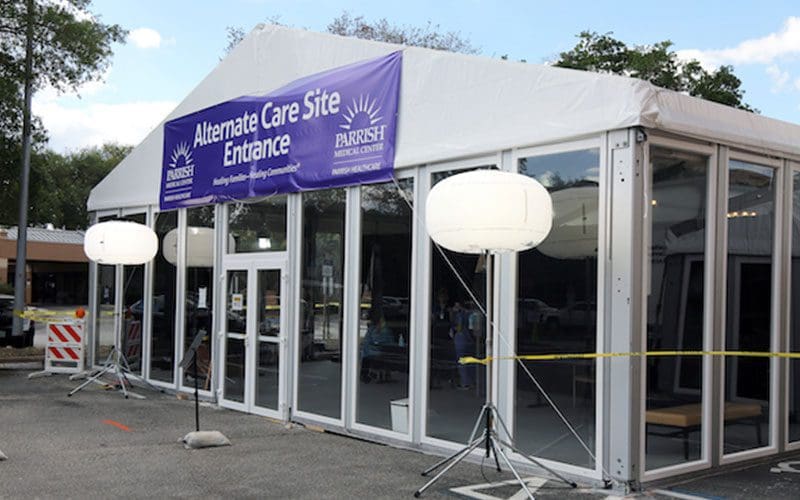 With a business called iRent Everything, owner Jonathan Proto would seem to have all eventualities covered. But when the coronavirus pandemic started to take hold, he decided to make a quick pivot from serving events to serving hospitals, health-care facilities and other businesses.
iRent Everything, an event rental and production company based in Ocoee, handled more than 1,200 events last year. The pandemic cost the company about $40,000 in canceled and rescheduled events in the first week, says Jonathan, a Clermont resident. He cut staff from a high of 25 employees to a team of four plus himself.
He saw two types of business owners: those who took the pandemic sitting down and those who went out and grabbed something new.
"My first reaction was kind of depressing, like, 'Oh, gosh, what am I going to do? This is all falling apart,'" Jonathan says. "And then I was thinking, 'I have all of these tents.'"
Jonathan wanted to expand his tent rentals anyway. In a week's time, he purchased about $45,000 worth of new tents.
"I looked at this as a time to continue to grow and invest in my business," he says.
iRent Everything has installed 25-30 tents for COVID-19 testing sites, including many on the Space Coast, and Jonathan expects to put up about 10 more this week. The locations include Parrish Medical Center, Health First, Nemours Children's Hospital, Walmart and the Pepsi company. iRent Everything also did work at a South Carolina nursing home that experienced a virus outbreak.
Jonathan is looking into Lake County opportunities as testing sites pop up there.
"We're just killing it, we're going at it," says Jonathan, who had not slept for 24 hours as he talked Wednesday after his team completed an overnight tent installation at a hospital.
"I used to sit in the office and not get my hands dirty. I'm out there getting my hands dirty with them. It's fun," he adds.
The tent business took off because of aggressive online advertising. The company quadrupled its spending on Google AdWords under the guidance of marketing man Ben Homan, founder of Skillful Antics in Clermont. Landing pages labeled "Emergency response" and "Tents" were added to the company website.
Jonathan also had the foresight to purchase hundreds of gallons of hand sanitizer, which is sold at irenteverything.com, and 600,000 face masks that he is selling in bulk to hospitals and other businesses.
Despite the success, Jonathan doesn't want iRent Everything to become a "disaster relief company."
"It's been good, but when this is over, I will be returning to high-end events," he says with a laugh.