A healthy, happy sweet tooth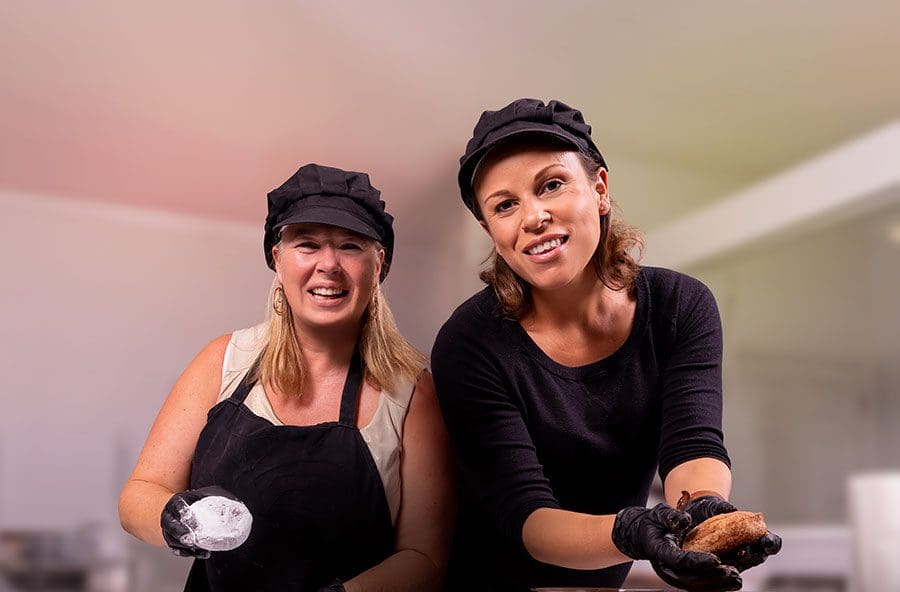 Crave Bakehouse, a producer of nutritious doughnuts, wants to 'make your taste buds sing.'

Even the healthiest of eaters would need incredible willpower once inside a doughnut shop. Nicely arranged in a display case are those sweet, plump, frosting-covered circles of dough. The eyes wander to the Boston cream doughnut, then to the glazed, then to the ones frosted with vanilla and covered in rainbow sprinkles.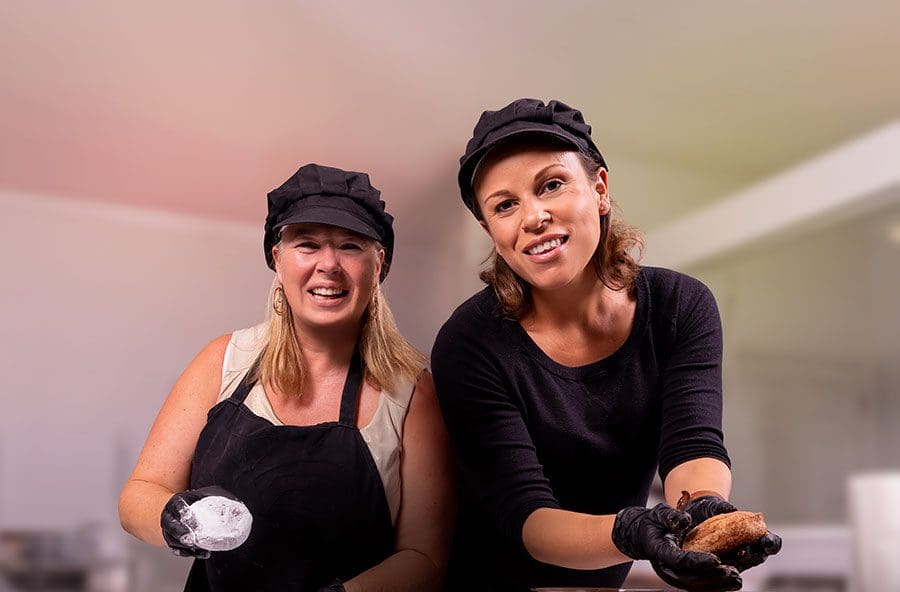 The stomach growls and the mouth waters. They're fluffy, sweet, and inexpensive.
They're also calorie bombs. The average glazed doughnut contains 240 calories, according to the U.S. Department of Agriculture. Not to mention there's very little nutritional value.
What's a health-conscious doughnut lover supposed to do? If you're Barbara Cook and Alyssa Gorospe, you turn your love of doughnuts into a business—with a guilt-free twist.
As owners of Crave Bakehouse, located at 303 N. Grove St. in Eustis, they're making doughnuts that are gluten-free, sugar-free and diabetic-friendly. Their products are compatible with the Paleo diet, which focuses on healthy, whole foods, and the ketogenic diet that encourages participants to consume less than 20 grams of carbohydrates daily.
They opened their company in July. Within one month, they found themselves shipping 1,550 doughnuts each week to consumers across the country who desire the food's warm, soft sweetness without the fat, calories and sugar of traditional recipes.
Some of the flavors offered include: blueberry cake (3 net carbs), cinnamon sugar (2 net carbs), frosted chocolate cake (4 net carbs), chocolate peanut butter drizzle (4 net carbs), glazed pumpkin spice (2 net carbs), orange coconut (3 net carbs), butter pecan (3 net carbs) and lemon poppy streusel (3 net carbs).
Each is made with coconut flour instead of all-purpose flour and is infused with coconut oil, natural sweetener, baking powder, eggs and xanthan gum, a common food additive that stabilizes ingredients from separating.
Curbside pickup is offered for locals. They ship to most states with the exception of Alaska, Hawaii, and Puerto Rico. Half a dozen doughnuts range from $18 to $23, and shipping for one dozen doughnuts cost $3.95.
"There's a very big niche for this," says Barbara, a resident of Eustis. "Thanks to our doughnuts, healthy people can stick to a lifestyle of wellness without missing out on the tasty treats in life. Our doughnuts won't affect insulin levels and won't cause people to gain weight."
The business partners met several years ago when Barbara began experiencing elevated blood-sugar levels. Unwilling to give up baked goods, she searched the internet and came across Alyssa, who was using healthy ingredients to make cookies, bagels and cupcakes out of her Sorrento home.
"No product will ever land in the hands of a customer if it hasn't passed our wow factor. There's really no point baking something healthy if it doesn't taste good."
—Alyssa Gorospe
"I was very impressed because her products were healthy and delicious," Barbara says. "It really piqued my interest."
So much so that Barbara began conducting research and realized there were few companies in the United States making doughnuts to satisfy special dietary needs. As a result, she decided to carve out her own unique niche and start such a company.
With admittedly limited baking skills, she asked Alyssa to become her business partner. That turned out to be a wise decision, as they complement each other's personalities and skill sets. Barbara is the extrovert and astute businesswoman who formed several startup companies and also served in the financial services industry for large corporations Conversely, Alyssa is the quiet, self-described "foodie" who's perfectly happy behind the scenes making doughnuts that are new and different.
They proudly refer to themselves as the "dynamic duo."
"I'm the entrepreneurial brain," Barbara says. "I study trends on what other countries are doing with sugar-free products and then I bring ideas to Alyssa to see if she can bring them to life. Alyssa is so talented, and I could not do this without her. The respect and admiration for each other is mutual and that is what has made us a dynamic team."
Before doughnuts are shipped, they must pass the "wow factor" test established by Barbara and Alyssa. That means family members and customers serve as taste testers and provide honest feedback. Some, like the frosted chocolate cake, might be spot-on. Others, like the cinnamon sugar, might need a little more sweetness. Alyssa adjusts and moves on to the next batch.
"No product will ever land in the hands of a customer if it hasn't passed our wow factor," Alyssa says. "There's really no point baking something healthy if it doesn't taste good. We're striving for perfection, and I think that's why our products have been well-received. The number of referrals and repeat customers are proof of that."
Although their current production facility is not open to the public, the owners are excited about reaching more locals with their products. In October, they are opening a small space inside the Mount Dora Marketplace where visitors can sit down and enjoy their healthy doughnuts.
"This location will be retail only with no baking," Barbara says. "We'll still bake the doughnuts at our production facility and bring them to our Mount Dora location. This gives us an opportunity to take advantage of everything Mount Dora has to offer and collaborate with other small-business owners."
And it just might open the eyes of some people who thought one thing was impossible: that the words "healthy" and "doughnut" can now go together in the same sentence.
Alyssa's one-bowl gingerbread pumpkin loaf
A no-fuss keto loaf loaded with fragrance and buttery crumb. Perfect as a filling breakfast, but add frosting, glaze or vanilla ice cream and you have a fall-ready dessert fit for entertaining.
Ingredients
1 cup almond flour
1/2 cup coconut flour
1/2 cup low-carb sweetener
5 eggs
8 tbs. melted butter or coconut oil
1 can pumpkin puree
1 tsp. baking powder
1 tsp. salt
2 tsp. ground ginger
1 tsp. ground cloves
2 tsp. cinnamon
Directions
In a large bowl, mix all dry ingredients. Create a well in center of bowl and drop in all wet ingredients. Whisk beginning from the inside out, then whisk all ingredients together until well combined. Pour into a greased 9×5 loaf pan. Bake until toothpick comes out with only a few crumbs but not completely clean; 45-55 minutes at 350 degrees. Allow to cool on stove top for 12-15 minutes for easy slicing.
Akers Media Group's James Combs has been a staff writer for several local publications since August 2000. He has had the privilege of interviewing some of Lake County's many fascinating residents—from innovative business owners to heroic war veterans—and bringing their stories to life. A resident of Lake County since 1986, James recently embarked on a journey to lead a healthier lifestyle. He has lost 60 pounds and walks nearly five miles a day. In his spare time, he enjoys target shooting, skeet shooting and watching his beloved Kentucky Wildcats!
Share This Story!