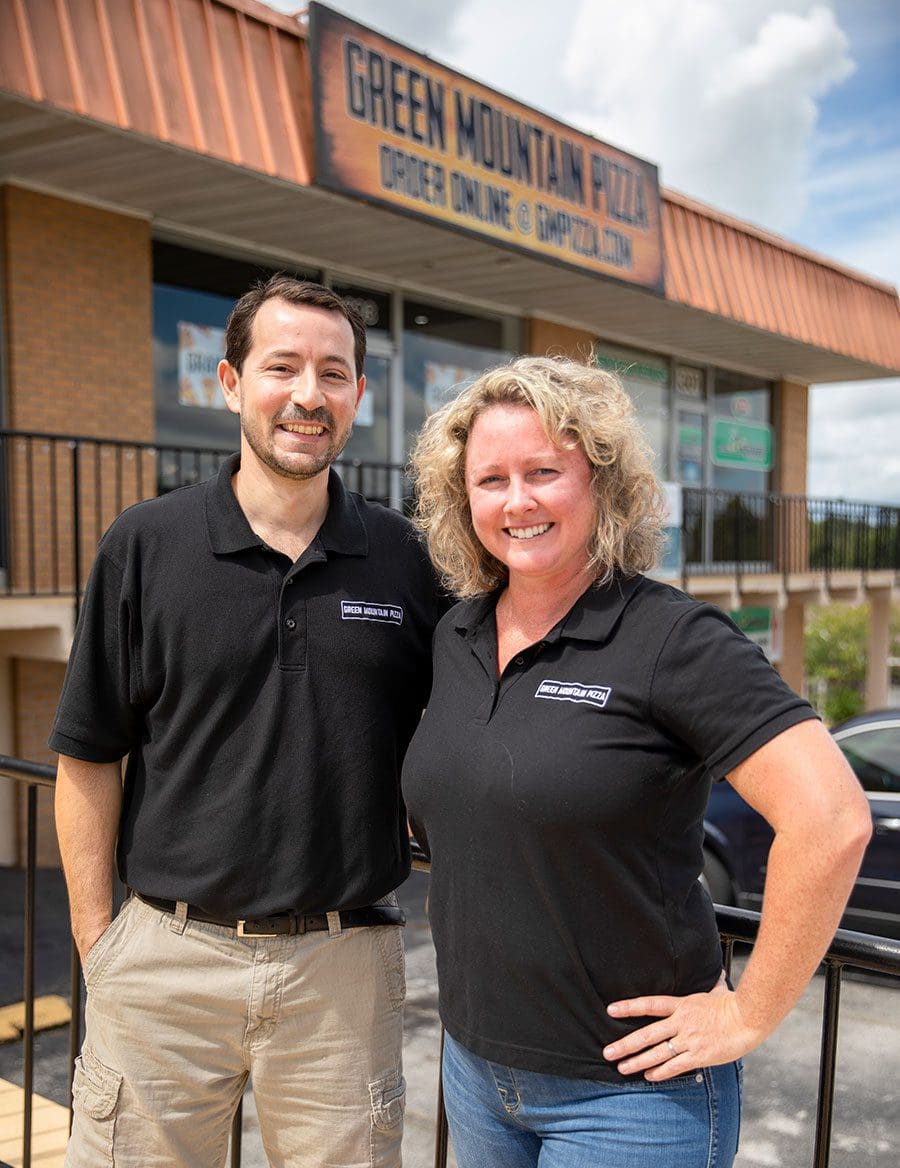 Green Mountain Pizza's key ingredients include friends, family—and special dough.
Story: Chris Gerbasi // Photos: Anthony Rao

The sense of smell may be the strongest sensory trigger for memories. As Roberto Del Verme pulls another pizza out of the oven or whips up a calzone at Green Mountain Pizza, the aromas must create an endless flow of flashbacks.
He's in the right place for it: his restaurant is located in the same spot as his father's former Capri Italian Restaurant at Sunnyside Plaza, 303 State Highway 50 in Clermont. And those memories go back a long way. Most of Roberto's family members have worked in the restaurant business over the past 50 years, and he knew by fourth grade that he wanted to follow in his father's footsteps.
Roberto and longtime friend Miranda Straugh opened Green Mountain Pizza in 2013 in Montverde—the company name comes from the Spanish meaning of Montverde. After nearly six years there, they relocated this year to Clermont.
"We've been doing pizza for so long that it's just in our blood," he says.
The South Lake County natives wanted to serve their hometown. Roberto and his wife, Niki, and Miranda and her husband, Michael, grew up in Clermont and attended South Lake High School. After high school, Roberto and Miranda worked together at Luigi's Italian Restaurant in Eustis and Naples Italian Restaurant in Leesburg, both owned by Roberto's relatives, and dreamed of one day opening their own place.
Green Mountain Pizza primarily is a takeout spot but also has limited seating, online ordering, and delivery. While many pizza places advertise "hand-tossed, brick-oven pizzas," the key difference at Green Mountain Pizza is the dough, which is made fresh daily.
"We actually age our pizza dough in order to get it to be what it is," says Roberto, who handles all the cooking. "My family, we don't make traditional pizza dough. It's more like bread dough, so our pizzas are different. That's something that sets us apart from anyone else."
The restaurant's signature item is the Vesuvio pizza, topped with Roma tomato, basil, mozzarella, and Romano cheese. The breakfast pizza is a unique version that Roberto describes as quiche-like, with fluffy scrambled eggs, ricotta and Romano cheese, and choices of bacon, ham, or Italian sausage.
Homemade bread is used with the burgers and subs, which include steak, cheese, and onion; meatball parmesan with homemade meatballs and marinara; and pastrami.
Customer favorites are calzones and strombolis with up to six ingredients stuffed inside the homemade dough, which comes out golden brown and crispy.
For dessert, the restaurant offers gelato, Bindi cakes imported from Italy, and homemade tiramisu.
"There's not much here that's not homemade," says Miranda, whose personal favorites are the Greek salad and the Vesuvio Capri pizza.
The Vesuvio Capri, which includes pastrami and kalamata olives, is a tribute to Roberto's father's restaurant. His parents, Edmondo and Concetta, emigrated in the 1980s from Naples, Italy, and arrived speaking little English.
"Their language was food," Niki says.
Capri was a 120-seat restaurant that operated from 1986 to about 1995, when it was relocated to Minneola. Roberto's relatives also have operated Italian restaurants including DiDonato's in Tavares, Mount Dora Pizza & Subs, Vincent's in Mount Dora, Gigi's in Sorrento, and Angelo's in Tavares.
Now, the family tradition continues in Clermont. Family is important to both couples. Niki and Roberto have a 2-year-old son, and Miranda and Michael have two boys, ages 6 and 4. Though they both have other jobs, Michael chips in with occasional shifts, and Niki handles communications for the restaurant. In order to maintain a family life, they decided to close the restaurant on Sundays and Mondays, and they found business improved on the preceding and following days.
"With two families involved, we were able to handle it better," Miranda says. "One could cover the store for the other and still get family time. I think that's the key to the longevity of it."
The couples lean on each other for confidence and support, and also credit the loyalty of three employees who made the move to Clermont. They say their motivation behind Green Mountain Pizza is the love of food, people, and community. And they admit to looking ahead to the possibility of the next generation in the family business.
"I would be so proud of my son," Niki says, "if he wanted to do this for a living."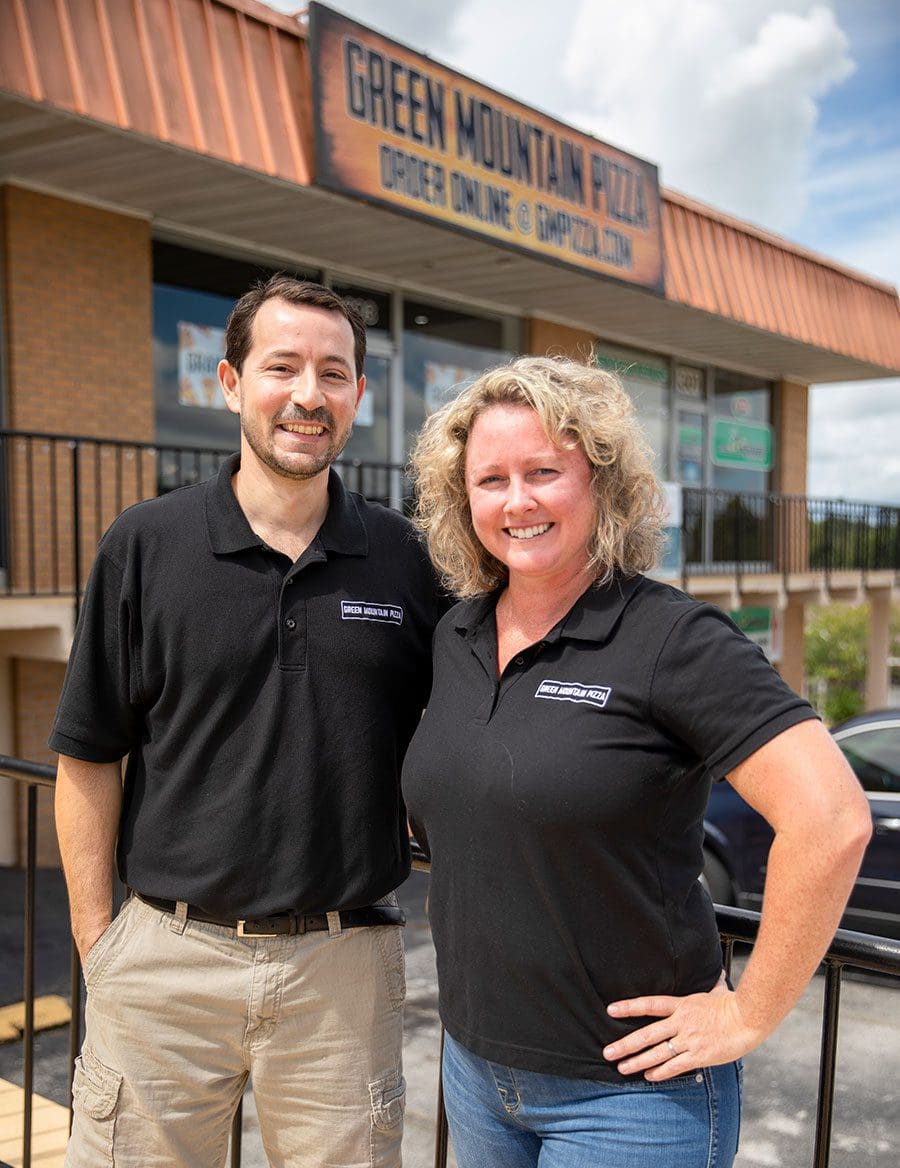 ---
Green Mountain Pizza  
303 State Highway 50, Clermont.
Hours: 11am-9pm Tuesday-Saturday; closed Sunday-Monday.
Dine-in, takeout, delivery, and catering.
Call 352.432.3380 or order online at gmpizza.com.