AdventHealth Waterman begins COVID-19 testing Saturday, joining drive-thru sites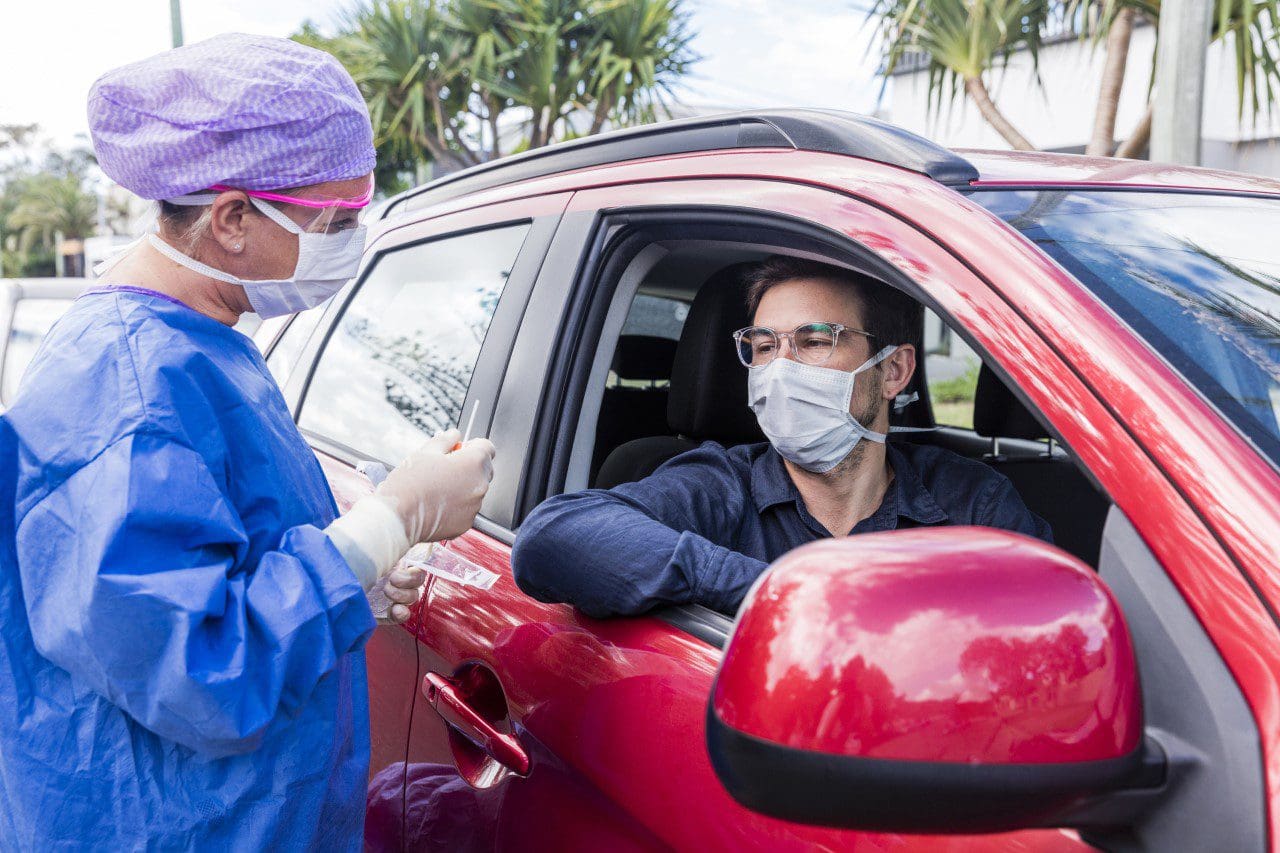 AdventHealth Waterman begins COVID-19 testing Saturday, joining drive-thru sites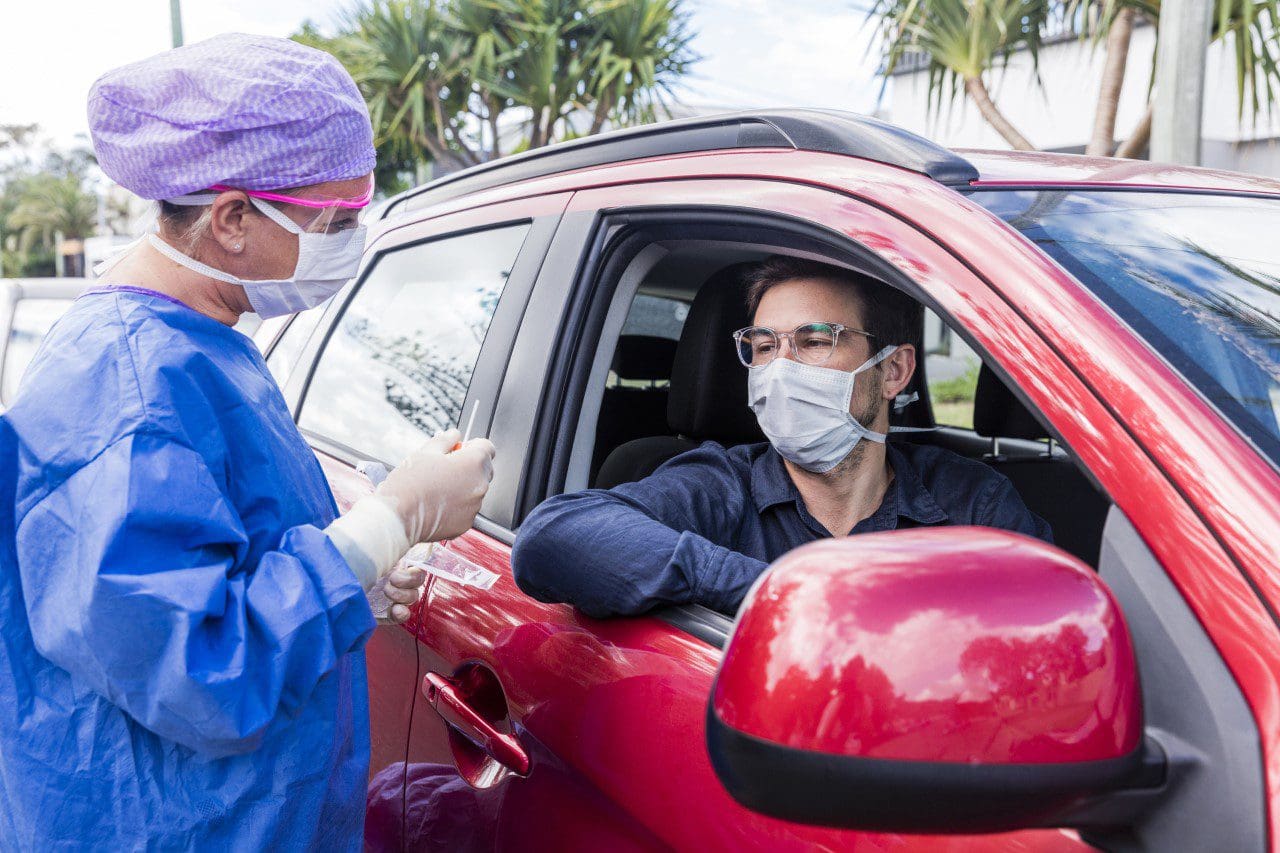 Drive-thru sites opened up this week in Lake County for residents to be tested for COVID-19, and AdventHealth Waterman is the latest to join in by offering to test people 9am-2pm Saturday on the Leesburg campus of Lake-Sumter State College. Amy McCrory, a hospital spokeswoman, says the testing will be available for eight consecutive days.
Physical therapist Cathy Hunter, of Leesburg, is pleased that mobile drive-thru test sites are available. She took advantage of going to one earlier this week.
"I'm negative! And I feel relief, of course," Cathy says after getting test results Thursday.
As an essential health-care worker, she was tested April 21 at Adult Medicine of Mount Dora, one of three sites in Lake County where people can receive a  coronavirus swab and/or antibody testing, each at a reduced cost of $20 for residents.
Cathy wasn't feeling any symptoms of the virus. However, when she learned April 20 that one of the homebound clients for which she provides care had tested positive for the coronavirus disease, Cathy had to immediately stop working and be tested, too.
"You know it is so scary because if I had been positive, (I would have exposed) all the people I have been around. Now I know they are safe," she says.
If she had not been tested, Cathy would have self-quarantined for 14 days. She knew her employer would need to know test results before she would be allowed back to work, and for her own peace of mind, Cathy was eager to be tested.
"It was very easy and it wasn't uncomfortable," she says of the swab test. "It was a little bit smaller than a Q-tip that they wiggled through each nostril and it just tickled."
Cathy felt the test was worth going through, and she was told that even if her test result came back negative, she still would be encouraged to come back for bloodwork for an antibody test. She plans to go for an antibody test this week.
Cathy was impressed by the organized flow of the Mount Dora testing site, which is arranged in different sections. At the first section, people receive information and the screeners ask which test they want administered. The second section involves filling out paperwork on basic information and health details.
"They give you forms that you can bill your insurance company, but it was only $20," Cathy says.
In a news release from Lake County officials, it was announced drive-thru testing is available at these sites from 8am-4pm through May 17:
3619 Lake Center Drive, Mount Dora (Adult Medicine of Lake County) – Testing available Monday-Friday.
2525 Oakley Seaver Drive, Clermont (Cooper Memorial Library) – Testing to be available starting Thursday, April 23, then on Tuesdays and Thursdays.
109 E. Dixie Ave., Leesburg (Venetian Gardens at the intersection of Canal Street and Dixie Avenue) – Testing to be available starting Friday, April 24, then on Wednesdays and Fridays.
Testing is limited to two per resident and results will be returned within one to three days after testing, according to the news release. Adult Medicine of Lake County offers swab or antibody tests for $85 for nonresidents. No appointment is needed for the drive-thru testing sites and residents are required to present proof of residence to qualify for the reduced testing fee. Call the Adult Medicine of Lake County dedicated COVID-19 line for more information at 352.329.1133.
Residents with symptoms who are unable to receive testing through their primary health-care provider can call the Florida Department of Health Hotline at 352.742.4830; callers that meet the criteria for testing will receive an appointment for free testing at a Lake County testing location.
The health department is offering free tests, yet people must call and set up an appointment and they must meet the criteria; they will be directed to a location in Leesburg.
Even though Cathy tested negative for the virus, she intends to be cautious.
"As health-care professionals, we all take precautions, wearing masks, the N95, gloves and doing everything to be careful to prevent being exposed," Cathy says, adding she's also extra-cautious at the grocery store and in touching door handles.
She encourages others to be proactive about staying safe and practicing social distancing, since the virus is noted as being highly contagious.
"We are concerned that residents here in Lake County are not treating the situation with seriousness it deserves," Dr. Ross Edmundson, chief medical officer at AdeventHealth Waterman and Dr. Peter Marzek, chief of staff, wrote in a blog on AdventHealth Waterman's Facebook, adding that patients range in age from 17-86. "That wide range drives home the point that this disease can strike anyone, of any age. You don't have to be elderly or have other health issues to be vulnerable."
The physicians also urged residents to stay home whenever possible, continue to maintain social distancing, wash hands, avoid touching the face, wipe down surfaces, wear a mask to help protect others and possibly decrease your risk of the disease.
They added: "Let's work together to keep ourselves and our neighbors here in Lake County healthy and safe."
Andrea Sellers, senior communications and media specialist for UF Health Central Florida, says UF Health Leesburg Hospital and UF Health The Villages Hospital offer a telehealth program, a telephone virtual screening, and a drive-up testing for patients who meet the criteria on the virtual screening.
"Telehealth, the virtual care platform that allows health care professionals and patients to meet by phone, seems tailor-made for this moment in time," adds Chris Wood, corporate director of clinic operations of UF Health Central Florida, in a news release. "Virtual care solutions can help flatten the curve of COVID-19 infections and help us deploy medical staff and lifesaving equipment wisely."
A clinician will ask callers screening questions to help establish if they are in a low-, medium- or high-risk group, and if they have mild, moderate or severe symptoms of upper respiratory infection that could be due to COVID-19.
"Before you call, write down your symptoms, whether you have a fever, and whether you've taken any medicine," Chris says. "Be ready to answer a few questions that might seem tedious, such as where you have traveled recently. Resist the urge to ask reasonable but nonmedical questions that are time-consuming. General questions should be referred to the Centers for Disease Control and Prevention website."
People who are experiencing symptoms of COVID-19, such as fever, cough or shortness of breath, and would like to schedule a telehealth appointment may call 352.751.8790 from 8am-4pm Monday-Friday.
The Villages Polo Club was the site of a mobile testing site conducted by UF Health during March and part of April. UF Health notes the testing site was concluded April 17 with more than 4,200 tests (2,132 clinical and 2,100 research), and the coronavirus research study was billed as one of the largest of its kind in the United States. UF Health also noted its team is in the process of regrouping to develop a new strategy for resuming testing when the state reopens.
Buffalo Crossings Healthcare and Rehabilitation in The Villages signed up for voluntary COVID-19 screenings to be provided to residents and employees who want to be tested, according to an employee. The tests were offered by Premier Medical Associates, which is offering COVID-19 tests to people living and working at area nursing homes and assisted living facilities in The Villages.
Leslie Campione, chairwoman of the Lake County Board of County Commissioners, says in a news release that through enhanced testing opportunities and ongoing diligence, "we will be that much closer to a time when we can return to the lifestyle we love and enjoy in Lake County. I urge everyone to continue following CDC guidelines and if you are in a high-risk category or live with someone in a high-risk category, we urge you to avoid public spaces where you might contract the COVID-19 virus."
To sign up for the latest emergency notifications regarding COVID-19, text COVIDUPDATE to 888777 or visit lakecountyfl.gov/COVID-19 and follow Emergency Management at facebook.com/LakeCountyFLEmergencyManagement and twitter.com/lakeemergency. For the latest information, residents can call the Citizens Information Line at 352.253.9999.
Originally from Anderson, Ind., Theresa worked for The Herald-Bulletin for many years. After experiencing a winter with 53 inches of snow, her late husband asked her to get a job in Florida, and they headed south. Well known in the area, Theresa worked with The Daily Sun and The Daily Commercial prior to joining Akers.
Share This Story!