This N' That: Apathy: My life's work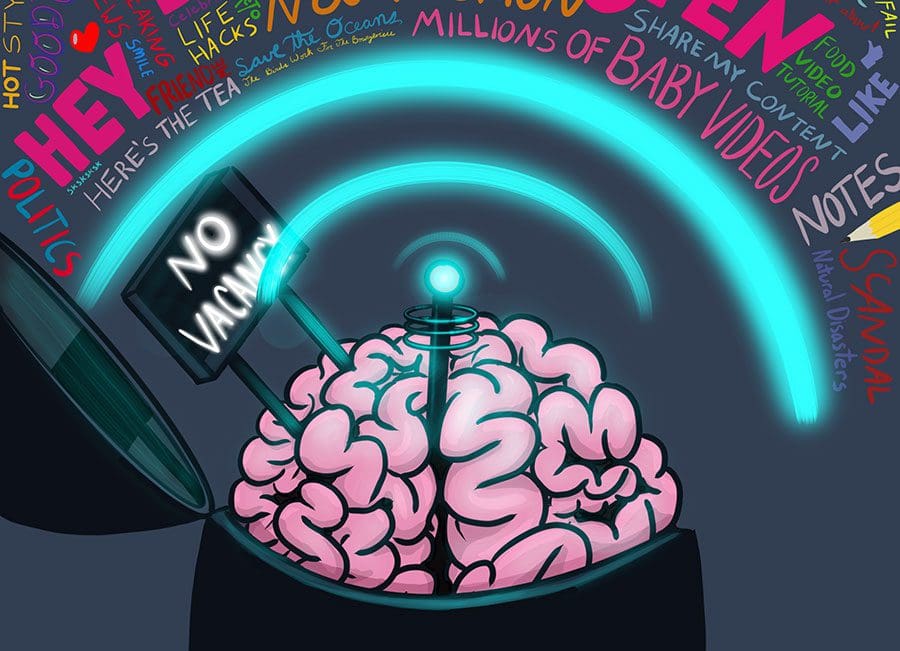 You don't need to know everything—read this only
if you have room in your brain.
Story: Chris Gerbasi ≈ Illustration: Megan Mericle

Apathy is underrated.
I don't mean apathy only in the sense of not caring, but apathy in the sense of living life on a need-to-know basis.
Comedian Dennis Miller had a great line recently on David Spade's late-night show (yes, he has a show, though he often seems apathetic about it). The show focuses on pop culture "news," and Dennis, 66, cracked, "I've reached the point in life with the culture that I am thankfully out of the loop."
It is pleasant to be out of the loop, and it's easy to remove yourself from the loop. If you don't like what's on TV, turn it off. If you don't like what's on the radio, turn it off. If you don't like what's on your computer screen, turn it off. We've heard those expressions all our lives. These days, accepting that advice is mandatory.
I've always blocked out a chunk of the world. You know how you can drive the same route to work for years and then suddenly one day you see a business that you never noticed before? That's how I go through life. "Oh, wait, there's a new president? I thought we just did that four years ago." "A hurricane is coming? When did that happen?" "The Earth is round? Whaaa—?!"
You'll never hear me say, "Good morning." It's an oxymoron. I have no use for the morning or the accompanying insipid morning shows or traffic reports or weather forecasts—we know what Florida's like.
No news is good news. I've worked in news for decades, and my brain just doesn't have room for more. I believe the brain has only so much room for information—factual and emotional—and I operate best when I allow in only the necessities: sports, music, best beer prices, an inordinate amount of women's tennis.
Politics to me is no different than a hobby, like bowling or collecting Elvis plates. Some people are involved in those hobbies, some people are not. Why get worked up over it? If a particular leader wants to buy Greenland (it sounds like a good deal, but the maintenance fees are where they get you), is that going to prevent me from eating my tuna mac 'n' cheese dinner tonight? Are tariffs going to keep me from drinking beer? Well, I may need to rethink that one.
Beyond information overload, I've never been able to relate to most of the subjects that other people find important or even interesting. I simply can't match their excitement levels for babies, photos of babies, pets, photos of pets, themselves, photos of themselves. You know, four babies are born every second. Look, there are four more (I'd add an exclamation point here but I can't muster the enthusiasm). Do I need to know about your cousin's niece's son's "darling baby girl"? Nope.
In today's fast-flying, media-driven world, the list of nonsense I have no use for keeps getting longer and longer: fashion, athletic shoes, phone technology, reality "stars," social media "stars," cooking shows, dancing shows, fluffy pop stars, foul-mouthed rappers, royalty, video games, game shows. Do I need to know that one unknown reality-show personality broke up with another unknown reality-show personality because one of them bought a Versace dog collar for their shar-pei instead of a Gucci? Absolutely nope.
And what about these things called "the holidays" that everyone seems to bring up every year. "Are you stressed out about the holidays?" Huh? How anyone could allow a holiday to "stress them out" is beyond me. In fact, that seems to directly contradict the meaning of "holiday." I don't participate in "the holidays" and I have to say, it's probably one of the better moves I've ever made in my life. Apathy must be a lot healthier than stress. Of course, I may have an advantage in living 1,100 miles away from my family.
Need to know. Ignorance is bliss. Apathy is underrated. As to whether the world agrees with me, I don't know and I don't care.