Local Talent: Bring it home with Justin Heet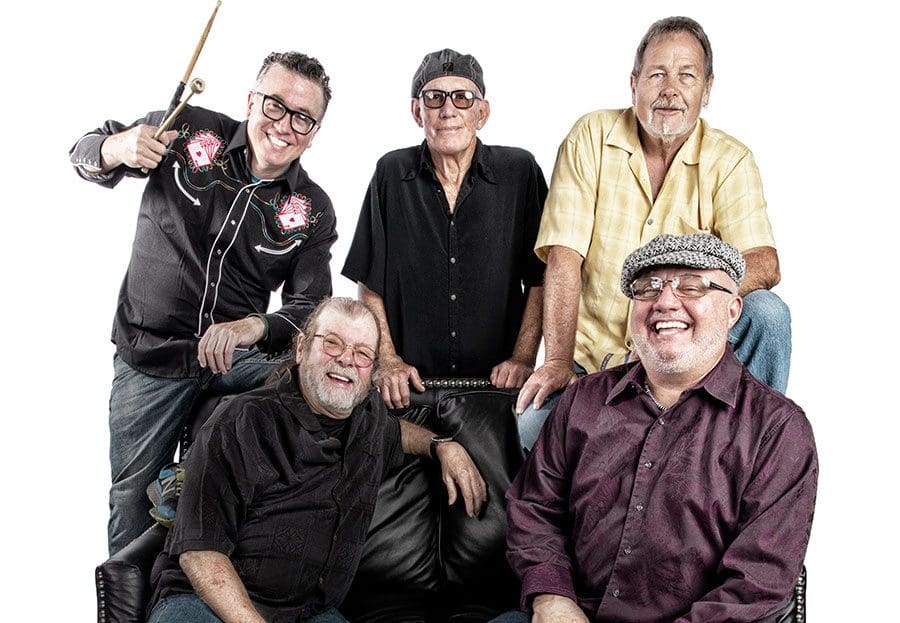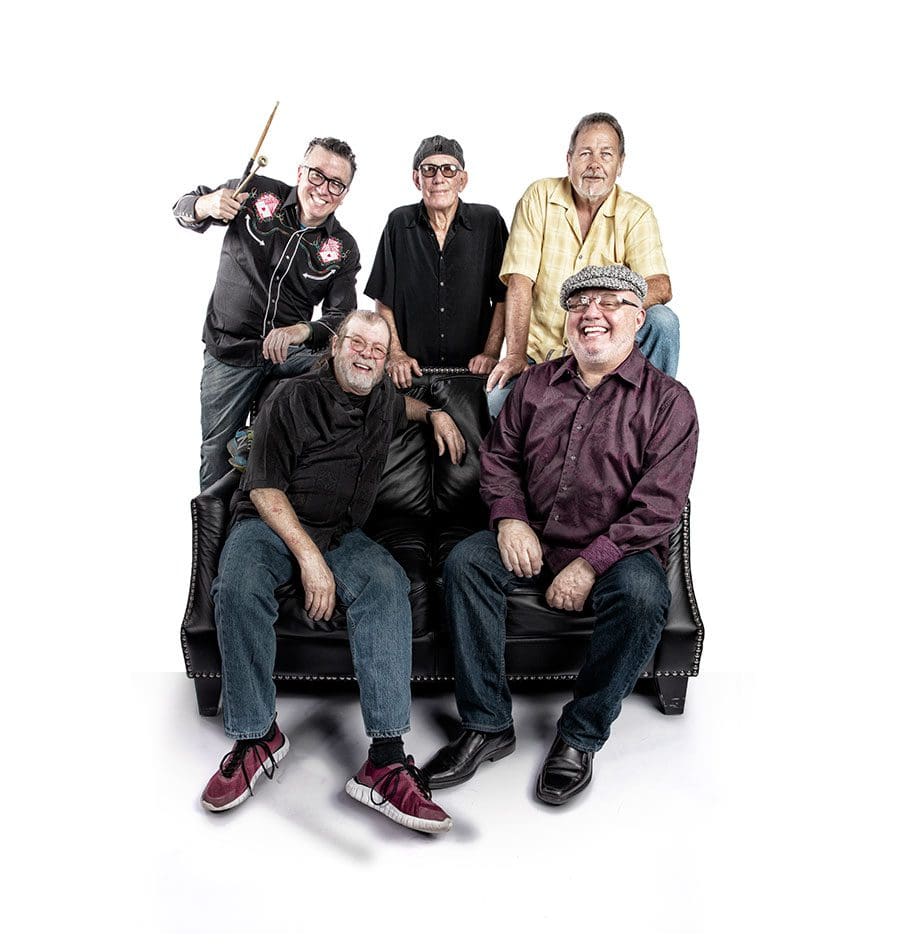 Justin Heet is a musical tradition in Central Florida.
Justin Heet performs at Leesburg Bikefest from 3:30-8pm Friday, April 26, at Towne Square Stage.
As the band begins to play, the heavy bass of "Low Rider" is instantly recognizable. Drums and congas create a calypso vibe. A melodic guitar and boisterous keyboards complete the perfect blending of five musicians in tune with each other.
"Take a little trip, take a little trip, take a little trip with me," guitarist Bobby Croft sings as the band Justin Heet opens a recent set at Brownwood Paddock Square in The Villages.
The jam band is a little trippy but stays close to its roots by never tripping outside Central Florida. Three original members—Bobby, bassist Kenny Hicks, and keyboardist Ric Stott—attended Leesburg High School, and the band has rocked on and off since 1980. Longtime friend and percussionist Bob Merrell spent his childhood in Leesburg, and drummer Matt Kent, who joined in 2017, lives in Mount Dora.
Their setlist runs the gamut of genres, with songs by Muddy Waters, Sly & the Family Stone, Van Morrison, Wilson Pickett, and the Georgia Satellites. The songs give each member a chance to shine individually, but a Santana instrumental, for example, becomes transcendent through the collective groove. As expected with such an experienced band, the playing is tight and polished but not without room for adventure. Clearly, this is not their first Brownwood rodeo.
And who's Justin Heet? Not a person. The name's origin involves Daytona Beach, spring break, and hormones. Find out more as the five musicians talk before the show about their experiences in Justin Heet:
Q: What keeps bringing you back together through the years?
Bobby Croft: A common musical ethic. We have this theory: everybody wants to hear whatever they were listening to the last day you walk out of a classroom. Whether you quit school in junior high or whether you went to eight years of college, whatever day you walked out of a classroom, whatever you were listening to that day is probably what you're going to listen to forever. We like the things that were the typical American music: blues, soul, country, rock 'n' roll.
Kenny Hicks: Santana, Grateful Dead…
Bobby: …and Merle Haggard and Stevie Wonder.
Ric Stott: We were the country band at Disney for two years at the Neon Armadillo at Pleasure Island.
Bobby: We didn't change what we did very much when we played the Neon Armadillo. We just learned some 50 contemporary hit country songs of that time, which we didn't mind because country music was in a good spot at that time. It was good to us, and we played our normal setlist, all the stuff we've been playing for years, mixed in with that and nobody saw that it was strange at all.
Q: Bob, how long have you been in the band?
Bob Merrell: I've been playing with them on and off about 10 or 12 years.
Bobby: He has two brothers that were great musicians that were really good friends with us, they played in other bands, so basically, it's been part of our family since way before we started.
Bob M.: I was playing with Ric in 1970. We were in a band when we were like 19 maybe. Nation Rocking Shadows.
Q. What were some of your other early band names?
Ric: The Music Shop, Color Corporation…Wrong Numbers…
Bob M.: Magic Circle. Same guys pretty much.
Bobby: They got more gigs that way.
Q: Matt, what attracted you to joining Justin Heet?
Matt Kent: They're one of the best bands in Central Florida. I heard them in Winter Park and I couldn't believe the great sound they got in this little club. They have a great reputation.
Q. Do you enjoy classic rock or do you have other musical interests?
Matt: Well, I studied music in college, a lot of jazz and improvisation. So coming into this situation, where things can change at the drop of a hat, I'm used to it.
Q. Has the band ever ventured outside Central Florida?
Bobby: Individually, elsewhere, but not as a band. Whenever it was called Justin Heet, it was fairly close to home. That was the whole purpose of it. We rejoined the band to go home.
Kenny: We've played to four or five generations around here.
Bobby: There are people that we've played for at significant life events—their wedding, their funeral—for literally generations of people.
Kenny: For the kids of the kids of the kids—we played the same music we played for their granddad or their mother.
Bobby: There's a girl that we played her wedding about a year and a half ago when the Tavares community center, the one on the lake (Pavilion on the Lake), had just opened. We were one of the first to play there, and we played for her and we had played for her parents' wedding. And she had been listening to us since she was old enough to hear music, so to her, what we play is what a band's supposed to be, and she's in her mid-20s.
Q: What's the origin of the name Justin Heet?
Ric: You don't wanna know.
Bobby: We had a guy in our band named Gary Glidewell. We were playing in Daytona and it was during spring break, probably 1980. We didn't really have a band name yet.
Ric: We were sitting at Sambo's pancake house after the gig, like 2:30, 3 o'clock in the morning.
Bobby: But earlier in the night, some girl had come up to Gary and said something to the effect of, 'Married? Single? Significant other? What's up with you?' And he goes, 'Nope, just in heat.' I hated the name the second he said it.
Ric: It stuck. That's the nicer of the versions.
Q: You guys are playing at Bikefest in April, right?
Bobby: We've played every single Bikefest (the only band to do that). The first year we played, it was only one day. We had to play eight hours, so we had it covered the whole day, eight hours. We were our own sound company, our own light company. And then the next year, it was a little bigger and we brought in some guests. Ric was on the road driving tour buses, so it was just me and Kenny (and two others). We did it a couple years like that. Ric came back from tour bus driving and joined back in. (Ric drove tour buses from 1998-2010 for acts including the Allman Brothers, Kid Rock, Hall and Oates, the Four Tops, and others. "I could write a book," he says.) This is no kidding, I think we've had about 10 different drummers play Bikefest with us. It's like Spinal Tap.
Q: They haven't spontaneously exploded, have they?
Bobby: No, they haven't exploded.
Matt: I'm in good health, I'll just say that.
Bob M.: And that's part of the question: 'How's your health? Not so good? OK. You're good. Come on in.'
Q. Bob, why have you kept coming back to the band?
Bob M.: Every now and again, they'd want to spice something up and they'd say who can we bring in that we don't really have to practice with, so they'd bring me in. And I would play, and then maybe two or three years ago, they said, 'Well, just put your stuff on the truck.'
Bobby: We did that with a drummer once and he's still looking for his stuff.
Q. Kenny, what do you love about playing in Justin Heet all these years?
Kenny: The music that we play. We get along beautifully.
Bobby: We have similar tastes.
Kenny: We have our own kind of sound. If I get in another band, it's not like that (sound). Really, that's what it is.
Bobby: Whenever we all go out and play in another band, it's difficult to explain what we want the other guys to do to make it feel like this.
Kenny: It's hard to fit in with other guys. I've been in a lot of different bands. Ask Matt. We go into songs he's never played and we just go into that.
Ric: We've played together so long, there's a lot of mental 'I know what you're going to do next.'
Bobby: Especially in harmony singing. When Kenny's singing, he'll change 20 times in a row and we just know what's going to happen and we roll with it. And that, you can't explain.