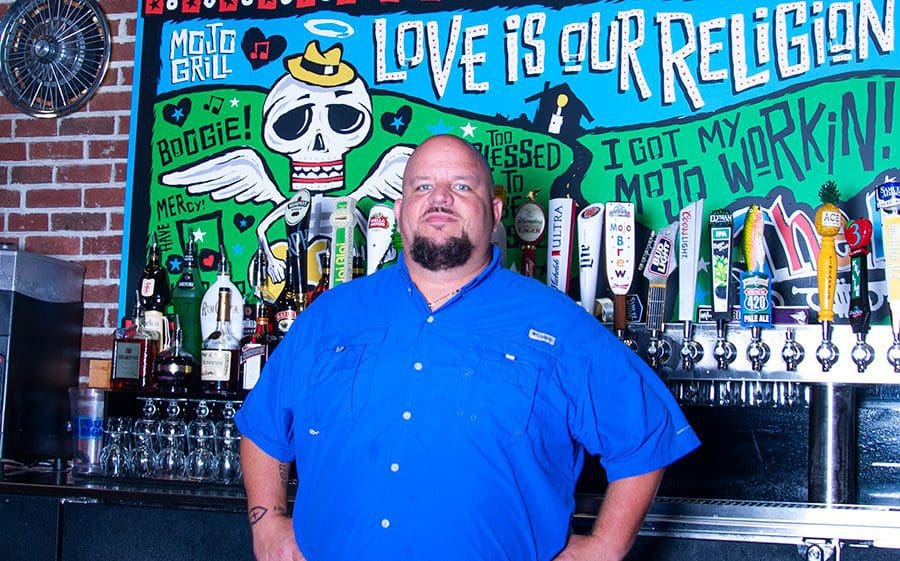 Rondo Fernandez takes concepts he learned from his mom to create the kind of restaurant he loves.
Rondo Fernandez is a chef who loves to cook. He says he grew up in the restaurant business and it's all he knows. "My mom used to take me to work with her so I grew up in the restaurant industry," Rondo says. "I got to play waiter and cook as a kid but got to do it for real. When they needed a hand in the kitchen or on the floor, I was the lucky kid who got called in. It's the way I found my passion for serving people."
Born in Atlanta and raised in Miami, Rondo learned to love the atmosphere of a restaurant, and he believes a restaurant is a place for gatherings.
"Restaurants are places for families, and we believe that everything that comes in is our family. They should be loved on, cared for, and looked after as if they were our own," he says. "We don't want our guests to ever lift a finger. We have gotten away from that as we have grown, but we are beginning a huge focus on getting back to basics."
He also feels that way about the community his restaurant is in, making Mojo Grill & Catering Co. a platform for the restaurant's purpose. "I believe God gave me Mojo's for more than just making money, so we try to take our resources and influence and impact the community."
He uses his resources to work with disadvantaged youth, the local school system, first responders, and veterans. There are four Mojo's locations, so this impact is incredible.
"Our impact is so far-reaching that it's hard to find a nonprofit organization we don't help in Marion County, and we hope one day to be the same way in Lake County," Rondo says. "We are starting with opening a rock program at Leesburg High. This will ensure all students have the basic necessities to succeed. We provide food, clothing, hygiene and school supplies, and mentorship."
The restaurant also works with Feed the Need, a group of restaurants who strive to make sure children have what they need.
If you've been to Mojo's, you know its menu offers a wide range of choices, and Rondo cheerfully says the basic menu is all the foods he enjoys eating.
"When it's time for a new menu to roll out, we usually collect ideas and concepts throughout the year and keep them on hand," Rondo says. "We come together to create or recreate the item, and then, if we all like it, we test it at our flagship store. If it tests well, we add it to our menus."
Rondo admits he's not sure exactly what to call his cuisine but says it's a great mix of American, Cuban, and Cajun. "I really started with the food I grew up on and love so much. I am Cuban American, so that influence is there," Rondo says. "I also love wings! That's why we sell so many. I believe our passion shines through in those items. I guess I would call it food for your soul. We try to show you that you are loved by not only our food but by the whole experience."
---
Very berry blues sangria
INGREDIENTS
1/4 oz. peach Schnapps
1/4 oz. Razzmatazz
1/4 oz. simple syrup
2 oz. house cabernet
Splash soda water
Strawberries
Blueberries
Lemons
DIRECTIONS
Fill a pint glass with ice. Add strawberries, blueberries, and lemons. Add simple syrup, peach schnapps, and Razzmatazz and then add cabernet. Shake and top with soda water. Garnish with a lemon.
---
Pepin Cuban pork
(This recipe uses more store-bought items as we make our items
from scratch, and it would be a long recipe.)
INGREDIENTS
Pork shoulder or pork butt
Your favorite adobo seasoning
Fresh garlic
Olive oil
Your favorite Mojo sauce
Yellow onion
Fresh lime
Yellow rice
Black beans
Frozen sweet plantains
DIRECTIONS
Take the fresh pork poke holes throughout with a knife. Stuff those holes with the fresh garlic. Rub the Adobo seasoning very thoroughly all over the pork. Add about 1 inch of water to roasting pan. Cover with foil. Roast at 325 degrees for three to four hours until the meat is fork tender. Depending on your taste, you can uncover and broil for a bit to make the top crispy. Preheat a frying paSautee onions until they are al dente. Remove onions. Make sure the pan is still hot and add a drizzle of olive oil. Take a serving of pork and sear it in the pan till you get the desired crisp on both sides. Plate with beans and rice; add plantains. Top the pork with onions, Mojo, and lime.
---
For restaurant locations and hours, visit: mojogrillandcatering.com
Leigh Neely began her writing career with a weekly newspaper in the Florida panhandle, where she not only did the writing, but delivered the papers to the post office and dispensers. She has been writing ever since for a variety of newspapers and magazines from New Jersey to Leesburg. With her writing partner, Jan Powell, Leigh has published two novels as Neely Powell.
Share This Story!