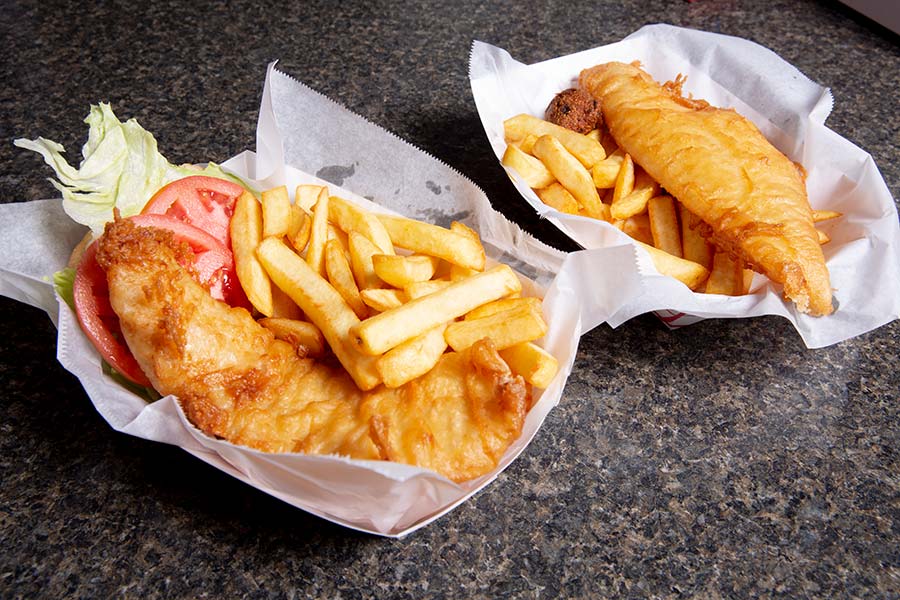 One of the 'chippies' in Clermont
It's authentic and served hot and delectable: British fish and chips.
Clermont Fish House is a place where you can order British fish and chips, a culinary classic born more than 160 years ago that has stood the test of time. Since it was a working-class meal, most people carried it out of the shop wrapped in newsprint. Health warnings stopped that, but it's still easy to carry out. You can get it quickly to eat-in at counters around the wall or packaged to carry out. 
Though I intended to go with the traditional cod, I couldn't pass up the grouper sandwich with chips (french fries). Everything comes out of the kitchen piping hot and delicious. My friend enjoyed the flounder and chips, and we finished our meal sharing a piece of key lime pie. All I have to say is, we cleaned our plates!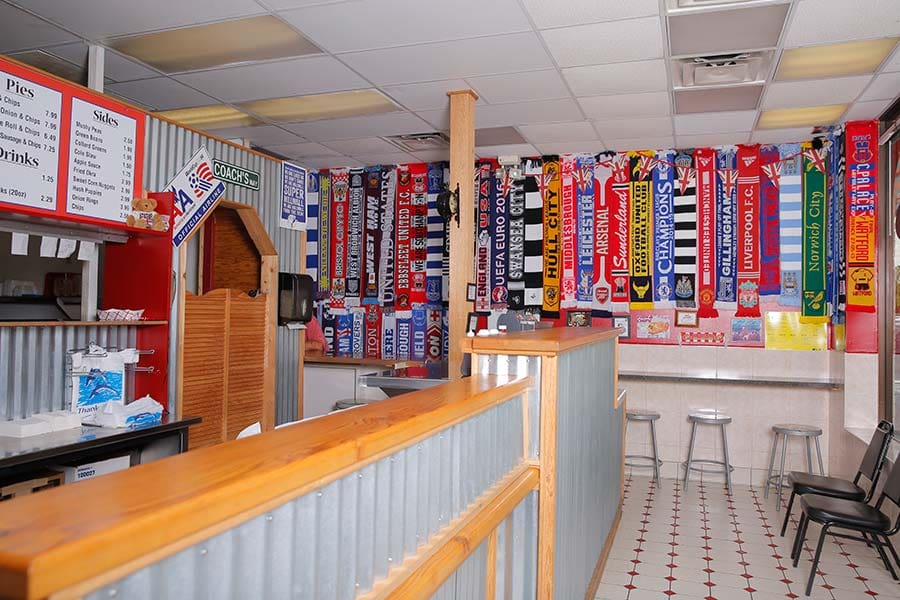 For such a small place, the menu is fairly extensive, with a variety of fish and great sides. Décor includes an amazing array of woolen scarves from the various football teams in Britain, many of them donated by customers.
Whatever you try, general manager Steve Green, who is from London, and wife Laura want to ensure you have a tasty experience. I can attest to the authenticity of the place and its food—my son lives in Weybridge, England, and I love the fish and chips shops over there.
5 Forks
(Out of a possible 5)
Clermont Fish House
110 W. State Highway 50, Clermont
352.708.5563
Open 11am-8pm Tuesday-Saturday
Fork report:
Casual dining $$
Seated immediately (lunch hour)
Wait for meal: 10 minutes
ENTREES:  ($7.25-$13.99): Flounder, cod, catfish, haddock, mahi, shrimp, grouper, clam strips, steak pie, beef & onion, sausage roll, buttered sausage; sides: mushy peas, collard beans, fried okra, sweet corn nuggets, onion rings.
SANDWICHES: ($7.25-$13.99): Philly steak or chicken, Chip Butty, chicken, and fish.
DESSERTS: ($1-$2.99): Fried pineapple rings, blueberry-apple pie, key lime pie.
Leigh Neely began her writing career with a weekly newspaper in the Florida panhandle, where she not only did the writing, but delivered the papers to the post office and dispensers. She has been writing ever since for a variety of newspapers and magazines from New Jersey to Leesburg. With her writing partner, Jan Powell, Leigh has published two novels as Neely Powell.
Share This Story!