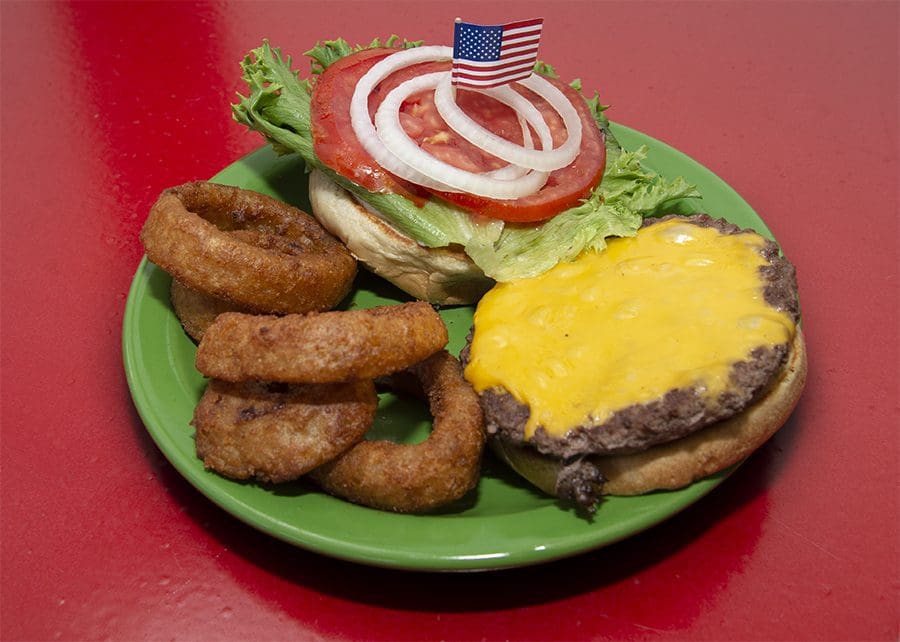 Chow time
Military-themed diner earns a distinguished service medal.
The grunts report for duty on Flag Day armed with appetites and a writing instrument. Their mission: to eat a lot of food at Combat Cafe.
The Eustis mess hall, which opened in May, is a breakfast and lunch diner with a military theme and menu items like Eggs Benedict Arnold, Colonel Beef Hash, and freedom fries.
Customers also have the freedom to order breakfast all day. Instead of a fancy wine list, check out the fancy cereal list with Cocoa Puffs, Alpha-Bits, and other childhood favorites. You think we can't review cereal? The 2018 vintage Cap'n Crunch was fresh and crunchy this day with a delightful bouquet from the multi-colored crunchberries.
The main dishes are not small rations. Generous amounts of ham, bacon, breakfast sausage, and cheddar cheese are stuffed into the Grunt meat lover's omelet, accompanied by crisp and buttery hash browns and freedom toast. The excellent Banging Burger is thick and juicy, topped with cheddar, lettuce, and tomato on a toasted bun, and the side onion rings are large and golden-brown. The meal tastes like…victory!
Owners Beth and Bruce Chambers, who's an Army combat veteran, pay tribute to other veterans with memorial displays and menu items. For example, the Greka omelet or scramble with feta, tomato, and onion, is named for Bruce's sergeant, Allen Greka, who was killed in Iraq.
The diner is packed with veterans who make new friends, buy each other lunch, and swap stories, Beth says. The friendliness, along with quality food and inexpensive prices, will no doubt make all the customers at Combat Cafe sign up for another hitch. Mission accomplished.