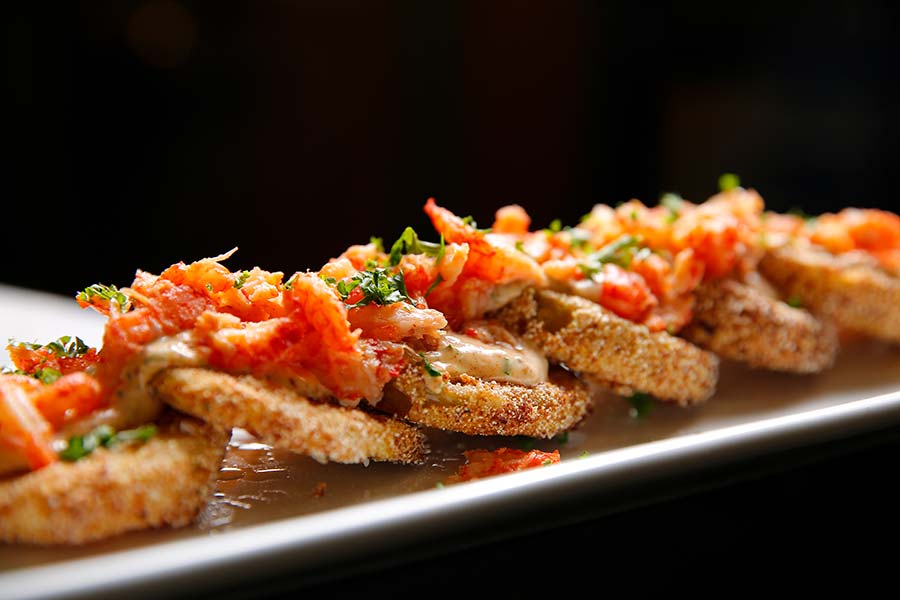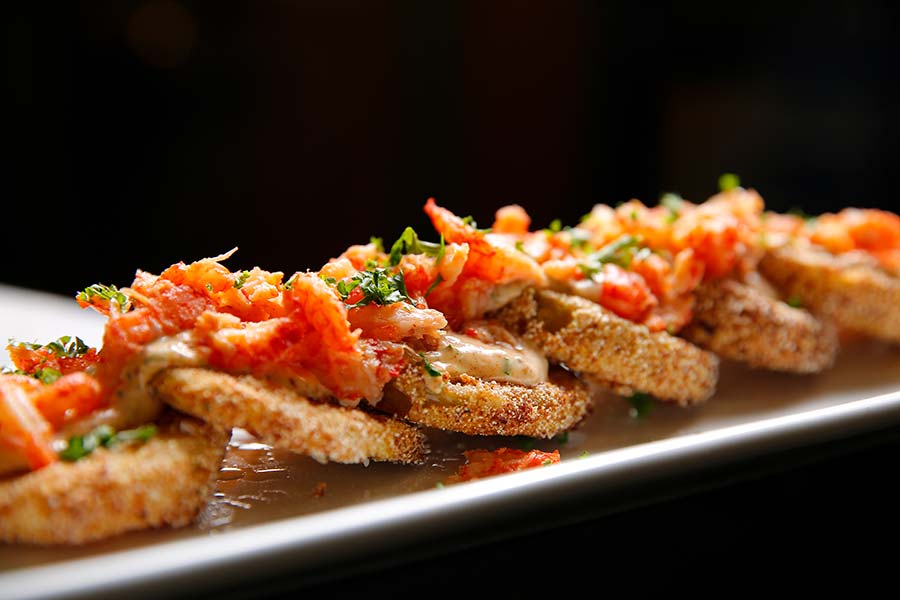 "When the taste changes with every bite and the last bite is as good as the first, that's Cajun." —Paul Prudhomme
Story: Chef Jessica Flinn
If you asked me for my favorite regional cuisine here in the U.S., it would be difficult to place anything above my love of Cajun and Creole cuisine. The flavors are deep, unique, bold, and flat-out delicious. In fact, I'll admit it—I'm obsessed! Every year for my birthday I go to my favorite restaurant that specializes in cuisine from Louisiana and I do a little happy dance. My love of all things Bayou is strong, so in the spirit of Mardi Gras I've come up with a fun menu that you, your friends, and family will love and leave you saying "Laissez bon temps rouler!" (Let the good times roll!)
Let's start with a classic seasoning blend you can use in just about anything savory in the South.
Let's put that Creole seasoning to good use. A great "salad," appetizer, or side dish, are these fried green tomatoes with remoulade sauce and crawfish. I dream about fried green tomatoes. I have gotten more burns on my tongue from trying to sneak a bite straight out of the pan than I care to admit. But it is so worth it! Crispy, creamy, and decadent!
Fried Green Tomatoes with Remoulade and Crawfish
Ingredients: 
3 medium, firm green tomatoes
1½ cups all-purpose flour
1 tablespoon Creole seasoning (see recipe on the right)
1 cup whole milk
2 eggs
¾ cup cornmeal
¼ cup dry bread crumbs
frying oil (up to 2 cups, depending on the size of the pan—canola, vegetable, or peanut oil work well in this recipe)
Kosher salt to taste
Remoulade sauce (see recipe below)
1 cup cooked, shelled crawfish (this is a commonly found in most grocery stores near the frozen seafood. If you do buy frozen, completely defrost it prior to use in this recipe.)
Directions: 
Cut an unpeeled tomatoes into ½-inch thick slices. Next, create a breading station for your tomatoes. To the first shallow bowl, add the all-purpose flour and creole spice. The second shallow bowl will hold your milk and eggs (whisk the eggs to combine with the milk). Last, add the cornmeal and the breadcrumbs to your third bowl.
Heat the oil in a skillet over medium heat. Dip the tomato slices in the seasoned flour mixture, then the milk mixture and finish with the cornmeal breadcrumb mix. Once your tomatoes are all coated, begin frying the tomatoes slices for 2-3 minutes maximum on each side. You are looking for a golden brown color on each side. Remove from pan to a paper towel lined plate and sprinkle very lightly with salt. Resist all urges to eat while piping hot. Right before serving, top with a dollop of remoulade sauce and sprinkle the crawfish over the top of the remoulade. Then most importantly—dig in! These delicious little babies are best eaten immediately.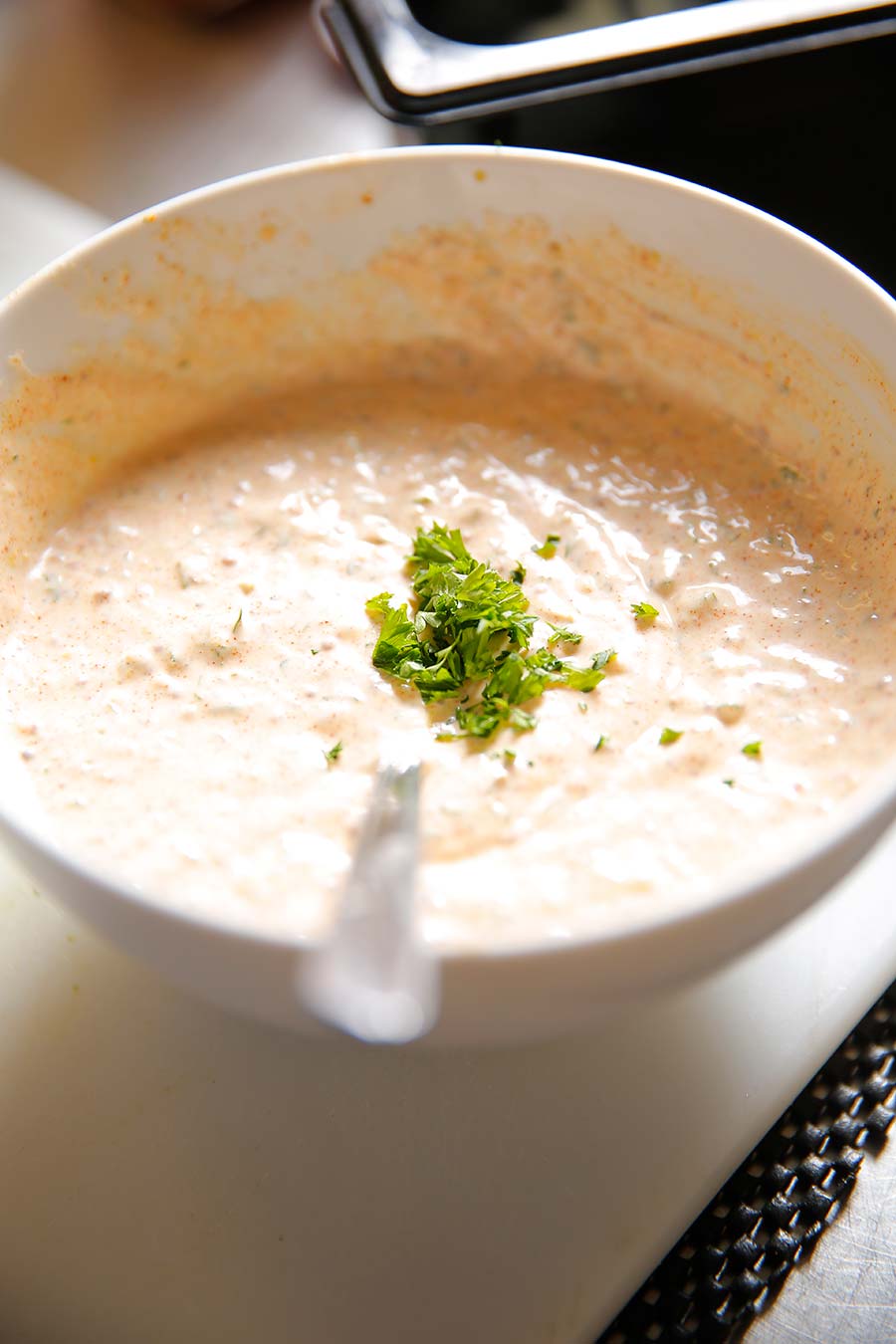 Remoulade 
Ingredients:
1¼ cups mayonnaise
¼ cup whole grain mustard
1 tablespoon paprika
2 teaspoons Creole seasoning
2 teaspoons pickle juice
2 teaspoons prepared horseradish
1 tablespoon capers, chopped
1 teaspoon hot sauce
1 teaspoon fresh parsley, chopped
Directions:
Mix well, season to taste with salt and pepper. This remoulade is best made a few hours in advance. Enjoy!
Next up—the main course! How can we talk about Mardi Gras food without mentioning Jambalaya? Don't be scared by the number of ingredients in this recipe. It's easy! A little chopping, a little stirring, and definitely a little time to sip a glass of wine, then boom! Dinner is ready and on the table.
Jambalaya
Ingredients:
12 ounces Andouille sausage, sliced
8 ounces chicken thighs, cleaned of fat and chopped into bite size pieces
3 tablespoons creole seasoning, separated
1 tablespoon olive oil
1 yellow onion, chopped
1 bell pepper, chopped
3 stalks of celery (including leaves), diced
2 tablespoons garlic, chopped
1 cup white rice
14.5 ounces can chopped tomatoes, not drained
1 teaspoon Worcestershire sauce
1 teaspoon hot sauce
2¾ cups chicken stock
½ lb. medium sized shrimp, peeled and deveined
Directions:
In a deep skillet, heat oil on medium and add sliced andouille sausage and chopped chicken. Sprinkle with about a tablespoon of the Creole seasoning. Stir well until chicken is mostly cooked through. Next, add peppers, onions, garlic, and celery. Sprinkle again with another tablespoon of Creole seasoning; stir over medium heat for 3-4 minutes or until vegetables begin to soften. Now we add the rice, chopped tomatoes, Worcestershire sauce, hot sauce, and chicken stock.
Stir well. Add the last tablespoon of Creole seasoning. Bring to a low boil, over medium heat and cover. Stir every 3-4 minutes for about 20 minutes, or until most of the liquid is absorbed into the rice and the rice is tender. Add your shrimp in to the rice, stir and cover for 3-4 minutes or until shrimp are pink and just cooked through. (The only two sins in Jambalaya are overcooked shrimp and undercooked chicken.) Serve immediately.
If we're going to talk real Southern food, let's swing for the fences shall we? The quintessential dish made in the heart of New Orleans, from overstocked shipyards full of bananas back in the 1950's, leads us to the completely guilty pleasure that is Bananas Foster.
Bananas Foster 
Ingredients:
4 tablespoons unsalted butter
½ cup dark brown sugar, packed
½ tablespoon cinnamon
2 teaspoons lemon zest
2 firm, ripe bananas, peeled, cut in half lengthwise then cut in half crosswise
¼ cup Dark Rum
Vanilla ice cream
Directions:
Melt butter in a skillet over medium heat. Next, add brown sugar, cinnamon, and lemon zest. Stir well with a whisk to dissolve the sugar. Do not boil this mixture, as it may cause the sauce to break. Now, add the bananas and bathe them in that delicious sauce in the pan. Continue to cook them 1-2 minutes, until the bananas just begin to become tender. Remove the pan from the heat (be sure to turn off your burner as well). Now let's get those bananas drunk! Add the rum and light the rum on fire (I suggest using a stick lighter, which is the safest way to not get yourself killed). GENTLY swirl the pan to distribute the flame. Once the flame has died, spoon the sauce and bananas over vanilla bean ice cream and prepare for heaven! The combination of hot caramel-rum sauce and cold ice cream is crave-able!