Cooking With Amy: 'It's All Good!'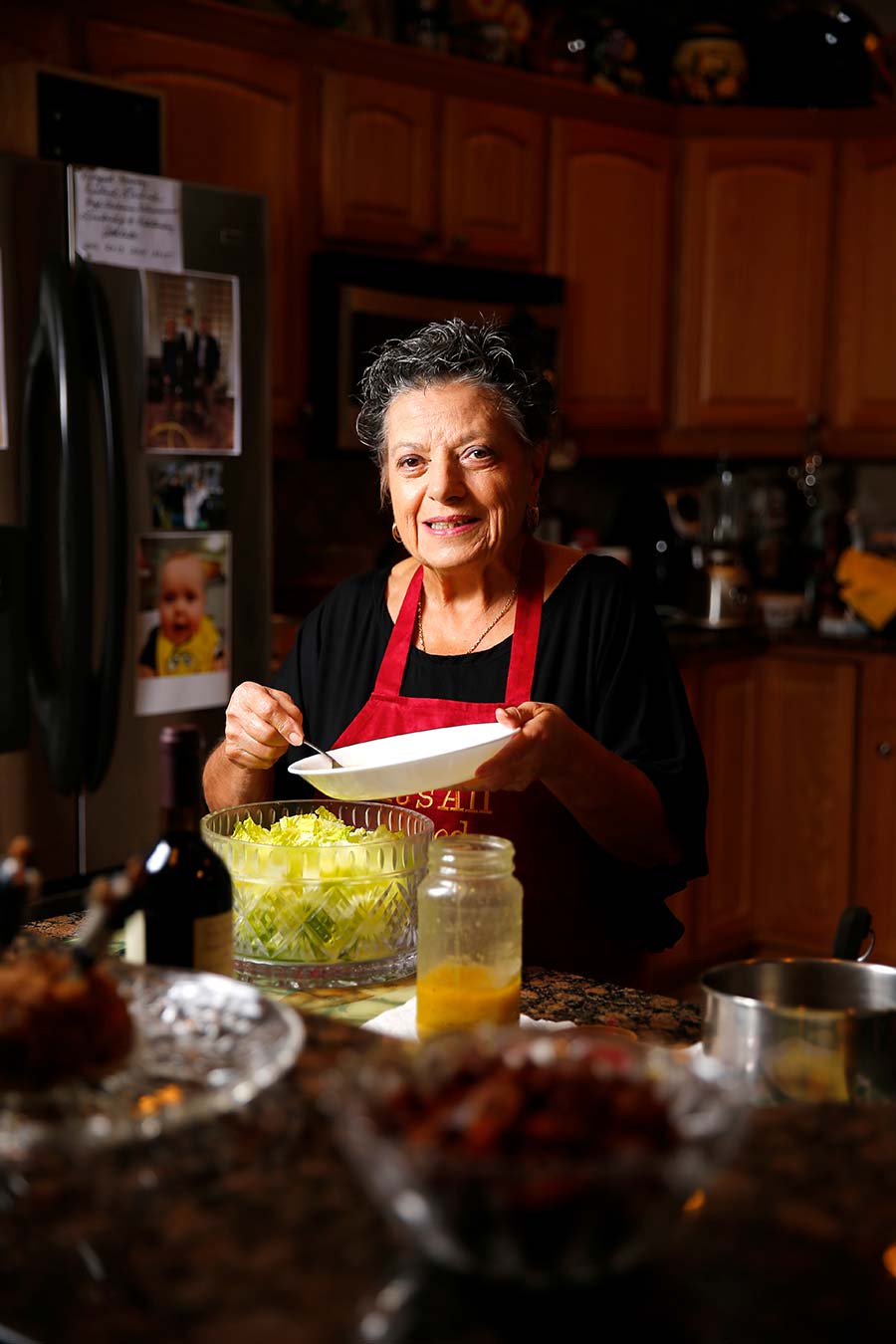 Story: Theresa Campbell
---
Gustare la cucina—the Italian phrase for "enjoy cooking" heartily describes Amelia "Amy" Landi Lednak, a Villages grandmother who dreams about cooking and loves being in the kitchen.
"Cooking is definitely my passion," says Amy, 81. "It's what I do. I cook from morning to night every day. I love making different things. Sometimes I don't sleep thinking about it. I'm so excited waiting for the next day to come. I can't wait to get up and cook!"
She cherished learning from how to make homemade pasta, sauce, and meatballs from her mother and grandma who immigrated from Italy.
"I can remember as a little girl helping my mother make Italian cookies at Christmastime. Mother did a lot of one-pot meals and soups," Amy says, recalling as a teenager, she ventured into making fancier meals, like Duck a l'Orange, which didn't go over well with her father. He took the duck to the kitchen sink to rinse off the orange glaze.
Amy now cherishes cooking for her husband Dick of 62 years and their Villages friends, so it's not unusual for her cook a spread—mostly foods from the 400-plus recipes featured in her cookbook, "It's All Good: A Cookbook for Friends and Family."
It was out of demand that the cookbook came about.
The kids would call me all the time asking, 'Mom, how do you make this dish?' The cookbook was only meant to be for my children and a few close friends," she says. Initially 10 cookbooks were printed. Currently more than 400 copies have been sold.
"I had one woman call me and she said, 'I bought the book and I don't really cook, but I took it to bed with me and read it like a novel, and it's the best read I have had in a long time!'"
Amy has a book-signing coming at Barnes & Noble in The Villages in the spring with other other authors. The date is yet to be determined. "Now I'm getting calls from people who want me to write another cookbook," she says.
She looks forward to planning meals around meats and fresh vegetables on sale. "Publix and The Fresh Market know me on a first-name basis," she says. "When shopping, I shop the perimeter of the store, that is where everything fresh is. Anything in a box has sugar, carbs, and it's processed and it's going to be lousy for you. Shop the perimeter."
Friends have told Amy that her dishes are a special treat, including when she made sauerkraut with a special touch.
"That sauerkraut was the best sauerkraut I have ever tasted"—a compliment Amy heard from a retired Jewish attorney. "He said, 'I finally figured out why yours is so much better—it had a lot of love in it.'"
"And it also had a lot of gin in it," she laughingly told him. "The secret is I cook my sauerkraut in gin. It makes it so good. I use half water, half gin and with a pork roast in it, it's absolutely fabulous."
Amy says she's blessed that her husband often follows her in the kitchen to wash pots as she cooks, but she remembers the time when Dick felt she was spending too much money at the grocery store and overdoing it in the kitchen.
"He hounded me. I finally broke down in tears and said, 'You know what Dick? It's the only thing I do. I cook really good and you want to take that away from me?' Finally, somebody told him this is my passion. I am the happiest when I am cooking. I could be in the worse mood, I could have the worst thing happen, and when something bad happens, I'll cook. I don't care what it is, who it is for, I will cook," Amy says. "That's what I do. I love to cook."
Amy can be reached at 352.430.3070 for those who wish a copy of her cookbook.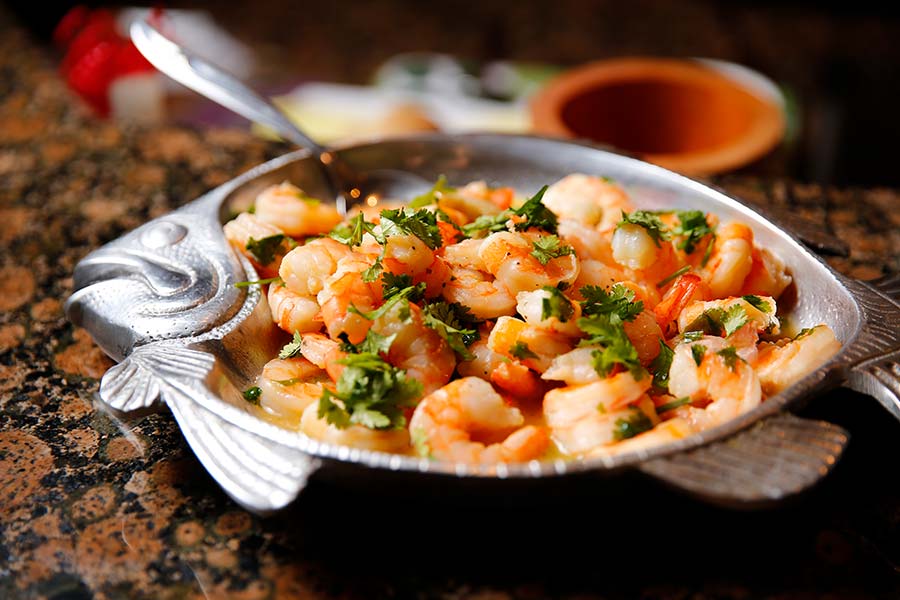 SHRIMP IN GINGER
BUTTER SAUCE
Ingredients
6 ounces of large shrimp in shell, peeled
2 tablespoons unsalted butter
1 ½ teaspoons grated peeled ginger
2 tablespoons medium-dry sherry
2 tablespoons coarsely chopped cilantro
Pat shrimp dry and season with salt.
Heat butter in a heavy medium skillet over medium-high heat until foam subsides, then sauté 2 minutes. Add sherry and sauté ginger 30 seconds. Add shrimp and sauté 2 minutes. Add sherry and sauté until shrimp are just cooked through, 1 to 2 minutes. Stir in cilantro and season with salt and pepper. Serves 1.

SANGRIA SALAD
Ingredients 
3 envelopes unflavored gelatin
1 cup orange juice
½ cup sugar
¼ cup lemon juice
2 ½ cups red wine (or can be made with white wine)
¾ cup club soda
2 oranges, sliced
1 banana, sliced
2 peaches, sliced
1 cup strawberry halves
Soften gelatin in orange juice. Cook over low heat until dissolved. Add sugar; stir until dissolved. Remove from heat. Stir in lemon juice., wine and club soda. Chill until slightly thickened. Fold in fruit; pour into 8-cup mold or 9-inch square dish. Chill. Make early in the day or the day before serving.
Avocado dressing
Ingredients
2 very ripe avocadoes
½ cup sour cream
1 ½ teaspoon salt
2 tablespoons lime juice
If dressing is desired, thoroughly mash avocadoes. Mix with remaining ingredients. Dressing may also be used as a dip.