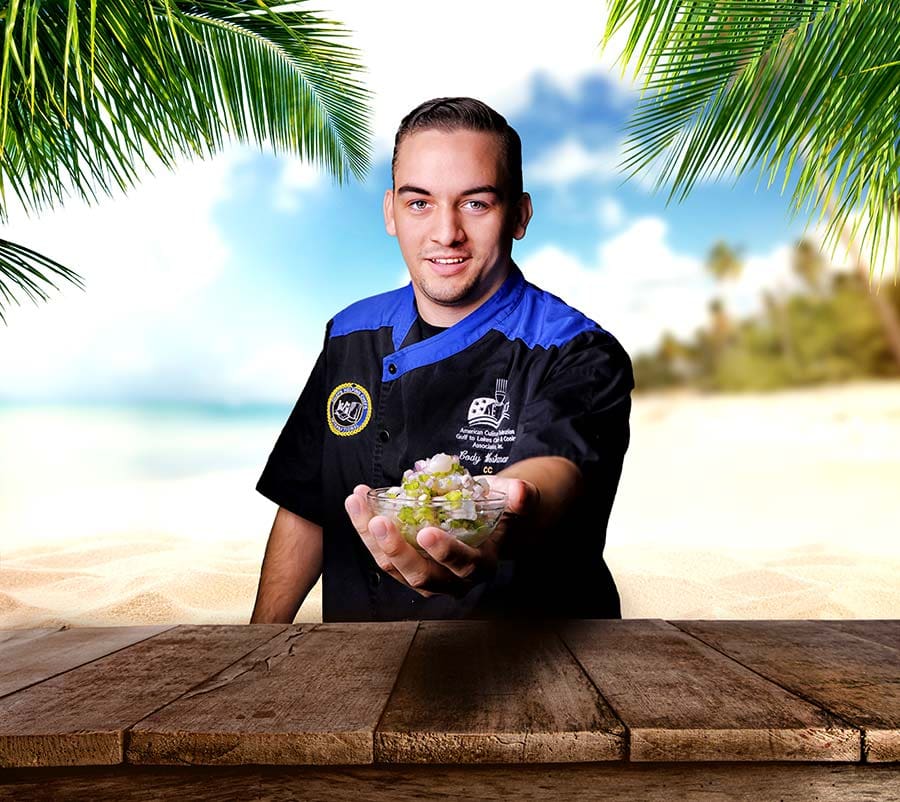 Young sous chef has enjoyed travels and working on magician David Copperfield's private island in the Bahamas. 
Cody Workman loves to talk food. He also has a knack for keeping calm during stressful times in the kitchen, thanks to music, and he relishes free time to enjoy fine dining with his girlfriend, Tarah Philotoff, who's also a chef.
"It has been a fun life and I have experienced a lot; this career allows me to travel to work," says the Mount Dora High School graduate. "People are surprised I'm so young, cool-headed, and how far I have gotten. The hardest part is dealing with the stress level of the kitchen and the long hours. A normal day in the kitchen is 12 to 14 hours for one shift, and if you pull a double, it's like 16 hours. You cope as long as you stay busy."
One way he copes is listening to music playing in the background. "I just shut my brain off. Music helps drown everything else out, and be able to focus and be creative," he says. "It helps to focus on cooking and just have fun."
He traces his love for the kitchen back to childhood days.
"I grew up cooking; my grandmother was a baker, so I already had the knack for cooking and being in the kitchen," says Cody, who cherishes fond memories of going to Nebraska to spend summers on Grandma Mary Lou's family farm, where her huge garden was overflowing with fresh raspberries and strawberries, and her "root cellar was canning heaven."
"When she was baking, I was the only of my siblings allowed in the kitchen because I was the only one who didn't keep eating everything," Cody says. "And I followed instructions."
He also followed instructions from chef John Bell, his culinary teacher from 2007-11 at Mount Dora High, where Cody honed culinary time management skills.
"John pushed management of timing, food orders, being in charge of a group of people. He had a lot of meetings, so I was in charge of the other students during the class periods. In the mornings, he would give me a clipboard and he would tell me, 'This needs to be done for tonight's catering,' and I wouldn't see him until that night's dinner. It was a good experience," he says.
Cody gained more experience at Lake Technical College.
"I did my year there and it was a lot of fun; I did a lot of experimenting and a lot of baking," he says, which landed him a job at the Hollerbach's Willow Tree Café, a German restaurant in downtown Sanford.
"I worked a year there and learned a lot about how 12 guys can work in a confined space. We were shoulder-to-shoulder and we stayed open some nights three hours past our open hours because people were still coming in," he recalls.
Cody's coworkers practically pushed him out the door when he got a phone call from John asking him to come work as a sous chef at an island restaurant in St. Croix. John was invited to be the head chef and felt he could count on Cody to run the restaurant when he wasn't around.
While in the Caribbean, Cody enjoyed the island life and spearfishing for lionfish.
"Once you cut their spines off, it is one of the best-tasting fish I have ever tasted. It's white flesh, a smaller fish, but it is delicious," he says.
His experience in St. Croix opened the door for an invitation to work for magician David Copperfield on his private, high-end island in Exuma Islands, Musha Cay at Copperfield Bay in the Bahamas.
"I spent four years working on that island. It was interesting, and I learned how not to sleep," Cody says, grinning. "There was only two of us in the kitchen cooking for 24 guests on average."
Guests would rent the island while Cody would cook breakfast, lunch, dinner, cocktail snacks, and midnight snacks during most of the guests' visits.
"We learned how to work with what we ordered, and how to work with less sleep. You had to to think on your toes constantly," he says, recalling a boat captain friend would dive for lobster. "And a lot of the guests liked the fresh sushi."
Cody resided on the island when guests were staying there or when the head chef was on vacation.
"The longest I was there was five months straight," he says. "The first year, I was at the island twice a month, back and forth, so I lived pretty much in airports."
Cody also cooked for the celebrity magician a few times and enjoyed dining with him twice. "He's very nice and a generous guy."
Cody has since slowed down his time at Copperfield Bay to pursue more culinary avenues. The sous chef has been told he has experienced more exciting moments in his short career than many chefs twice his age ever encounter.
He has done cooking demonstrations and prefers "to throws things together until it tastes right. Sometimes I will go by smell. If it smells good, looks good, I know it will be good."
He admits he often forgets to write down ingredients of popular dishes he makes.
"I am really bad with writing recipes," Cody says, recalling it was a challenge when a head chef asked him to whip up some dishes that had been big hit with island guests in the past. "I was just lost because I couldn't remember what we did!"
Lobster ceviche
Ingredients:
1 live lobster, about 1 1/2 pounds total
Kosher salt
1 small shallot, minced
2 tablespoons chopped fresh cilantro
1 tablespoon finely minced jalapeño pepper
1 1/2 tablespoons juice from about 2 limes
Extra-virgin olive oil
Directions: 
Bring a large pot of salted water to a boil. Meanwhile, kill lobster by inserting a large knife into its head and splitting it in half. Tear off claws (with knuckles) and tail by twisting away from lobster body, using a clean kitchen towel to grip. Discard body.
Prepare an ice bath by adding 2 quarts of water and a quart of ice cubes to a large bowl. Drop tail and claws into boiling water. Boil tail for exactly 1 1/2 minutes, then transfer to ice bath. Boil claws for a further 1 1/2 minutes (3 minutes total), then transfer to ice bath. Carefully shell lobster and transfer meat to a cutting board.
Slice lobster tail into thin slices and roughly chop claw and knuckle meat. Transfer to a medium bowl. Add shallots, cilantro, jalapeño, and lime juice. Toss to combine and season to taste with salt. Plate ceviche and drizzle with extra-virgin olive oil. Serve immediately.

Cruzan Johnny cake
Directions:
3 cups flour
1 tablespoon baking powder
1½ teaspoons salt
2 tablespoons sugar
½ cup shortening
2/3 cups water or milk
Directions:
Mix dry ingredients together. Cut in shortening or rub in with fingers. Add water or milk slowly, just enough to make soft dough. Knead a few times until dough is smooth and hold together.  Let rest for 10 to 20 minutes.
Shape into rounds. Flatten in your hand or flatten out, prick with fork.
Make sure that your oil is hot. Fry at medium-high heat over stove, turning several times, until brown and crusty on both sides. it should take 15 to 20 minutes.
If baking, bake at 350 degrees until done.

Ropa vieja
Ingredients:
2 pounds of chuck (ask your butcher to cut it taller than wider so you get long strands of beef along the grain or flank steak)
1 large yellow onion thinly sliced
1 of each large green red and yellow bell pepper, thinly sliced
4 cloves garlic minced
2 teaspoons dried oregano
2 teaspoons ground cumin
2 teaspoons sweet paprika
1 teaspoon smoked paprika
1/8 teaspoon ground allspice
1/8 teaspoon ground cloves
2 easpoons kosher salt
1/2 teaspoon freshly ground black pepper
1/2 cup dry white wine
1 cup chicken broth chicken broth has a stronger/deeper flavor than beef broth
1 16-ounce can crushed tomatoes
1 6-ounce can tomato paste
2 bay leaves
1 large carrot cut in half
1 large stalk celery cut in half
1 cup Lindsay Naturals Green Olives rinsed and drained (you can slice them if you prefer)
1/2 cup thinly sliced Lindsay Roasted Red Peppers drained
1/4 cup Lindsay Pimientos drained
2 tablespoons Lindsay Capers rinsed and drained
1/3 cup chopped fresh parsley
Directions: 
Pat the beef dry and sprinkle with salt and freshly ground black pepper.
Heat a little oil in a Dutch oven over high heat. Once very hot add the beef and brown generously on all sides. Transfer the beef to a plate. (Do not discard the drippings and blackened bits in the pot, they are key to the flavor.)
Add the sliced vegetables to the pot and cook over medium heat for 15-20 minutes until caramelized. Add the garlic and spices and cook for another minute. Add the white wine and bring it to a rapid boil, deglazing the bottom of the pan (scraping up the browned bits on the bottom of the pan).
Add the broth, crushed tomatoes, tomato paste and bay leaves. Simmer for 5 minutes.
Return the roast to the pot along with the pieces of carrots and celery. Bring to a boil, reduce the heat to low, cover and simmer for 3-4 hours or until the beef is fork tender and falls apart easily. Discard the celery, carrots and bay leaves.
Transfer the beef to a plate and shred it.
Stir in the olives, roasted red peppers, capers and pimientos. Simmer uncovered to thicken the sauce for 30 minutes. Stir in the parsley and add salt and pepper to taste.
Originally from Anderson, Ind., Theresa worked for The Herald-Bulletin for many years. After experiencing a winter with 53 inches of snow, her late husband asked her to get a job in Florida, and they headed south. Well known in the area, Theresa worked with The Daily Sun and The Daily Commercial prior to joining Akers.
Share This Story!