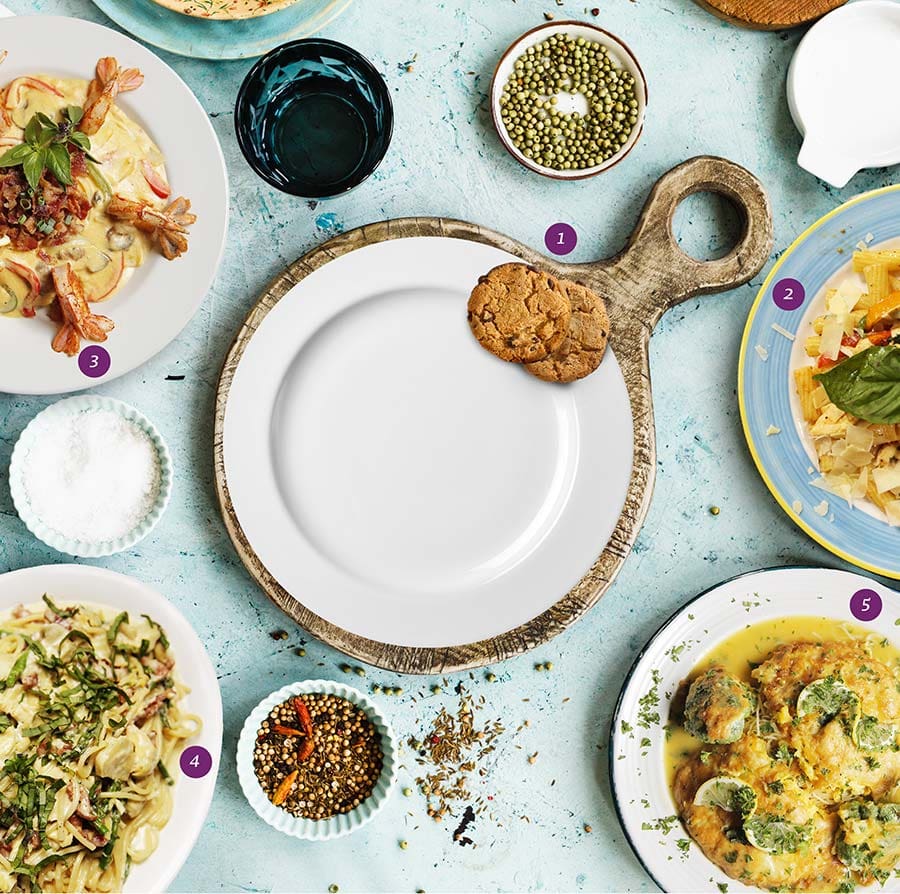 Chefs share favorite recipes that make them swoon.
Chefs in Lake and Sumter counties whip up delicious meals and desserts that diners love to savor, so what do they love to make in their own home kitchens? For Style readers only, the following local chefs graciously shared recipes of the foods they thoroughly enjoy.

1. From Bakery Chef Brandy Roach
Bakery at 1884 Restaurant in Eustis 
Grandma's Chocolate Chip Cookies
Ingredients:
2 1/2 cups flour
1 teaspoon baking soda
1 teaspoon kosher salt
1 cup butter
3/4 cup light brown sugar
3/4 cup granulated sugar
1 tsp vanilla
1/2 tsp water
2 eggs
Directions: 
Mix your flour, baking soda and the kosher salt. Set it aside. In another bowl mix the butter, brown sugar and granulated sugar.
Beat until light and fluffy. Add your vanilla, water and eggs into this mixture. Beat again until light and fluffy. Add flour mixture, mix until combined, then add 1 1/2 cups chocolate chips.
Bake at 325 degrees for about 5-7 minutes, just until barely cooked but they look slightly undercooked.
2. From Chef Giovanni Manco Gio's Deli in Oxford and Giovanni's Ristorante in The Villages
Rigatoni Gio's
(Note: Giovanni did not provide measurements, and just like many great cooks, he tosses ingredients together to create his favorite dish).
Ingredients: 
Chicken, cut into strips
Fresh bell peppers, cut into strips
Cherry tomatoes
Basil
Fresh garlic
Olive oil
Salt and pepper
Rigatoni pasta
Shaved Parmigiano
Directions: 
In a 12-inch sauté pan on medium heat, you will add fresh garlic and olive oil. Add chicken and bell peppers. Sprinkle with salt and pepper. Let evenly cook.
While chicken is cooking, add rigatoni pasta to salted boiling water and cook al dente. Once chicken and bell peppers are cooked through, add pasta, cherry tomatoes, and basil. Mix together and let all get heated through. Serve with shaved Parmigiano on top. Buon appetito!
3. From Chef Kathi Vincent
Miz Kathi's Cotillion Southern Café in Wildwood 
Shrimp and cheese grits 
Ingredients:
4-6 extra jumbo shrimp
1 bell pepper, any color
1 onion
1 large mushroom
6 slices of bacon for bacon drippings and garnish
1/3 cup heavy cream
1/2 teaspoon lemon juice from lemon
2 cups cheese grits, recipe below
Couple dashes seasoned salt
Dash of black pepper
Couple dashes of Dixie Dust (Miz Kathi's house seasoning dry rub)
1 strip bacon for garnish
1 teaspoon green onions for garnish
2 teaspoons Chardonnay white wine
Directions:
Prepare grits (recipe below) at least 2 hours ahead. Grits should be thick to allow stable foundation for shrimp, veggies and wine sauce. Prepare the shrimp by peeling, deveining, and removing tails. Cut bell pepper into julienne slices. Slice mushroom into 4 to 6 slices. Dice 1 onion. Fry 6 slices thick-cut bacon and save the drippings. Cut lemon in half, remove pits.
Place 1 cup prepared grits in soup bowl. Now you are ready. Cooking time for the following is about 6-7 minutes. Using an 8-inch fry pan on medium-high heat, add bacon drippings and shrimp. Stir until shrimp starts to turn pink. Do not allow shrimp to burn. Add 4-6 bell pepper slices, mushroom slices, and 1 tablespoon diced onion. Continue to stir. Do not allow veggies to burn. Add 1 teaspoon wine and 1/2 teaspoon lemon juice. Wait a minute, then add 1/3 cup cream. Continue to stir to allow cream to come to a boil. Add 1 more teaspoon wine. Cook until sauce thickens 1-2 minutes. Just prior to removing from heat add black pepper, Dixie Dust, seasoned salt. Stir, remove from heat and pour over grits. Garnish with bacon bits and green onions. Enjoy!
Cheese grits
Ingredients: 
2 cups water
1 cup grits, quick cooking (not instant)
2 cups half and half
2 tablespoons butter, melted
1 heaping cup shredded cheddar cheese, plus extra for garnish
1/2 teaspoon salt
1/2 teaspoon Dixie Dust (Miz Kathi's house seasoning and dry rub)
1/8 teaspoon coarse black pepper
1 strip bacon, fried and crumbled for garnish
Directions:
Bring water to a boil. Slowly add grits to boiling water while stirring. Reduce heat to very low. Stir until smooth and there are no lumps. Add seasoning, melted butter, half and half. Cover and simmer for at least two hours. Add cheese, stirring occasionally until cheese is melted.
Note: Always season your grits while they are cooking. If you wait until they are already cooked, you can't get enough salt in them.
4. From Chef Jessica Flinn
Gourmet Today in Leesburg 
Bucatini Carbonara with blue cheese and artichokes
Ingredients:
1 pound bucatini pasta (you can use any long pasta fettucine, linguine, spaghetti, etc.)
1/2 pound of asparagus, trimmed and cut into thirds (or smaller if you have really long asparagus)
2 tablespoons olive oil
3 garlic cloves, minced
16 ounces chopped artichoke hearts
1/2 cup dry white wine
1 cup crumbled blue cheese (gorgonzola would work here as well)
2 cups heavy cream
1/2 teaspoon dried crushed red pepper
1 teaspoon freshly ground black pepper
1/2 teaspoon salt
3 large eggs, beaten to blend
8 slices bacon, cut into 1-inch pieces
1 cup grated Parmesan cheese (about 3 ounces)
1 tablespoon chopped fresh basil
Directions:
Bring a large pot of salted water to a boil. You will need your water ready to add pasta while sauce is being made.
In a large pan or Dutch oven, cook cut bacon until crispy. Remove from pan with slotted spoon. Add olive oil to pan with bacon grease and reduce heat to medium low. Add artichokes, then garlic and sauté for 5 minutes. Add wine and stir until wine reduces by half. Meanwhile, add pasta to pot of boiling salted water. Add 1/2 cup blue cheese, cream, crushed red pepper, black pepper and salt to the artichoke mixture and simmer until sauce thickens, about 5 minutes.
When you have about 3 minutes left of your pasta cooking time, add the asparagus to your pasta water. Finish cooking until pasta is tender but still firm to bite. Drain the linguine and asparagus well, reserving about 1 cup of pasta water.
Add hot pasta and asparagus to sauce and toss to coat. Remove from heat. Add eggs to pasta and stir vigorously. Add bacon, 1/2 cup blue cheese, 1/2 cup Parmesan cheese and basil and toss to incorporate. Add 1/2 cup reserved pasta water to thin sauce, if desired. Sprinkle 1/2 cup Parmesan cheese over pasta and serve.
5. From Executive Chef Jerry Vejseli 
Olive Branch Mediterranean Italian Grille and Bar in Mount Dora 
Chicken broccoli Franchaise 
Ingredients:
2 chicken breasts
2 large broccoli spears
Olive oil
Flour
Egg batter
4 ounces chicken stock or broth
1/2 fresh lemon
Butter
Fresh parsley
Salt and pepper
Angel hair pasta or rice pilaf
Directions:
Clean 2 breasts of chicken and 2 large spears of broccoli. Start a frying pan with generous portion olive oil to cover the bottom.
Dip the chicken and broccoli spears in flour and then in eggs.
Once frying pan is hot, place chicken and broccoli in the pan to cook.
For the sauce: In another frying pan, take 4 ounces of chicken stock/broth, add 1/2 of a squeezed fresh lemon, one ounce of butter and 1/2-ounce roux (made from equal parts of flour and butter mixture) and heat. Keep stirring and add in fresh parsley and a touch of black and white pepper.
Back to the chicken, pour 2 ounces of white wine during the cooking process of the chicken and broccoli. Cook to golden brown.
Serve over 6 ounces of angel hair pasta or rice pilaf by placing the chicken and broccoli on the pasta or rice and ladeling the sauce over the top.
Originally from Anderson, Ind., Theresa worked for The Herald-Bulletin for many years. After experiencing a winter with 53 inches of snow, her late husband asked her to get a job in Florida, and they headed south. Well known in the area, Theresa worked with The Daily Sun and The Daily Commercial prior to joining Akers.
Share This Story!