In the Kitchen: Creating a new lifestyle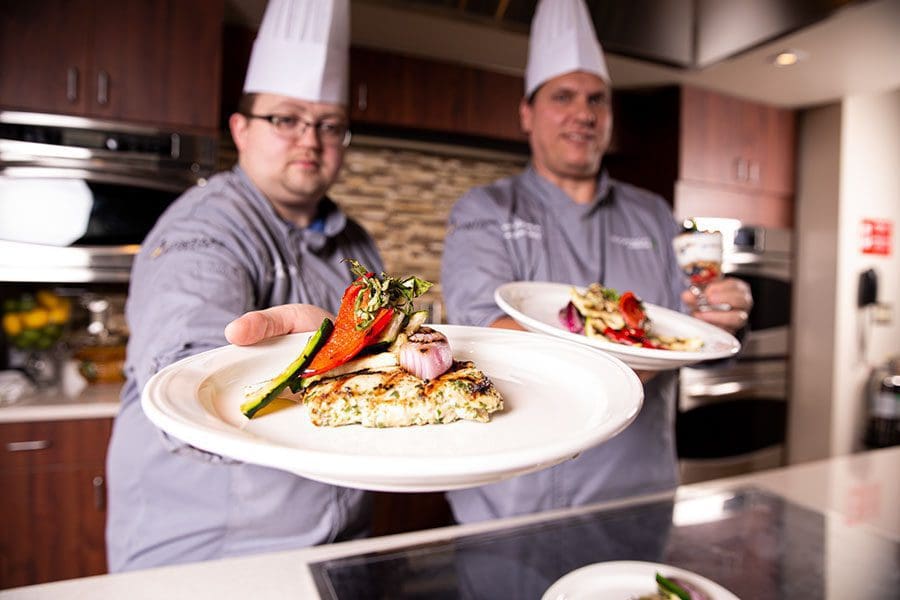 CREATION Health Kitchen at AdventHealth Waterman guides guests' nutritional needs.
Stay away from fad diets.
When talking about food, nutrition and diets, that's the No. 1 advice from registered dietitians Victoria Gerace and Candace Aurigemma, of AdventHealth Waterman Hospital in Tavares. They tout the healthy cooking tips offered through the Yum Yum Club demonstrations at the hospital's CREATION Health Kitchen.
"Especially in the new year, everybody kind of wants to jump onto something that they think is going to be a quick fix, and it usually does not work," Victoria says. "We are actually starting to see a lot of people with complications from doing things like keto, and the ketogenic diet is extremely high fat."
She believes many keto followers consume too much unhealthy fat, like bacon.
"We are seeing people whose lipid numbers are off, whether it's triglycerides, high cholesterol, and we're seeing it in younger people, too," Victoria says. "Even though a lot of people have had some serious weight loss, it's not always a healthy option."
Candace says some people also get carried away with what they see on the internet about "the newest and greatest supplement. Our job is to steer them into a more attainable lifestyle."
As far as nutrition, Candace advises everything in moderation.
"You do want some carbs, some healthy fats, protein, and make sure you're getting a variety of colors and the different food groups," she says, while also advising not to totally abandon the food you enjoy.
Eating should be enjoyable, says Candace, a dietitian for the hospital's medical ICU and cardiovascular ICU. She often provides nutritional advice to heart patients.
"Most of our diets have a lot of salt in them already, so I encourage (people) to try to avoid adding additional salt. Try to go for leaner meats, such as chicken as it is prepared here (in photo) or fish. Go for lots of vegetables, fruits, whole grains," Candace says, adding healthy eating habits are reflected in better bloodwork results.
"I've had people who've made changes in their diet and they come back and say, 'My HDL (good cholesterol) improved, my triglycerides improved,'" Victoria adds. 
During the Yum Yum Club live food demonstrations, David Atkinson, executive chef of food and nutrition services, and Jacob Wishon, operations coordinator, take turns whipping up nutritious recipes using farm-fresh, plant-based ingredients. Guests are treated to sample tastings of each recipe prepared during the night.
"When folks from the community join us for our cooking classes or demos, we like to present recipes that taste great, feature fresh ingredients and are easily prepared using healthy cooking methods," David says. "We find that if our recipes are full of flavor, use a few easy-to-find ingredients and are simple to prepare, our guests will be more likely to make the dishes at home."
The chefs agreed to prepare and share recipes with Style for grilled chicken and Greek yogurt parfait.
"Chicken is a great lean protein; there's no carbohydrates in grilled chicken," says Victoria, who also has been an instructor for the diabetes self-management class offered at the CREATION Health Kitchen. "So that meal would be great protein and high fiber from all of the different veggies. It would be a really great, healthy, low-carb option, and it would be easy to add a healthy fat like olive oil or avocado." 
During five classes offered every Monday morning for diabetics and people who are newly diagnosed with diabetes, the focus is on carb counting, medication for diabetes, the physiology of the body in diabetes and how diabetics should manage it.
"A lot of people come to us confused about what to do, what to eat, so the more you know, the better," Victoria says.
The dietitians say taking a person's lifestyle into consideration can help determine their optimal nutritional needs. Victoria is transitioning into a new role as an outpatient dietitian at AdventHealth Waterman, where she will work one-on-one with people on their nutritional needs. She will examine a person's bloodwork, lifestyle, activity and economics as far as grocery shopping habits, and check for diabetes, chronic kidney disease and other medical conditions to get the whole picture of the person's diet.  
---
Yum Yum Cooking Club
What: Live food demonstration of nutritious recipes using farm-fresh, plant-based ingredients.
When: 6-8pm Feb. 13 and 27.
Where: CREATION Health Kitchen, AdventHealth Waterman, 1000 Waterman Way, Tavares.
Cost: $30 per person.
To register: Call 352.253.3685 or visit adventhealthwaterman.com.
---
Grilled chicken with grilled vegetables
Ingredients
4 boneless, skinless chicken breast halves, all visible fat removed 
1 small zucchini, cut lengthwise into slices
1 small red pepper, cut crosswise into 4 rings
1 small eggplant, peeled and cut crosswise into slices
1/2 red onion, sliced
Cooking spray
Marinade ingredients for chicken
1/4 teaspoon chopped garlic
1/4 teaspoon kosher salt
1 teaspoon fresh minced herbs (parsley, cilantro and thyme)
2 ounces olive oil
1/2 teaspoon minced ginger
1 teaspoon squeezed lemon juice
Marinade ingredients for vegetables
1 tablespoon chopped garlic
1 ounce balsamic vinegar
1/2 teaspoon chiffonade basil
2 ounces olive oil 
Directions
Stir the chicken marinade ingredients in a small bowl. Add chicken to the marinade. Refrigerate for 4-8 hours. In a small bowl, stir vegetable marinade ingredients together to form an emulsion. Transfer mixture to shallow dish and reserve 1 ounce of mixture. Toss vegetables into marinade and mix evenly. Marinate in refrigerator for at least 4 hours. 
Preheat grill to medium high. Put the zucchini, bell pepper and eggplant on a flat surface. Lightly spray both sides of the vegetables with cooking spray. Sprinkle both sides with the reserved vegetable marinade mixture. Using your fingertips, gently press the mixture so it adheres to the vegetables. 
Grill the chicken for 4-5 minutes on each side to reach 165 degrees throughout. After grilling the chicken on one side, put the zucchini, bell pepper and eggplant on the grill. Grill the vegetables for 2-3 minutes on each side or until tender. Serve the chicken with the vegetables on the side. Serves 4.
Nutritional facts: 575 calories; 37.8 grams fat; 282 mg sodium; 16.9 grams carbohydrates; 6 grams fiber, 44.7 grams protein.
---
Greek yogurt parfait
Ingredients
1/4  cup dried oats
1/4 cup strawberries (fresh, frozen or thawed)
7 walnuts
1 cup Greek yogurt
1 packet Stevia 
Directions
Stir together yogurt and Stevia packet. Layer strawberries. Layer oats and walnuts. Layer yogurt mixture. Top with more strawberries, and you also can add other fruit. Serves 1. 
Nutritional facts: 153 calories; 4 grams fat; 35 mg sodium; 19 grams carbohydrates; 12 grams protein.
Originally from Anderson, Ind., Theresa worked for The Herald-Bulletin for many years. After experiencing a winter with 53 inches of snow, her late husband asked her to get a job in Florida, and they headed south. Well known in the area, Theresa worked with The Daily Sun and The Daily Commercial prior to joining Akers.
Share This Story!