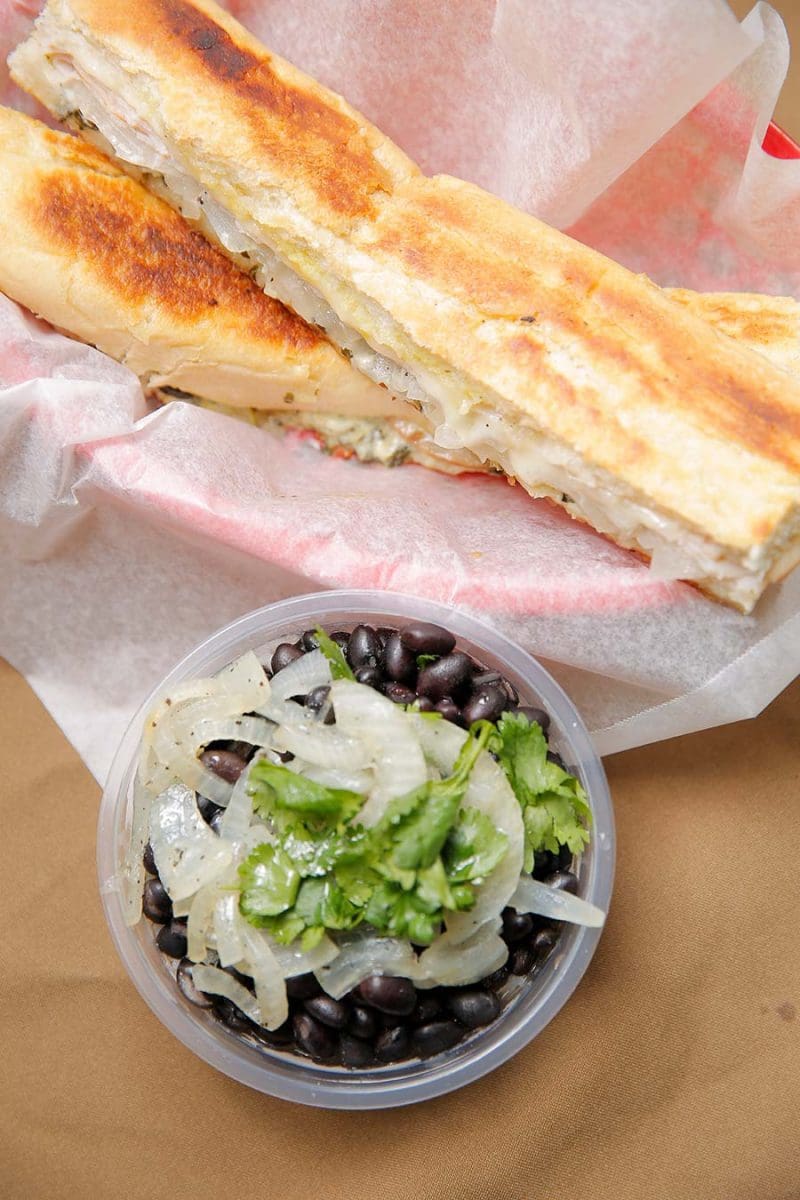 BBQ-uban: A Leesburg restaurant offers the best of both worlds for those who love Cuban-style sandwiches and barbecue.
The personable service delivered by Tajanita Rainey is enough to make customers become regulars at Cuban & BBQ 2 Go.
"My husband has always wanted to open a barbecue restaurant, so when we opened this we put a twist on it by offering Cuban food, as well," Tajanita says. "Some people love our barbecue, and others love our Cuban food. Some try both. It just depends what you're in the mood for that day."
I opted for the Cuban fare. This would be my first time eating a fried sweet plantain, a satisfying snack that is as popular in the Caribbean as pie is in America. Golden brown and caramelized, the plantain tasted perfectly sweet and was deliciously warm on the inside.
I ordered the Turkey Artichoke Delight, which came with smoked turkey breast drizzled with sweet honey dressing, a spinach artichoke spread, and Swiss cheese. It was served on Cuban bread that is nicely toasted and does not cut the roof of your mouth with every bite.
The hearty and flavorful black bean soup contained a perfect blend of sautéed onions and yellow rice, satisfying my palate with a fresh and tangy taste. I also enjoyed the taste of Co Co Rico, a natural-flavored coconut soda.
With her big smile and cheerful demeanor, few would believe Tajanita was diagnosed with stage 3 breast cancer in April 2016. However, her unwavering positive attitude has helped her endure chemotherapy and radiation treatments. She is now in remission.
"Lots of customers come by the restaurant just to see how I'm doing," says Tajanita, who opened the Leesburg restaurant three years ago. "Being at the restaurant is great because it helps me get my mind off things."
Cancer certainly hasn't impeded her ability to cook up delicious food. As the restaurant's name implies, the menu offers a unique option of Cuban-style sandwiches, and barbecue is served on Thursdays and Fridays.
I wholeheartedly recommend Cuban & BBQ 2 Go. Tajanita's contagious smile and delicious food will keep me coming back.
Cuban & BBQ 2 Go. // 9926 U.S. Highway 441, Leesburg // 352.460.0529
Akers Media Group's James Combs has been a staff writer for several local publications since August 2000. He has had the privilege of interviewing some of Lake County's many fascinating residents—from innovative business owners to heroic war veterans—and bringing their stories to life. A resident of Lake County since 1986, James recently embarked on a journey to lead a healthier lifestyle. He has lost 60 pounds and walks nearly five miles a day. In his spare time, he enjoys target shooting, skeet shooting and watching his beloved Kentucky Wildcats!
Share This Story!