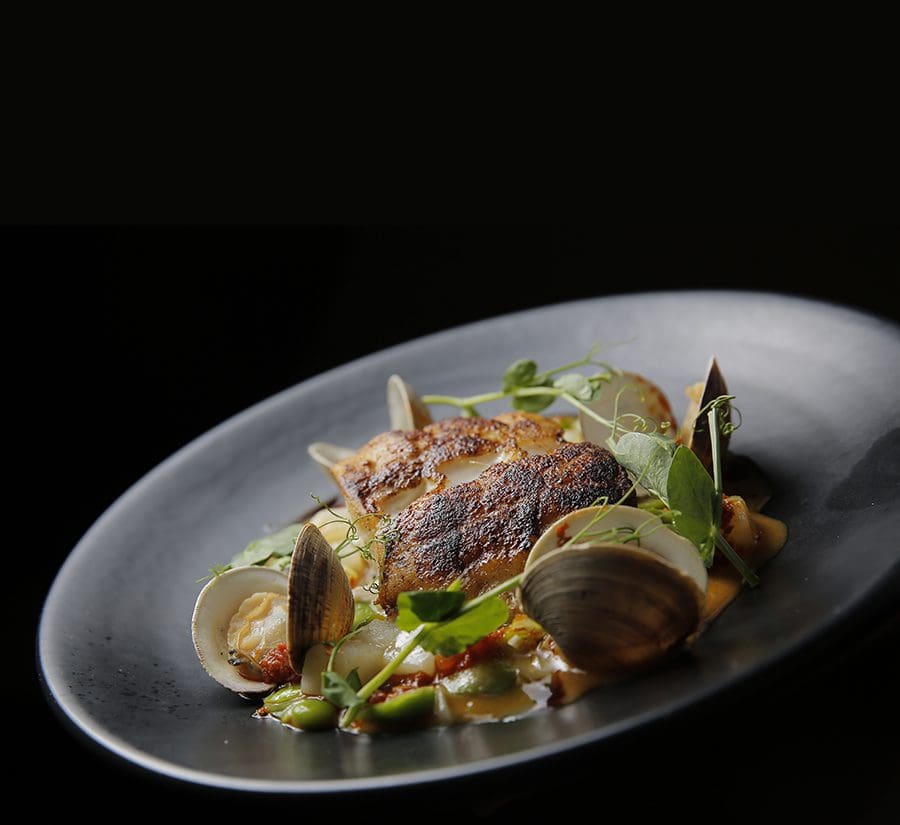 Hungry for some good eats? Mount Dora's finest restaurants are ready to whet your appetite.
---
Pull out the flip flops, shorts, and tropical shirts as "Island Time" is the theme of the 17th annual Taste in Mount Dora and Casino Night to be hosted 6-11pm March 10 at Sunset Park, 230 W. 4th Ave., Mount Dora.
The event sells out every year at 600 tickets, according to Rob English, president of the Mount Dora Chamber of Commerce, who expects more than 30 restaurants to showcase tasty culinary specialties for the crowd to savor.
"I enjoy the festive nature of the event the most. We combine our annual Taste of Mount Dora along with our Casino Night with all the Las Vegas-style gaming," he says.
Guests may bid in the silent auction and also try their hand at blackjack, Texas hold'em, roulette, craps, and poker.
A live band provides dancing music, and Rob predicts guests will enjoy posing for photographs in "an old-fashioned photo booth printing out the strips of photos we all used to love."
The big draw, of course, will be the food.
Chef de Cuisine Camilo Velasco, of 1921 by Norman Van Aken, plans to prepare small bites of pork rillettes, slow-cooked pork spread, on house-made grilled sourdough bread.
"It's going to be tasty. We want to show something that maybe perhaps you haven't tried before," he says.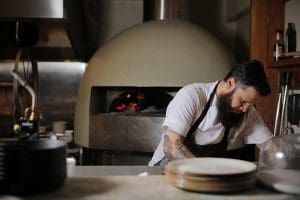 Adam Crane, general manager of 1921 by Norman Van Aken, views Taste in Mount Dora as a great way to interact with the public. "Hopefully, people will taste what we have to offer and have a good time," he says.
He hopes the event attracts more diners to 1921 by Norman Van Aken, the 142 E. 4th Ave. restaurant that was converted from a 1921 house.
"We hear all the time that the restaurant is so beautiful. It's more than a place to have a good meal, it's a place to be seen," Adam says.
"Our menu can be food that can suffice you when needed and it is also food that can be simple and comforting," Camillo adds. "All in all, it's a pretty diverse menu that can be fit for all kinds of palates."
Camillo enjoys creating recipes at 1921, one of three restaurants owned by celebrity chef Norman Van Aken, who also has a cooking school in the Wynwood Art District of Miami. He is the only Floridian inducted in the James Beard Foundation's Who's Who of Food & Beverage in America.
Norman visits his Mount Dora restaurant once a month, and the menu is a collaboration of his dishes and creations of the 1921 culinary team.
"His vast amount of experience and his great palate makes it exciting for us to have him taste something that we have conceptualized or created," Camillo says. "His compliments are usually very short and sweet, like 'very good,' and that means a lot, for sure."
Camillo says Taste in Mount Dora is a great way for chefs and foodies to mingle.
"We get an opportunity to walk around and see what the other restaurants have to offer and to see other peers from Mount Dora and this area," he says. "It's always great because you do get to meet new people and see regulars outside the restaurant walls."
Joshua Jungferman, general manager and one of the partners of Pisces Rising, 239 W. 4th St., has been involved in the Taste in Mount Dora ever since the restaurant began 14 years ago.
"From our point of view, it's great because it's a chance for all of us to get out in front of each other; we get to talk and taste each other's creations," Joshua says. "The event brings people into town, so it has an economic impact."
And those 600 people sampling the Pisces Rising dishes may become future guests at the restaurant.
"People really love it," he says. "The chefs like fresh, farm-to-the-table ingredients from the restaurant, whether it's seafood, meat, poultry or produce. The creative juices are left to the chefs, and the good thing is the Taste is only a few steps from our front door."
He has seen the event grow over the years.
"It gets bigger each year. When we went through the recession back in 2008 and 2009, the Taste got smaller, not only in attendance but in restaurants. But now it's back bigger than it ever was before, so that is nice to see, and we've seen Mount Dora grow, too," Joshua says.
The 297-seat Pisces Rising is the site for about 50 wedding receptions a year.
"We've had several people ask for another's hand in marriage here, and we've done several of the weddings, so we have become a place where we see a lot of people spending their first-year anniversary, and that is always neat to see the human aspect of the story," Joshua says. "We've been a part of a lot of engagements, a lot of weddings, and we're a place to go for dates, and we've been the first date for a lot of people, too. We've been the first date, and the wedding for a lot of people and we've seen them every year afterwards for their wedding anniversary."
——-
Dishes to savor
Pisces Rising and 1921 by Norman Van Aken provided the following recipes:
---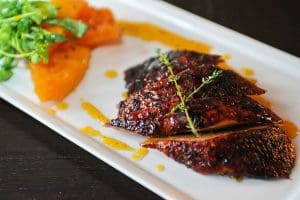 Pisces Rising
Signature duck
8 oz. duck, breast
4 oz. carrot curry crema (recipe below)
2 oz. mushroom, trumpet
2 oz. butter, unsalted
1⁄2 oz. garlic, fresh
1 oz. citrus gastrique (recipe below)
Marinate duck overnight:
1 cup Bordeaux, cherry juice
1 tablespoon garlic
1 teaspoon cumin
Salt and pepper to taste
Start duck in the pan, sear until breast is crisp. Finish in oven for 5 minutes at 350 degrees or until the temperature is 125 degrees in the center.
---
Carrot curry crema
1 lb. carrots, shredded
0.5 lb. Idaho potato
0.5 oz. shallots
0.25 oz. curry
0.5 lb. butter
1 cup milk
1 oz. garlic
Salt and pepper to taste
Boil potatoes until soft and are able to be mashed. Sauté carrots, shallots, and garlic in a food processor. Add all ingredients and spices, puree until smooth.
---
Citrus gastrique
1/3 cup brown sugar
2 tablespoons rice vinegar
1 tablespoon Grand Marnier
2 oranges
1 lemon
3 oz. cantaloupe
1 oz. sugar
Start sugar in a sauce pan, add all liquids. Reduce by 1⁄4 volume. Serve over the duck breast.
---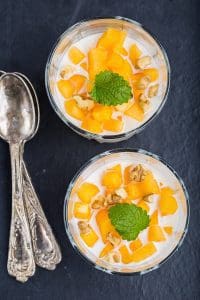 1921 by Norman Van Aken
Coconut milk rice pudding
½ cup Arborio rice
½ cinnamon stick
½ teaspoon grated lime zest
½ teaspoon kosher salt
¼ teaspoon coriander seeds
2 cups whole milk
1 (13 ½-oz.) can unsweetened coconut milk
2 egg yolks
1/3 cup sugar
1 teaspoon vanilla extract
Buckwheat honey
Mango slices
1 cup toasted unsweetened shredded coconut
Put the rice, cinnamon stick, lime zest, salt, coriander, whole milk, and coconut milk in a heavy saucepan and simmer, covered, for 20 minutes, stirring occasionally. Uncover and cook for 10 more minutes, stirring more frequently as it thickens.
Once the rice seems close to being done, whisk the egg yolks, sugar, and vanilla together in a bowl. Measure the volume of the rice mixture. When the rice mixture has reduced to 3½ cups, temper in the yolk mixture by adding about ½ cup of the hot rice at a tome to the yolks, stirring, until the yolks are nicely warmed up. Then combine both in the saucepan and cook, continuing to stir, until the mixture coats the back of a spoon. Remove to a bowl to cool and thicken the rest of the way.
Serve warm or chilled, with a drizzle of buckwheat honey, some mango, and toasted coconut.
Originally from Anderson, Ind., Theresa worked for The Herald-Bulletin for many years. After experiencing a winter with 53 inches of snow, her late husband asked her to get a job in Florida, and they headed south. Well known in the area, Theresa worked with The Daily Sun and The Daily Commercial prior to joining Akers.
Share This Story!