This N' That: Dead man walkin'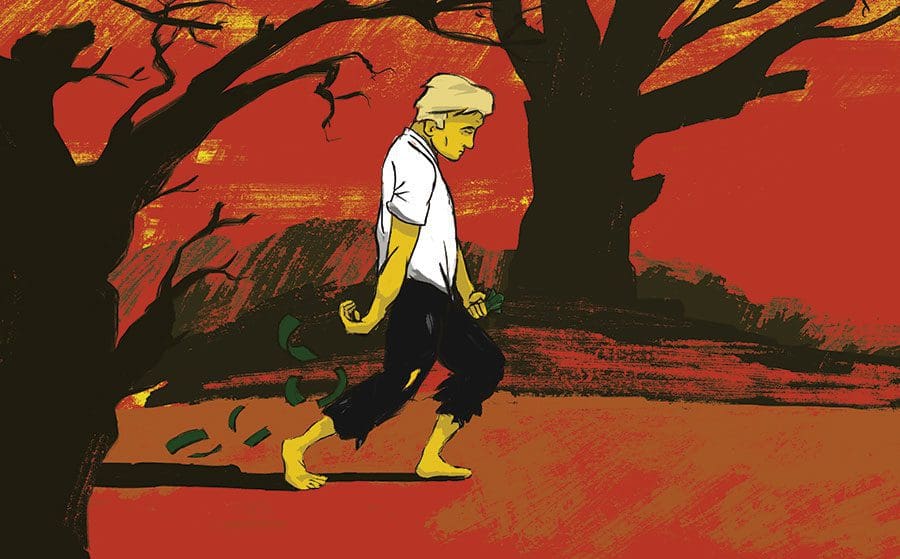 The high cost of health care is an emergency situation.
Story: Chris Gerbasi // Illustration: Megan Mericle
Quick quiz: What place charges $2,252 to walk in the door?
Quick answer: The emergency room.
Many people may know that answer, but I didn't. I'm not very bright about some things. Oh, sure, I use a lot of fancy two-syllable words, but trust me, there are gaps in the old cerebrum (that's part of the gluteus maximus, I believe). Health-care coverage has always been a little fuzzy.
However, a near-death experience in the ER wised me up. OK, it was "near death" only in the sense that the ceiling of the examination room could have collapsed on my head or I could've broken my neck straining to look at a nurse. But the experience was life-threatening for my bank account.
I didn't plan on going to the ER that day and yet somehow, the accountants saw me coming. I had symptoms of high blood pressure: tension headaches; a red and heated face; pressure on my skin; and a bulge over my left collarbone that reminded me of a bullfrog. Again, I'm not very bright, but when I get a bullfrog neck and my head feels like it's going to explode, I tend to think I need a doctor.
This year, I finally purchased coverage from "the Marketplace," which robs you coming and going. You pay either a high monthly premium you can't afford for care you may not use or a high deductible where thousands in costs are all on you. Unfortunately, I hadn't yet picked a doctor. So, when I tried to get in to see a doctor the same day, I was told by a receptionist, "No, you have to be a patient to get in the same day. New patients need a new patient appointment first."
Oh, OK. Sorry, doc. I didn't mean to go all Hippocratic Oath on you. I missed the fine print: You see patients when it's convenient for you. Getting sick is inconvenient for me. Got it.
In the interest of expediency and economy, I visited a "MinuteClinic" at a drugstore whose name rhymes with "PBS." The MinuteClinic is aptly named. I was there about a minute. A woman took my blood pressure. "It's a little high." I knew that.
The "PBS" website states that its nurse practitioners and physician's assistants "diagnose and treat common illnesses," "administer screenings and physicals," and "write prescriptions when medically appropriate." That's a load of hemoglobin.
This woman did none of those things. She simply didn't want to do her job. Well, she did make a recommendation: go somewhere else. Like the doctor's receptionist earlier, she suggested I go to an ER facility run by a company whose name rhymes with "Mocala Wealth" in a city whose name rhymes with "Bummerfield."
If you haven't been to an ER, it racks up charges as fast as a strip club. If you haven't been to a strip club, it racks up charges as fast as an ER. Don't forget to tip your admitting nurse. Would you like to buy a drink for the lab technician? Your doctor would like to share a bottle with you in the VIP examination room. Touching costs extra.
Over 90 minutes, I was poked, drained, radiated, and electrified. The result? I was given a tiny 5-milligram high blood pressure pill, which is all I wanted in the first place. "Try this, we'll see if it works. Call your doctor." In other words, "Good luck. Now beat it."
The bill? $7,951.50. (My portion was $1,781, about 22 percent.) That total works out to $5,300 an hour. The "standard charge" for using a freestanding ER was $2,252.
"Hey, boss, can I get a $5,300 an hour raise? I'm just trying to keep up with the Dr. Joneses."
Of course, the cost of health care is no laughing matter to the millions in this country who can't afford it. Regrettably, I'll have to think twice about my options if another health scare comes up. Financially, I'd be better off dead.