Delectable delights: Bluefin Grill & Bar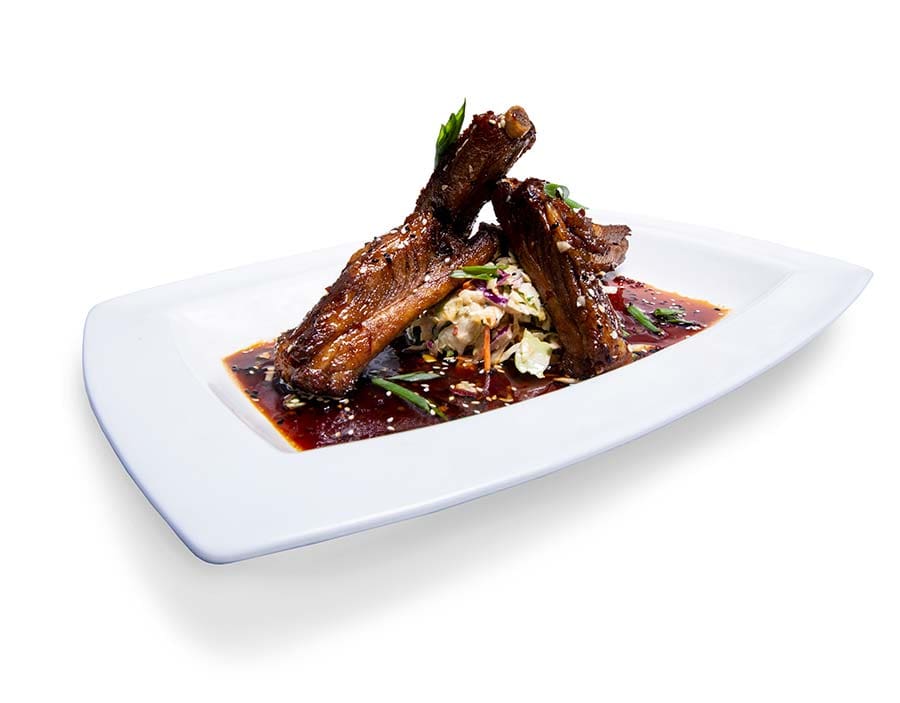 Scratch-made sauces add special touch to delicious entrées.
Bluefin Grill & Bar is a tantalizing treat for the taste buds and the eyes. Its contemporary and classy décor is very appealing in colors of turquoise and gray, and the elegant cocktail bar and spacious and comfortable dining areas both indoors and outdoors add to the ambience, making the restaurant an ideal spot for a date for two or a gathering with friends.
This Villages restaurant in Brownwood Paddock Square has a refined menu of fresh seafood, wood-fired aged steaks, specialty plates, sandwiches, and pastas. My lunch companion, Leigh Neely, chose the coconut haddock topped with a mango salsa with dark rum blanc as her entrée. "This is the best non-fried fish I've ever eaten," Leigh raves. "Every bite is absolutely tasty and flavorful."
The enticing aroma of steak was all it took for me to order a petite filet with shrimp, which was topped with a delightful creamy tarragon butter sauce. My entrée came with tasty garlic mashed potatoes and grilled asparagus that was cooked to perfection, and our server, John, made it more memorable by presenting a tray of high-quality steak knives from which to choose.
Before we received our entrées, we savored sweet sticky ribs as an appetizer, and finished our meal with bourbon pecan pie and vanilla bean crème brûlée. The desserts were the crowning touch to a very enjoyable lunch.
5 Forks
(Out of a possible 5)
Bluefin Grill & Bar 
Brownwood Town Sq.
2738 Brownwood Blvd., The Villages
352.571.5344
Hours: 11am-9pm Sunday-Thursday; 11am-10pm Friday-Saturday.
Fork Report: 
Casual dining $$
Seated immediately (lunch hour)
Wait for meal: 15 minutes; appetizer out in 5 minutes
OUT OF THE ORDINARY STARTERS: ($8.20-$14.10) Wild mussels, sweet sticky ribs, Coquille St. Jacques scallops, conch fritters, Bluefin tuna poke.
ENTREES: ($10.80-$22.90) Ahi tuna pepper steak, mustard-encrusted salmon, Bluefin pescatore, wagyu burger, swordfish. 
Originally from Anderson, Ind., Theresa worked for The Herald-Bulletin for many years. After experiencing a winter with 53 inches of snow, her late husband asked her to get a job in Florida, and they headed south. Well known in the area, Theresa worked with The Daily Sun and The Daily Commercial prior to joining Akers.
Share This Story!