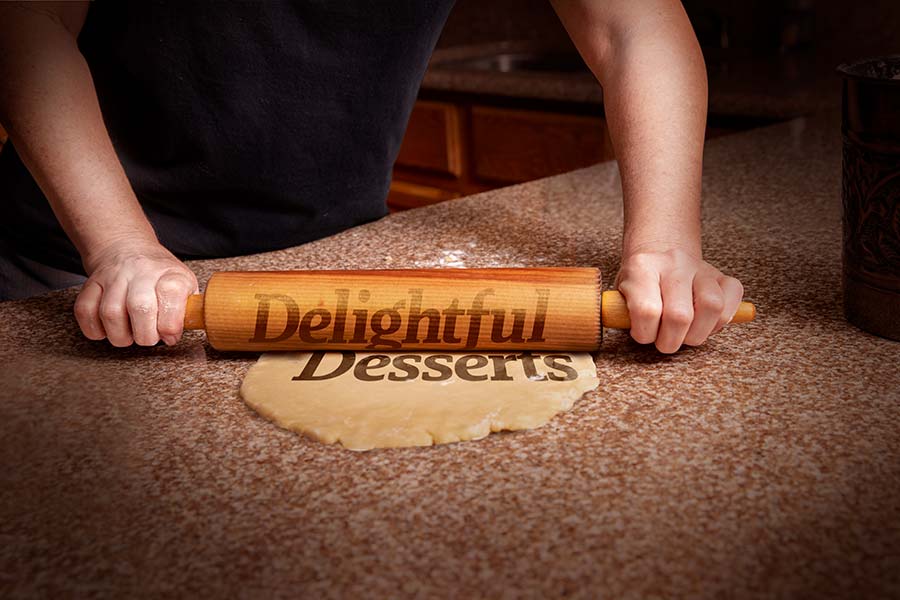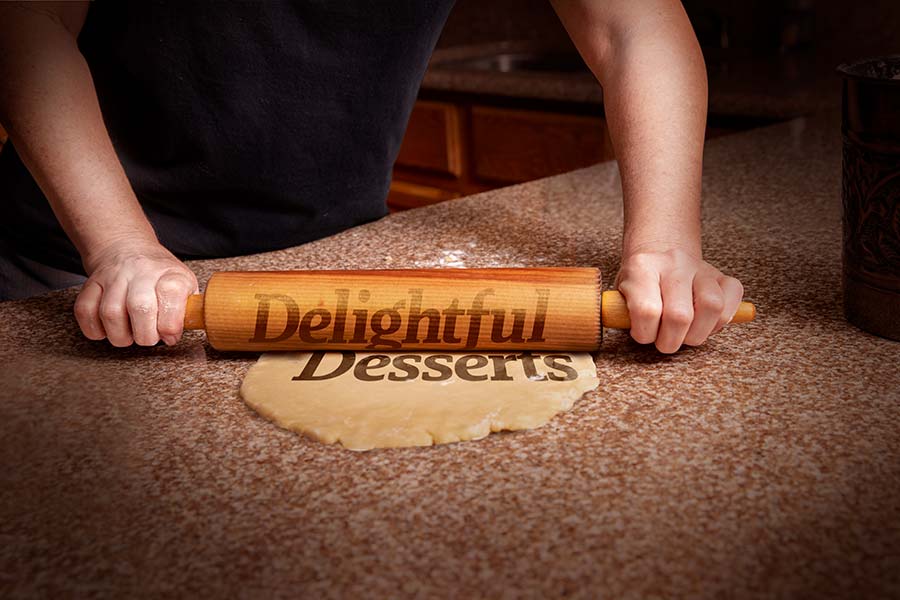 Andrea Dahler works round the clock—almost in her sleep—to whip up Southern sweet treats for events and custom orders.
Photos: Nicole Hamel
Many cooks are too overwhelmed after a Thanksgiving feast to even start thinking about spending more hours in the kitchen, but Andrea Dahler, of Leesburg, has the extraordinary ability to make the most of each day in running Dahler's Delicious Southern Sweets from her home. 
By organizing her prep work and baking time, and squeezing in a nap, she works into the wee hours to make fresh, homemade desserts.
"I will have to transition from Thanksgiving to Christmas in 24 hours," says Andrea, who plans to whip up holiday cakes, cookies, cinnamon rolls, brownies, Rice Krispies treats, and other sweets for Light Up Eustis, scheduled from 5-9pm Nov. 23 at Ferran Park.
"I always say I wish there was five more hours in the day," Andrea says of her desire for more cooking time.
Andrea's typical day ends with her putting the finishing touches on custom orders she receives on Facebook for birthday cakes and other desserts. Last year for Thanksgiving, she made 40 pies and 12 cakes for customers, which was followed by United Southern Bank ordering 200 cookie platters.
She expects to be just as busy for the 2018 holiday season. 
"She can't say no," says her grown son, Christopher. 
He helps his mom by shredding carrots for carrot cake, crushing vanilla wafers for banana cake, mixing up batters, and carrying the large volume of ingredients on shopping day, in between working at a restaurant and studying at Lake-Sumter State College. Andrea's husband, John, a welding instructor, does the delicate hand-painting on specialty cakes, along with fondant work, and Andrea's mother-in-law, Janet, pitches in as needed and researches new recipes. 
"It's a family thing," Andrea says. "It's literally the family name and you want to live up to the family name." 
She began baking as a young girl, making birthday cakes for her brother. Andrea made the boxed cake mixes and decorated cakes with ready-made, stick-on "Happy Birthday" candy pieces. Their mother abandoned them when Andrea was 9, and the two children were raised by their father in Pine Hills.
At 17, she was working at Albertson's as a bagger. One Saturday when the cake decorator didn't show up, Andrea was recruited to decorate all the cakes, which was followed by her receiving hands-on training in the store bakery. After going to college at Valdosta State and having her son Christopher when she was 20, she went back to work at the grocery store as bakery manager and decorator. 
"I would bring him to work and there are pictures of him decorating a Pokémon cake with a little airbrush when he was like 4 or 5, wearing a little apron and hat," Andrea says.
From there, Andrea was hired to work in the bakery of Publix in Winter Garden, Ocoee, and Lake Mary. After recuperating from surgery for a couple of months in 2014, Andrea wasn't looking forward to making the drive to Lake Mary to go back to work at 3am. Her husband encouraged her to quit and start her own business. 
"It wasn't an easy decision," Andrea says of leaving Publix after 14 years. However, she had the backing of her family. "Everyone was on board." 
Being her own boss, she's busier now than when she worked in the grocery store bakery. 
"There is no such thing as an eight-hour day," she says. "The joy of it all is getting to stay home and not have to work under somebody else. I can make my own hours. I can leave and go to the bank, I can leave and go to the store, I can leave and take my husband lunch or dinner. I get to make my own day." 
Customers often email her pictures of cakes they want her to make. 
"They'll say, 'I want this from this one, and this from this one' and I don't like copying other people's work," Andrea says. "If they send me a picture, I tell them it's not going to look exactly like this. You are going to get my version of what that cake is." 
Red velvet and carrot cakes are among her most requested cake flavors. 
"A lot of people will say they don't like red velvet, but when they try my red velvet, they really love it," she says. 
What is Andrea's personal favorite among the desserts that she makes? 
"I don't eat any of it," she admits with a chuckle about being burned out on sweets. But she does rely on feedback from neighbors and friends when she needs taste-testers for recipes she's never tried before. 
Andrea has learned she often dreams about cakes in her sleep.
"My husband says at night my hand will be like this," she says, demonstrating the hand movements she makes in frosting cakes. "No wonder my hands and arms are tired when I wake up."
Buttercream frosting is her favorite to work with and she notes it takes more time to work with fondant or to do cakes with "crazy designs." 
And if Andrea could make a cake for any celebrity, who would it be? 
"Oh, 'Chicago Fire' actor Taylor Kinney," she says, grinning. "He's my Hollywood crush. I would make him whatever he wanted." 
Apricot nut bread
1 cup dried, chopped apricots
1 cup sugar
2 tablespoons shortening or oil
1 egg, well beaten
¼ cup sugar
½ cup orange juice
2 cups sifted flour
2 teaspoons baking powder
½ teaspoon baking soda
1 teaspoon salt
1 cup chopped pecans
Soak dried apricots for 20 minutes. Cream together 1 cup sugar, oil, and egg. Combine ¼ cup sugar and orange juice into above mixture. Add dry ingredients, blend well. Drain apricots. Stir in apricots and nuts into the batter. Grease and line loaf pan. Bake at 350 degrees for 65 minutes. 
---
Hummingbird cake
3 cups all-purpose flour
2 cups sugar
1 teaspoon salt
1 teaspoon baking soda
1 teaspoon ground cinnamon
3 large eggs, beaten
1½ cups vegetable oil
1½ teaspoons vanilla extract
1 8-oz. can crushed pineapple, undrained
2 cups chopped bananas
1 cup chopped pecans
Shortening
Cream cheese frosting
Preheat oven to 350 degrees. Whisk together flour and next four ingredients in a large bowl; add eggs and oil, stirring just until dry ingredients are moistened. Stir in vanilla, pineapple, bananas, and 1 cup chopped toasted pecans. Spoon batter into three well-greased (with shortening) and floured 9-inch round cake pans. 
Bake for 25-30 minutes or until a wooden pick inserted in center comes out clean. Cool cake layers in pans on wire racks 10 minutes; remove from pans to wire racks, and cool completely. 
Place one cake layer on a serving platter. Spread 1 cup cream cheese frosting over cake layer. Top with second layer and spread 1 cup frosting over cake layer. Top with third cake layer and spread top and sides of cake with remaining frosting. Arrange toasted pecan halves in a circular pattern over top of cake. 
---
Cut-out sugar cookies
2 sticks unsalted butter, softened
1 cup powdered sugar
1 egg 
1 teaspoon vanilla
1½ teaspoons almond extract
2½ cups flour 
½ teaspoon salt 
Cream butter and sugar. Add egg, blend well. Mix flour and salt gradually. Put in zip-top plastic bag and chill for 2 hours. Roll cookie dough about ¼-inch thick. Bake cookies on parchment paper at 375 degrees for 12-14 minutes. 
Wilton royal icing (for sugar cookies)
3 tablespoons meringue powder
4 cups sifted confectioners' sugar
5-6 tablespoons lukewarm water 
Place sugar and meringue powder in a bowl and stir at low speed. Add water and mix on low to medium for 7-10 minutes, until icing loses its sheen. To prevent drying out, keep the bowl and icing tips covered with a damp towel. This will keep for two weeks stored in the refrigerator. Whip again before using. 
Originally from Anderson, Ind., Theresa worked for The Herald-Bulletin for many years. After experiencing a winter with 53 inches of snow, her late husband asked her to get a job in Florida, and they headed south. Well known in the area, Theresa worked with The Daily Sun and The Daily Commercial prior to joining Akers.
Share This Story!