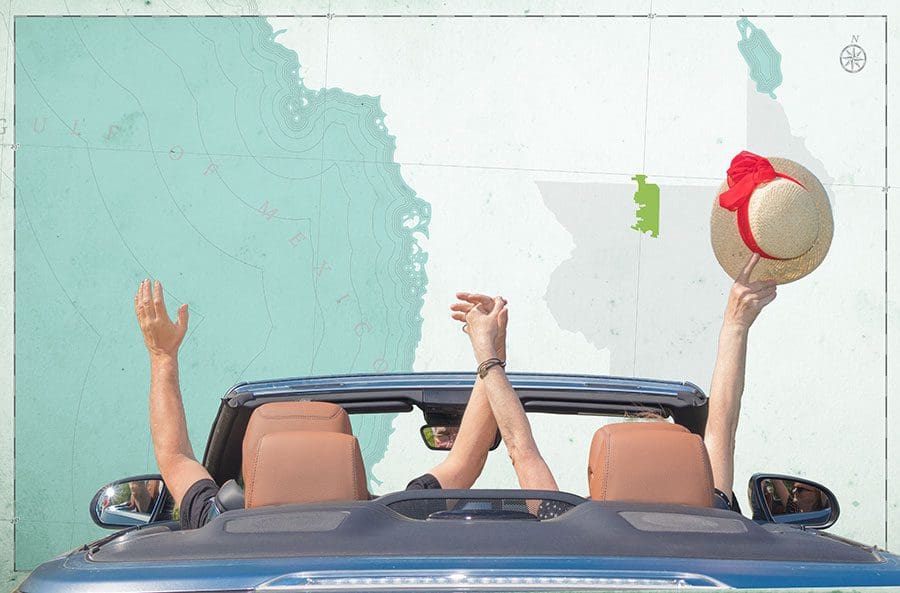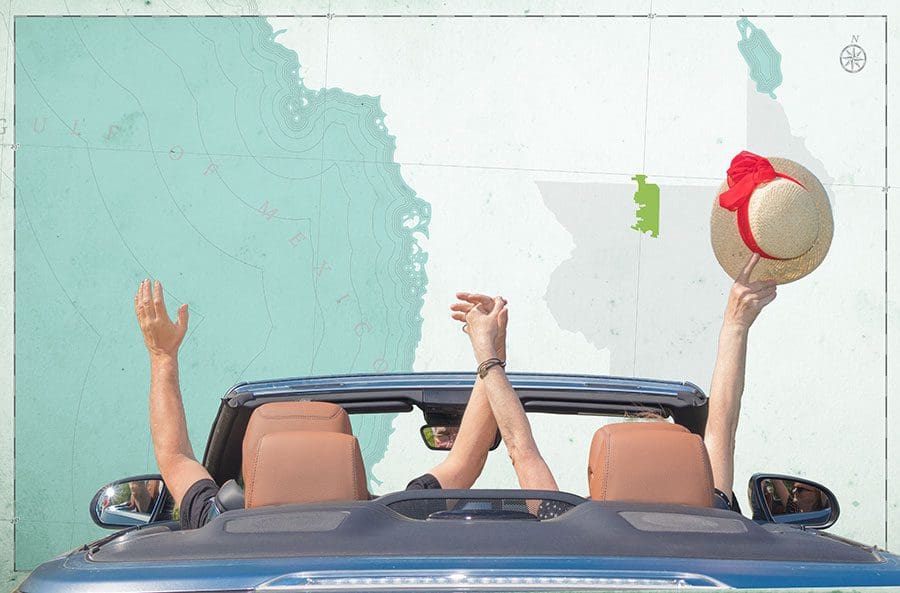 'We travel not to escape life, but to not let life escape us.'

Motorcycles
Since the early 2000s, the Village Nomads Club take three motorcycle rides a week. A Ride Committee selects destinations and posts them on the group's website, thevillagenomads.com. Rides leave in groups of eight, including a leader and a "sweep" bringing up the rear. A Safety Committee actively maintains good motorcycle procedures.
"I wear one. She doesn't," club President Bob Kerfin says, referring to helmets and fellow member Pam Townsend. "Florida doesn't have a helmet law, so it's your choice, but the club supports safety when riding motorcycles."
Originally from Canada, Pam started riding dirt bikes while growing up.
"I'm one of about nine women in the group," says Pam, of the Village of Pine Ridge. "Everyone is very friendly and treats you just like one of them."
The club meets at 7pm the first Monday each month at Allamanda Recreation Center, 1515 St. Charles Place. Every Wednesday and Saturday, bikers leave at 8:30am and ride to breakfast. On Thursdays, they leave at 10:30am and ride to lunch. Each destination is around 100 miles round trip. After breakfast, the group often takes an additional two-hour ride.
"Everyone is welcome to join," says Bob, of the Village of Pine Hills. "We ask that they own their own motorcycle, have a license and insurance, and are a resident of The Villages."
The group has about 300 members and charges $15 per year for single riders and $20 for couples. For more information, call Bob at 847.366.7888.
---
Scuba diving
The real "down under" is in The Villages (no disrespect to Australia). The Villages Scuba Club books several trips monthly for its 180 members to such diverse locations as the Devil's Den and Key West, Grand Cayman's Cobalt Cove, and, in 2020, the Philippines. They also frequently dive closer to home in places like Jupiter and the Epcot Aquarium.
"The underwater world is quiet, serene, and beautiful," says Don Nelson, co-president with Madeline Helbock.
Several dives are scheduled each month with consideration for members of all levels.
"If someone wants to learn how to scuba dive, they can contact me," says Heath Davenport, a longtime club member who also teaches at the Enrichment Academy. "Sometimes, people learn better with private lessons and I can do that."
Contact her at heathdavenport99@yahoo.com or 571.641.9057 for a four-day course including books, dives, and equipment.
"Here in Florida, we do warm-water dives with wet suits," Don says. "Equipment rentals of wetsuits of all sizes are usually available at places we go to dive. Our diving can take us 40 or 50 feet down, sometimes to even 100 feet."
That's where many beautiful sights are found, sometimes even shark's teeth, which can be gathered to make into a necklace.
The club meets at 7pm the first Wednesday of each month at Laurel Manor Recreation Center, 1985 Laurel Manor Drive. Future trips can be researched at thevillagesscubaclub.com or call Don at 352.750.3149.
---
Canoeing and kayaking
How to restore peace and serenity amid today's hustle? The answer is a canoe or kayak trip on one of Florida's beautiful rivers and waterways.
The Villages Canoe and Kayak Club members are drawn to their adventures because of what it gives them: sounds of nature, calls of birds in trees, and ripples of solitude as their craft silently moves through the waters. Come float on liquid paths with names such as Suwannee, Ichetucknee, Withlacoochee, or Weeki Wachee and you'll feel as if you are back in time and speaking another language all at once.
"On the water is where you can see the 'real Florida,'" club President Pati Deland says.
But be prepared. If you're not sure of your paddling skills, you are asked to take an introductory kayaking course at either Aardvark (352.795.5650) or Discovery Kayak Tours (352.789.4959). That's to get your feet wet (no pun intended).
The club meets at 2:15pm the third Tuesday each month at Colony Cottage Recreation Center, 510 Colony Blvd., except June, July, and August. However, members' paddles are never still as they continue to schedule tours every month throughout the year. Dues are $15 annually, but you need to sign up before you can log into their website in order to schedule a trip.
For more information, contact Pati at 352.219.1491, or membership Chairwoman Gloria Schriner at 352.751.5620. Visit vckc.net for more information.
---
Worldwide Foreign Travel Club
Even if you can't travel, you can still see the world. The motto of the Worldwide Foreign Travel Club is "We travel not to escape life, but to not let life escape us." The club meets at 4pm the first and third Thursdays each month at Laurel Manor Recreation Center, 1985 Laurel Manor Drive. See slides, photos, and videos of places where other members have visited. Visit wwftc.com.
---
Running
Most members run six miles or more in groups measuring pace and distance. Runs are scheduled Sundays, Tuesdays, and Thursdays beginning at 6:30am at Lake Sumter Landing, across from Panera Bread. For more information, call or text Sue Christopoulos at 480.329.5380 or Craig Szydlowski at 480.452.7732.
---
Hiking
Members of The Villages Hiking Club carpool to state parks, state and national forests, and other public places of interests. For more information, email dlamanna829@gmail.com to request an invitation or visit villageshikingclub.blogspot.com
---
In-line skating
The Village Rollers visit various locations throughout The Villages every Monday, Wednesday, and Friday.
---
Photography
The Villages Photography Club takes field trips and focuses on educational aspects. They meet at noon the second and fourth Wednesdays at Rohan Recreation Center, 850 Kristine Way. For information, visit thevillagesphotoclub.org.
---
Segway riding
Everyone must attend "boot camp" before going on an outing with the Segway Riders Club of The Villages. But training is fun and open to all. Once you become a member, the trip schedule can be viewed after log-in. Day trips are planned and Segways are brought to the destination. An introductory video is at srctv.org/boot-camp.
---
Sailing
The group plans a monthly sail on local lakes. No sailing experience or boat are needed. Meetings are held at 10am the second Thursday each month from September to May at Lake Miona Recreation Center, 1526 Buena Vista Blvd. Visit sailthevillages.org.
---
Scooters NoRules Club
This social club is for members who like to socialize and ride with a group but don't like a lot of rules. Rides begin at 9am each Wednesday from the parking lot of Mulberry Grove Recreation Center, 8445 SE 165th Mulberry Lane. On the first Wednesday of each month, a short meeting is held inside the center before the ride to discuss club issues. Visit sccooternorules.weebly.com.
---
Traveling Villagers Club
This social club meets at 6:30pm the second Monday of each month at Moyer Recreation Center, 3000 Moyer Loop. Visit travelingvillagers@wildapricot.org.
---
Walking Villagers
Members takes fun walks and have Volkssport events in and around The Villages. Visit thewalkingvillagers.com.