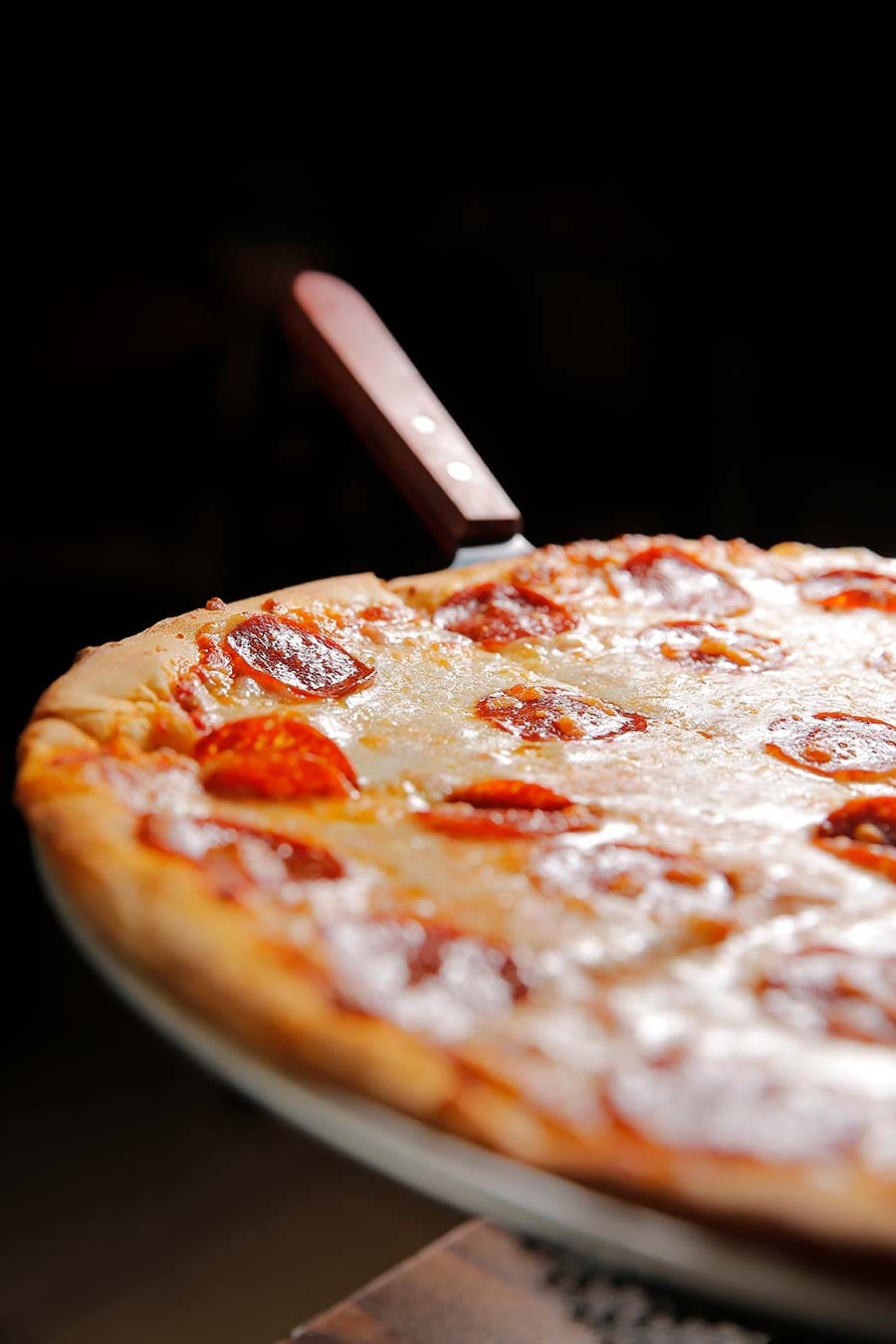 A slice of greatness
DiGino's serves up tasty pizza and other Italian delights
DiGino's is a neighborhood Italian restaurant in Tavares that touts its New York-style pizza. Therefore, it's no surprise that a big part of its décor consists of black-and-white photographs depicting magnificent scenes such as the New York City skyline and two men playing golf atop a downtown skyscraper. The faux brick counter and industrial-style lighting fixtures add to the ambience. Eight booths and three tables make for a small but intimate atmosphere.
But truthfully, there's nothing fancy or pretentious about DiGino's, which is located in the same plaza as a BP gas station. Here, it's all about the food. Just ask Mercedes Quinones, a Tavares resident who frequents the restaurant:
"I'm from the Bronx, and I can honestly say this is the best pizza I've had since moving to Florida 32 years ago."
The menu has plenty of items—sub sandwiches, salads, Stromboli, and various pasta dishes. However, I wanted to give their pizza a day in court. I ordered a 14-inch, one-topping pizza and 10 hot wings for $16.99. The pizza was nowhere near as greasy as other New York-style pizzas I've tried, and the dough was much flakier and nowhere near as thin. Still, it contained a generous amount of cheese and pepperoni and more than fulfilled my pizza craving. The wings were juicy and meaty and smothered in savory Buffalo sauce.
My co-worker ordered a small calzone that looked large enough to fill up two people. Cutting into the crisp, golden crust revealed a generous filling of mushrooms, pepperoni, sausage, green peppers, and cheese.
There's a reason regulars keep coming back to DiGino's, according to our friendly waitress, Talayia Robinson: "Most things here are made from scratch, including our pizza sauces and salad dressing. Plus, we go above and beyond
to provide friendly service."
DiGino's // 219 E. Burleigh Blvd., Tavares // 352.508.7593
Akers Media Group's James Combs has been a staff writer for several local publications since August 2000. He has had the privilege of interviewing some of Lake County's many fascinating residents—from innovative business owners to heroic war veterans—and bringing their stories to life. A resident of Lake County since 1986, James recently embarked on a journey to lead a healthier lifestyle. He has lost 60 pounds and walks nearly five miles a day. In his spare time, he enjoys target shooting, skeet shooting and watching his beloved Kentucky Wildcats!
Share This Story!