El Conquistador, Mission Inn Resort: An Evening to Savor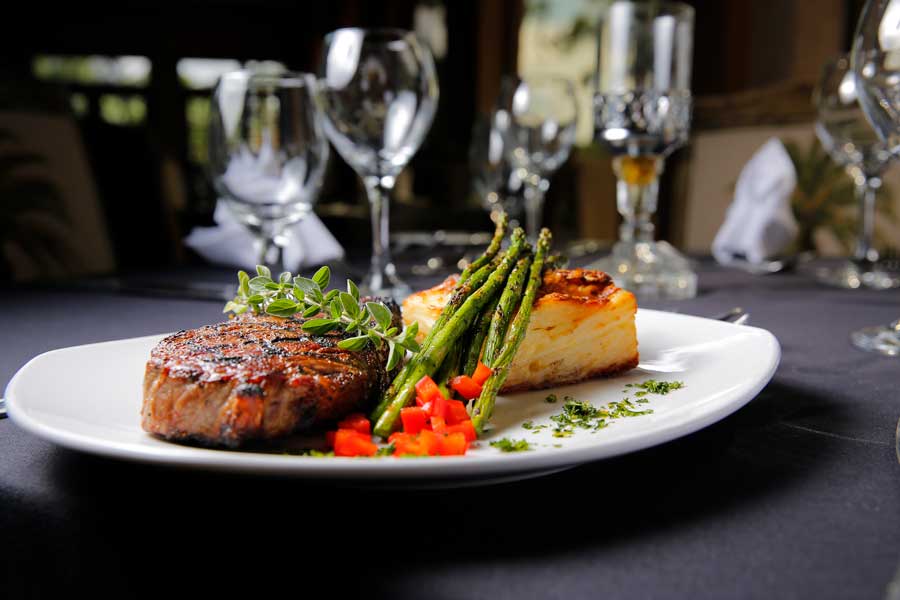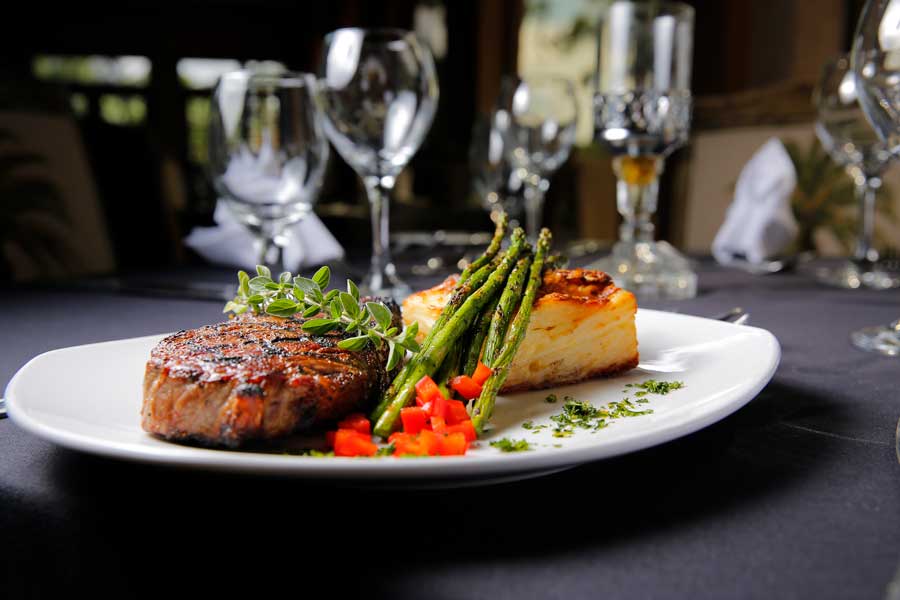 ---
story: leigh neely photos: fred lopez
---
If it's ambiance and elegant food you desire, El Conquistador at Mission Inn Resort as it all. We were seated at a window overlooking a beautiful fountain and a vista stretching out over an impeccable golf course.
We began our meal with the lobster bisque, and it was heavenly. Next came our entrees—New York Strip steak for me and Lamb Chops for my husband. They were perfectly prepared to be tender and juicy. Add to that the loaded baked potatoes and sautéed spinach with tiny red Peruvian sweet peppers that complemented the greens beautifully.
The service was exceptional. Just when we thought we'd ask for something, the server was at our table inquiring about further needs. Dessert deserves its own recognition. We ordered crème brulee to share and received two small servings—one of vanilla and one of chocolate with heavy whipped creamed topped with raspberries. It was light and delectable. The perfect ending to our lovely meal.
We also enjoyed coffee with dessert and it was the famous Royal Cup and was superb.
When you make your plans to go, make an evening of it so you take the time to make the meal a culinary experience.
You'll be glad you did.
---
5 FORKS (OUT OF POSSIBLE 5)
El Conquistador at Mission Inn Resort
10400 County Road 48 Howey-in-the-Hills
800.874.9053
www.missioninnresort.com
FORK REPORT: Elegant dining. Attire: Business or evening. $$$//Seated immediately (reservation)//Wait for meal: 20 minutes
OUT-OF-THE-ORDINARY STARTERS: ($12 – $27) Maine Lobster & Seafood Ceviche, Blackened Tenderloin Bruschetta, Conquistador Jumbo Shrimp Martini, Blue Fin Ahi Tuna Napoleon; Soups & Salads ($7.50 – $8.50) Five Onion Gratin, Lobster Bisque Encroute, House Salad, Red & Green Raspberry Spinach Salad, Caesar Salad.
ENTREES: ($19-$55) Balsamic Pasta Primavera, Black Angus Filet or New York Strip. Signature Dishes: Caribbean Lobster Tail, Pan Seared Chilean Sea Bass, Conquistador Stuffed Jumbo Shrimp, Stuffed-Grilled Pork Tenderloin Medallions, Caramelized Scallops with Strawberry Scallops. Served with Conquistador Bread and selection of two sides.
---
Leigh Neely began her writing career with a weekly newspaper in the Florida panhandle, where she not only did the writing, but delivered the papers to the post office and dispensers. She has been writing ever since for a variety of newspapers and magazines from New Jersey to Leesburg. With her writing partner, Jan Powell, Leigh has published two novels as Neely Powell.
Share This Story!