Fork on the Road: Blowin' smoke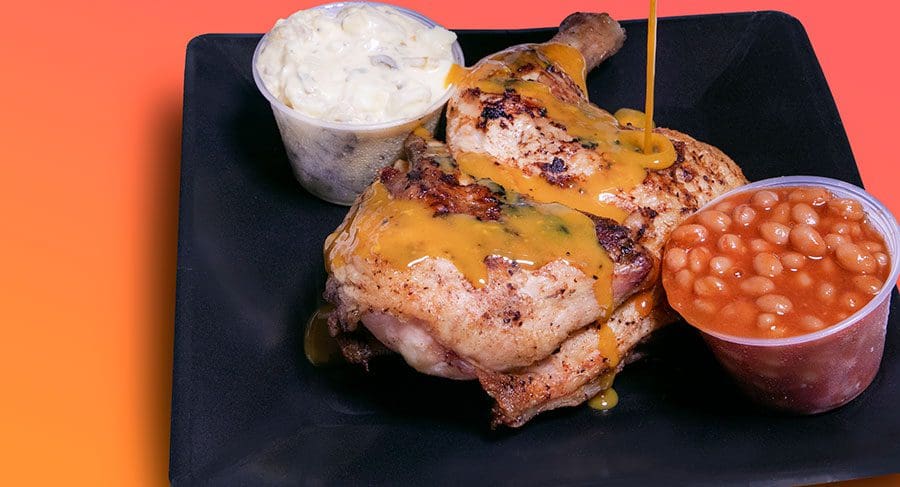 Three Generations BBQ pitmaster continues proud family tradition.
Photos: Nicole Hamel
Standing outside on a sizzling summer day, an enthusiastic pitmaster slides a shovel under a pile of burning oak wood and scoops up a few small pieces. With shovel in hand, the pitmaster enters a small building several feet away and evenly spreads the wood below meat cooking inside a large, black barbecue pit.
Several minutes later, a cloud of white smoke curls into the air as the pitmaster lifts a heavy steel lid to inspect the results of the handiwork: racks of spareribs and whole chickens ready to be consumed.
Outside, a crowd of hungry people line up at Three Generations BBQ, a small restaurant on Pine Street in Leesburg that's only open Fridays and Saturdays from 11am until whenever the meat runs out.
This restaurant, formerly known as Pine Street BBQ, is remarkable not only for the quality of its meat but also, its unlikely story. Turns out the pitmaster is an energetic 46-year-old woman named Ashantia Hill. Barbecuing is no longer just a man's world. "I had one customer tell me that a woman cannot cook barbecue," she says. "I told him to taste my meat once and he'll be back. Sure enough, he returned."
Don't refer to her as a Sweetheart of Swine or Grilling Goddess because she already has a handle she loves. "I am the Last Pit Barbecuer," she says passionately. "To me, barbecuing is an expression of art. There's nothing like picking up a slab of ribs and having it fall apart because it's so tender."
Originally, all barbecue was done with small logs of dried hardwood as the sole fuel source. The meat was slowly roasted with the added benefit of smoke, which improved flavor and preserved the meat. However, it is difficult to control heat when cooking with logs, and only a few expert pitmasters continue that practice today.
Ashantia refuses to part with tradition. That's how her grandfather, William Edward Hill, cooked in the 1950s and 1960s when he owned Top Hat Barbecue on North Boulevard in Leesburg. It's also how her parents, James and Dolly Hill, cooked when they opened Pine Street Bar-B-Que in 1977.
Ashantia learned the cooking style, which she describes as "prehistoric, slow and tedious," at an early age. Her method of barbecuing is a labor of love.
"Smoking meat would be easier and would save me time and money," she says. "That said, I want to continue serving the tender and flavorful meat our customers have become accustomed to."
She has been a full-time employee at the restaurant since 1995 and officially took over the family company in 2018. She renamed it Three Generations BBQ, not only as a tribute to her family, but also to recognize the various generations of families they've served.
"Not everyone can say they've fed three generations of families," she says. "I have fond memories of coming here as a kid and helping my parents out. In fact, I learned my colors by passing out red, orange and purple Chek sodas."
Three Generations BBQ does not offer inside dining. Guests walk up to a glass window, place their order and take the meal home. Arriving late isn't recommended. On an average weekend, Ashantia sells 400 pounds of chicken and 350 pounds of ribs. In other words, she can run out of meat in a matter of hours.
Those lucky enough to get served enjoy a meal they'll remember. That plate full of meat, soft, square slices of white bread and sides of beans, slaw and potato salad keep customers like Joyce Jones coming back.
"I began eating at Top Hat in the 1960s and followed the family to Pine Street Bar-B-Que," says Joyce, a Leesburg resident. "Ashantia cooks up the same delicious ribs and chicken that her grandfather and father became known for."
Some customers drench their meat with the family's popular homemade mustard sauce, which has been a closely guarded secret recipe throughout the years.
"My parents didn't give me the recipe until I took over the restaurant two years ago," she says. "My dad always said the one thing you mastered as a businessowner should be kept to yourself."
Ashantia hasn't changed much since becoming owner of the restaurant. She still uses the antique-looking cash register with a crank handle that she operated as a small girl. She cooks from the black barbecue pit her father bought in 1977. And she continues buying oak wood from the same man in Paisley who delivered wood to her father back in the 1970s. The only upgrade Ashantia made was installing an air-conditioning unit in 2018.
"If things aren't broke, then I see no reason to fix them," she says.
---
Three Generations BBQ
408 Pine St, Leesburg, FL 34748
Hours: 11am to 8:00pm Friday; noon to 7pm Saturday. Closed Sunday to Thursday.
Akers Media Group's James Combs has been a staff writer for several local publications since August 2000. He has had the privilege of interviewing some of Lake County's many fascinating residents—from innovative business owners to heroic war veterans—and bringing their stories to life. A resident of Lake County since 1986, James recently embarked on a journey to lead a healthier lifestyle. He has lost 60 pounds and walks nearly five miles a day. In his spare time, he enjoys target shooting, skeet shooting and watching his beloved Kentucky Wildcats!
Share This Story!