Fork on the Road: Oh, Pho Good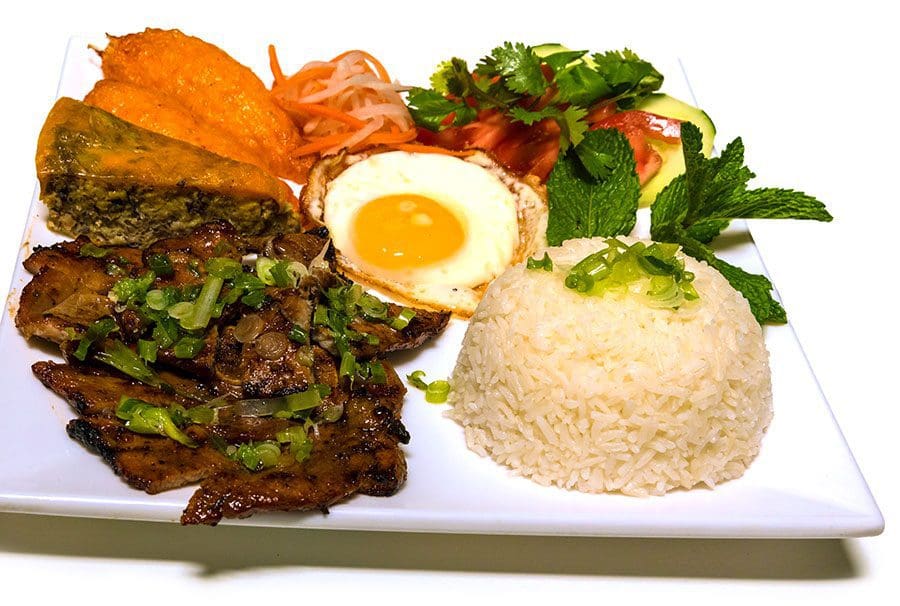 Pho Sai Gon brings new flavors, old family recipes to your table.
Photos: Nicole Hamel
This month we traveled a bit off our beaten path – all the way to Oxford – to experience Vietnamese cuisine at Pho Sai Gon. And boy was it worth the trip. My co-workers and I thoroughly enjoyed our lunch, the decor, and friendly, accommodating staff.
Prior to moving to the United States, Bryan Hoang and his family owned a restaurant in Vietnam and catered birthday parties, weddings, and other events. The family first moved to Iowa. They made it down to Florida 15 years ago after living in a few other states. Pho Sai Gon in Oxford opened two years ago with a menu of traditional Vietnamese flavors.
"When we moved to the United States, we always tried to bring the authentic food with us and introduce it to the people here, and the recipes and the ingredients that's been generations passed down, family recipes passed down from my great grandfather," Bryan says. "We try to continue the food business and keep everybody healthy, and we try to get the Vietnamese culture to some people and introduce them to pho and a variety of food, and just bring a different kind of food to this area," he adds.
Bryan encourages customers to try the pho, his favorite, which is very healthy, and which he eats almost every day. Pho has become popular in recent years, and everyone has their own way of making it, but Pho Sai Gon's recipe has been passed down from many generations and was well known in the family's restaurant in Vietnam. "We cook basically really healthy food. The Vietnamese herbs and the broth cooks for almost 20 hours," Bryan says. "A lot of people don't realize how long we cook the broth and how healthy it is, so I really encourage people to try the broth."
I decided to give the pho a try after Bryan's suggestions, choosing the Pho Rau Cai, veggie pho. The bowl of vegetable broth and rice noodles was full of tofu and fresh veggies, including broccoli, carrots, mushrooms, bell pepper and my favorite, bok choy. The "small" size I ordered was enough for two or three people, so I had plenty left over to take home. The veggies were bright and fresh, and the bowl came with a side of fresh bean sprouts and jalapeno slices. I also added sriracha to my bowl, which gave the simple dish a spicy, peppery flavor. I also enjoyed the Goi Cuon: spring rolls with shrimp, lettuce, rice noodles, and whole mint leaves, all wrapped in a chewy rice paper. The rolls were fresh and light and tasted amazing with the peanut dipping sauce.
Style writer Roxanne tried the Mi Xao Mem-Don Bo: pan fried chow mein egg noodles with beef and vegetables. "Not only did my plate come out of the kitchen looking totally beautiful, but it tasted delicious," she says. "The dish was loaded with a variety of vegetables you could clearly tell were fresh and quality picks." Roxanne wasn't sure what to expect since it was her first time eating Vietnamese food, but she plans on returning to try more of the menu.
Roxanne also commented on the restaurant's inviting decor, which included beautiful hand-painted murals of Vietnam completed by an artist from Orlando. The murals depict a Vietnamese supermarket on one wall, and the Vietnamese countryside on the other. Bryan says the supermarkets are well known in Vietnam: "You can find anything you want from A to Z." When you go to Vietnam, Bryan adds, you can see all kinds of scenes like the one in the countryside mural.
Akers photographer Nicole tried the Com Ga Rau Cai: steamed rice with stir fry vegetables and chicken. "I wasn't really sure what to expect when I ordered that. But it was delicious. The chicken was easy to chew and well marinated," she says.


Style writer Theresa was immediately amazed – as we all were – by the large portions of food for such reasonable prices. "My Bun Dac Biet featured rice vermicelli and a combination of perfectly charbroiled shrimp and pork, mixed with a nice crunch of small bites of egg rolls," she says. The dish also included fresh lettuce and carrots, which added a colorful touch. "Overall, my meal was a delightful and delicious taste sensation of different textures and flavor," Theresa adds.
Style writer James was the most adventurous of the group, ordering the Saigon Special Rice Platter for $17.95. "The meal came with a little of everything – Jasmine steamed rice, a grilled pork chop, shredded pork skin, meatloaf, an over-easy egg, radishes and cucumbers. The plate presentation was beautiful, and the food was delicious. I give this restaurant 10 stars and would visit again in a heartbeat," he says.
Overall, my team and I enjoyed a cuisine we weren't previously familiar with and are already planning on returning. Knowing that the meal was healthy – on top of being filling, flavorful, and reasonably priced – was definitely a bonus.
---
Pho Sai Gon
11717 US-301, Oxford
352.492.9423
phosaigonoxford.com
Hours: Open Monday through Friday 11:00 a.m.-9:00 p.m., Saturday noon-8 p.m.
Originally from Buffalo, NY, Victoria graduated from Canisius College in 2018 with a bachelor's degree in English and Writing. In August of 2019, she relocated to Eustis, Florida, and soon began at Akers Media Group assisting with social media projects. Later that year, she was promoted to a full-time writing position at the company and has since found her niche telling the stories of so many of Lake and Sumter County's awesome people.
Share This Story!