Fork on the Road: Relishing a tradition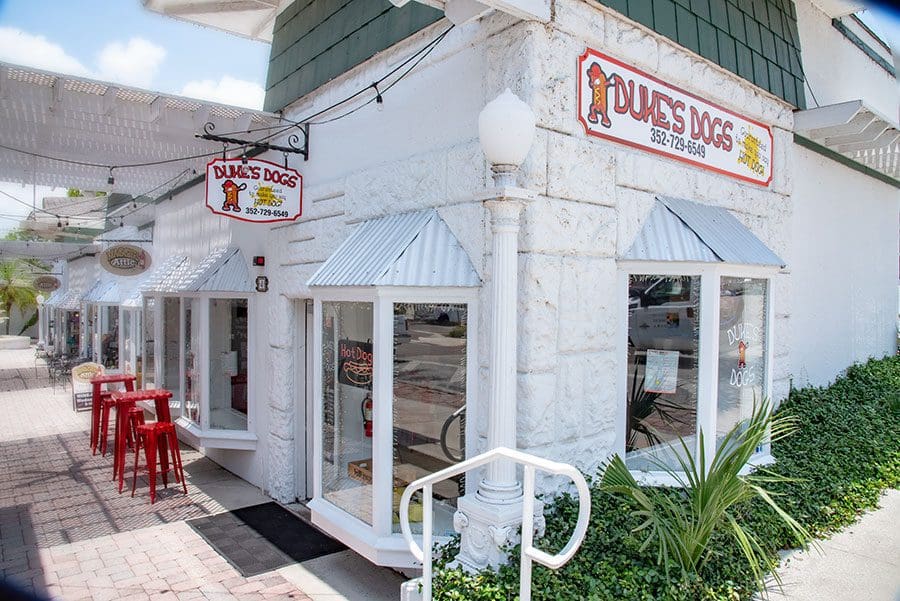 The (hot) dog days of summer are alive and well at Duke's Dogs in Mount Dora.
Photos: Nicole Hamel
Paul Ottum and his wife, Sondra, love hot dogs. It's not just the taste. For them, the food is strongly tied to happy memories like birthday parties and family meals.
In their home state of Pennsylvania, hot dog shops were plentiful.
Shortly after the couple moved to Florida two years ago, they walked the streets of downtown Mount Dora. When Paul got a sudden craving for a hot dog, he was disappointed to discover there were no hot dog shops in town.
"Back home, we were used to having several hot dog shops to choose from," Sondra says. "We researched and found that Tampa and Orlando were the closest places that had hot dog shops."
So, the couple propelled their love of hot dogs into a full-on obsession. Despite having no prior restaurant experience, Paul, a lineman, and Sondra, a nurse, purchased a vacant building and spent six months renovating it. In December 2019, they opened Duke's Dogs, tucked away in a downtown Mount Dora alleyway.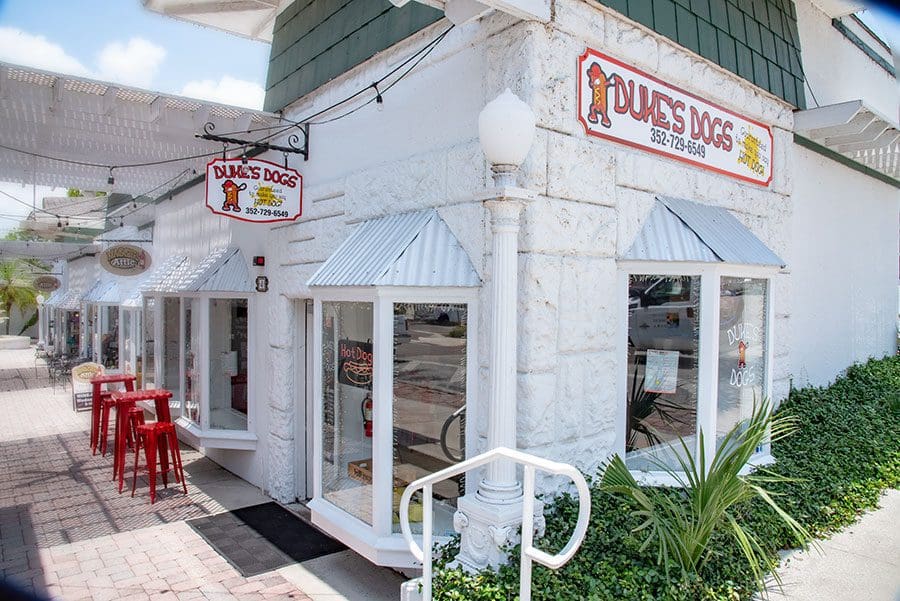 They quickly realized they weren't the only ones who had a natural craving for hot dogs.
"The first day we opened, we sold out in about three hours," says Amber Gomez, assistant manager. "The same thing happened on Christmas Eve and New Year's Eve. Even today, I have lines out the door on weekends."
Those long lines are for good reason. Cities across the United States claim ownership of special hot dog styles, and the Ottums have added several of those popular styles to their menu. Every dog has its day, and at Duke's, the famous coney dog and Chicago dog are still having theirs.
"Those two are our best sellers," Amber says.
Duke's coney dog is a classic combination of chili sauce with finely minced ground beef, shredded cheese, sweet-tasting onions and yellow mustard on top of a hot dog with char-grilled flavor. Detroit and New York can argue over which city has the best coney dog, but Mount Dora residents have a mouthful to say about their coney dog, too.
With all due respect to Detroit and New York, Duke's offers a hot dog with a bit more Southern flare. The Hogtied comes with a heaping helping of bacon crumbles, barbecue sauce, shredded cheese and crunchy onions. The barbecue sauce gives a spicy zing that hits the back of the throat immediately, and the moist, bite-size bacon crumbles add a light smoky flavor. It's advisable to ask for extra napkins and a fork to scoop up the toppings that inevitably fall into the hot dog basket.
Other favorites are the Hawk Dog with homemade chili, cheese sauce and ketchup; the Loaded Slaw Dog with homemade coleslaw, shredded cheese and crunchy onions; and the Hollywood with relish, onions, bacon, diced tomatoes, sauerkraut and mustard. The BLT—yes, bacon, lettuce and tomato—is a hot dog version of the popular sandwich.
The starting price for most hot dog styles is $4.95. Diners have the option of ordering a 100 percent beef dog, a turkey dog or a vegan dog. They also can order custom-made hot dogs with as few or as many toppings and sauces as they prefer. Toppings such as sport peppers, diced onions, jalapeños, diced tomatoes and crunchy onions can be added for 25 cents each. Premium toppings, including house-made chili, sauerkraut and bacon, can be added for $1 each.
"We love hot dogs, and that's why we go above and beyond to make them as delicious as possible for our customers," Sondra says. "It's all about quality. We use 100 percent beef and hand-cut all our tomatoes, lettuce and onions. Our chili and coleslaw are both made in-house. Our fries are freshly cut each day and never frozen."
The fries are the other cornerstone item of the menu. They're fluffy inside and crispy outside, similar to what you would expect at a county fair.
High-top tables placed outside the restaurant allow customers to dine al fresco in the alleyway, while others prefer the table seating and bar-style seating offered inside. Many customers get their orders to go, which Sondra says is advantageous for both tourists and downtown employees who want their food served quickly.
"If someone has to return to work in 15 minutes or a tourist is about to go on a boat tour in 10 minutes, they'll have time to grab a quick meal," Sondra says. "More importantly, they won't have to spend a ton of money. We keep our prices down so customers can get a meal quick and cheap."
Paul and Sondra continue their primary careers but make frequent visits to Duke's Dogs to ensure everything is operating efficiently. They have no reason to worry. Amber, the assistant manager, is a smooth multi-tasker who can cook, take orders, serve meals, clean tables and answer phones simultaneously.
The restaurant's namesake, Duke, also makes occasional appearances. Duke is a cuddly and soft goldendoodle whose favorite snack is hardly surprising.
"Duke has figured out how to open our front door and let himself out," Sondra says. "The only way you can get him to come back in is to lure him with a hot dog."
---
Duke's Dogs
237 W. 4th Ave., Suite 4, Mount Dora, FL
352.729.6549 // dukesdogsmtdora.com
Hours: 11am-9pm daily
---
Akers Media Group's James Combs has been a staff writer for several local publications since August 2000. He has had the privilege of interviewing some of Lake County's many fascinating residents—from innovative business owners to heroic war veterans—and bringing their stories to life. A resident of Lake County since 1986, James recently embarked on a journey to lead a healthier lifestyle. He has lost 60 pounds and walks nearly five miles a day. In his spare time, he enjoys target shooting, skeet shooting and watching his beloved Kentucky Wildcats!
Share This Story!