Fork on the road: Sauce up your taste buds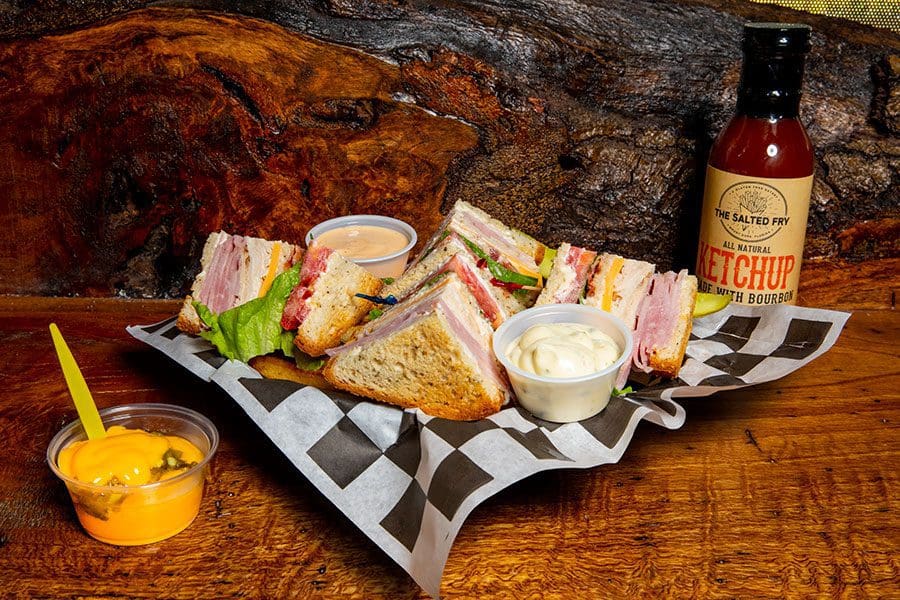 Homemade sauces and gluten-free choices make the Salted Fry the perfect grab-and-go option.
Photos: Nicole Hamel
As a longtime visitor of Mount Dora from Pennsylvania, Dale Duffy had a thought about what the area needed, particularly during events and shopping.
"I would come to all the events that they would have, and if you wanted something to eat, you would have to have a sit-down meal," Dale says. "There was no grab-and-go stuff, and that's when I came up with the idea."
He began planning the Salted Fry, a "grab-and-go" eatery which he opened in October 2019 in Mount Dora. The plan originally was to create a fry-centric place with an array of flavored sauces to satisfy anyone's taste buds. After a close friend developed a gluten allergy, however, Dale realized how difficult it is for people with allergies to eat out, so he included gluten-free choices on his menu as well. He added sandwiches on gluten-free bread and gluten-free beers such as Glutenberg, from Canada. He also carries hard ciders, and all of the shop's wines are organic and sulfate-free.
"I have a good bread that I get out of Canada. Actually, you can't tell it's gluten-free, so that is the secret to having good, quality food," Dale says. "And people can come in that aren't gluten-free and still enjoy a meal that tastes good."
Before opening the Salted Fry, Dale was unaware of the large size of the gluten-free community.
"It's really been overwhelming—I mean, I didn't realize because I'm not myself sensitive to gluten or have celiac—how many people that were out there that were dealing with this gluten issue," he says. "I've had one woman crying because she saw the menu and she just couldn't believe that she could have something besides a salad. So, it's pretty neat."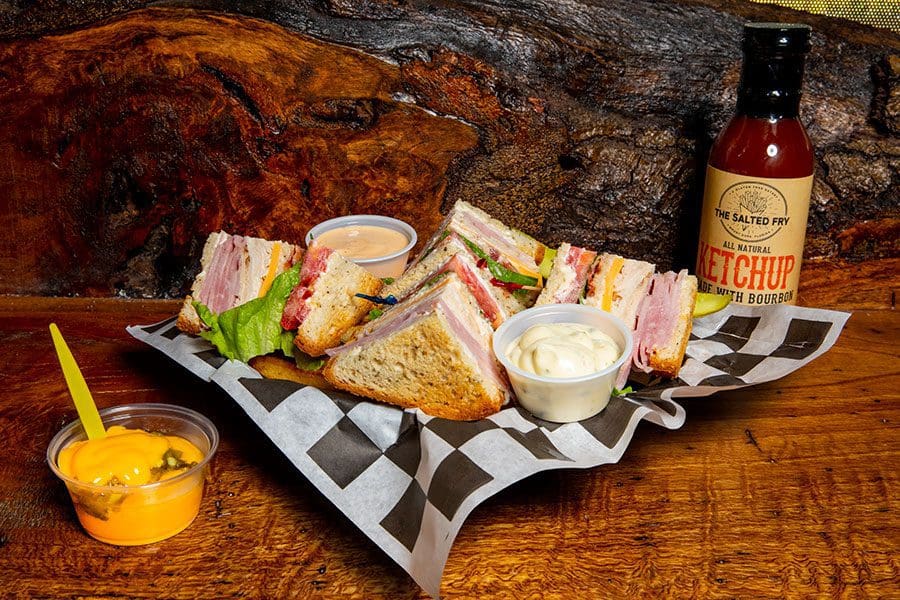 One of the Salted Fry's most popular items is the club sandwich, which comes with ham, chicken, bacon, American cheese and mayo layered between three pieces of toasted, basil-infused gluten-free bread. The sandwich almost looks too big to fit in your mouth. My family joined me for lunch, and my mother, who typically doesn't eat gluten-free, says she couldn't even tell the bread was gluten-free. And, despite being part of a takeout order, the salty fries somehow remained crispy.
"The sandwiches go really well, and I can guarantee I have the best french fries in the area," Dale says.
As for his own favorite sauces for the fries, Dale says: "I like the Gnomes Garden. That's the very first sauce we came up with. It's a basil and garlic aioli, and the basil just hits it off. It just explodes in your mouth with your taste buds, so that's probably my favorite."
That was one of my favorites as well and it probably would be great on a sandwich.
The other sauce that was a big hit with my family and I was the Blue Cheezing, which is a chipotle blue cheese sauce. Those are strong flavors on their own but they balance each other out well in this sauce. If you're a fan of either flavor, you'll love this sauce.
We also tried the Kerfuffle Truffle, a mayo-based truffle and garlic aioli, and the Spicey Dicey, which is your typical nacho cheese sauce with chopped jalapeños. The Salted Fry also makes its own ketchup, which is slow-cooked with bourbon and tastes similar to barbecue sauce, and also offers a bacon ketchup.
When preparing for the many events that Mount Dora hosts, Dale says he usually cuts the menu to just fries, especially because the rest of the menu continually grows every month.
"What we do is we promote the french fries, and I think the biggest one we did was the Light Up Mount Dora. We sold 500 pounds of potatoes that night," he says. "This town is like the best town. It's a good business move to put a business here."


---
The Salted Fry
342 Dora Drawdy Way, Mount Dora
352.720.3755 // thesaltedfry.com
Hours: 11am-8pm Thursday-Friday; 11am-9pm Saturday; 11am-7pm Sunday
---
Originally from Buffalo, NY, Victoria graduated from Canisius College in 2018 with a bachelor's degree in English and Writing. In August of 2019, she relocated to Eustis, Florida, and soon began at Akers Media Group assisting with social media projects. Later that year, she was promoted to a full-time writing position at the company and has since found her niche telling the stories of so many of Lake and Sumter County's awesome people.
Share This Story!