Fork on the Road: Summertime on a bun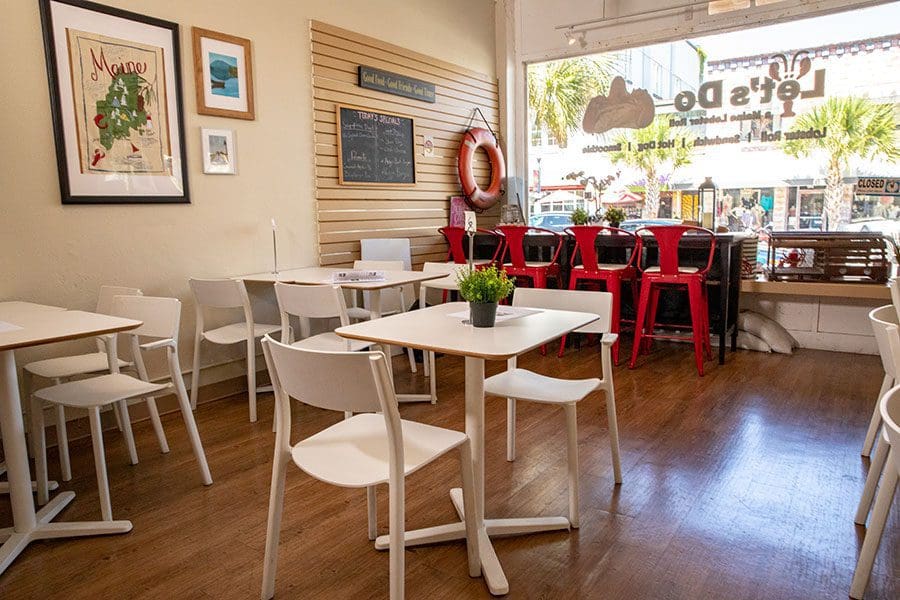 Let's Do a Maine Lobster Roll brings tasty New England coastal food classics to Lake County.
Photos: Nicole Hamel
Sweet, delicate, chilled chunks of lobster—the delicious delicasy from Maine—lightly tossed with mayonnaise is the star of the Maine lobster roll, and it's the highly acclaimed signature dish at Let's Do a Maine Lobster Roll restaurant in downtown Mount Dora.
For Maine or New England natives living in Florida, the eatery is an inviting site to savor the taste of Maine.
"This is a very nice place to eat and the food is good."

—Walt Pavitt
"It felt like home," says Lake and Sumter Style photographer Nicole Hamel, a native of Mexico, Maine, recalling the recent weekday she walked into the 426 N. Donnelly St. restaurant and noticed wall hangings of her home state.
"This is a map I can point to and remember where I came from," Nicole says, pointing to Oxford County. She also enjoyed perusing the restaurant's menu and checked out a display of Maine-related merchandise available for purchase, including a boxed mix for whoopie pies.
My dining companion, Duncan McRae, and I also were eager to order the New England food classics Nicole mentioned that reminded her of home. We divided the dishes into thirds for a wonderful taste-tasting of the restaurant's clam chowder, the "overloaded" lobster roll and a chili slaw dog.
Each dish was perfectly prepared and delicious.
Those who love seafood owe it to themselves to savor the "overloaded," a Maine lobster roll filled with a generous double portions of fresh lobster meat that has been steamed, chilled, and mixed with light mayonnaise and piled in a warm, grilled New England roll. The bread was a treat, too, as the bun's split-top opening (rather than at the sides like a regular hot dog bun) makes it easy to hold, and it was toasted on the griddle to create a crispy exterior.
Nicole drizzled a little melted butter on her lobster roll portion, and Duncan and I did the same. We discovered it enhanced the lobster meat even more.
The chili slaw dog, also served in a grilled New England bun, provided a tasty combination of texture and flavor of the chili hot dog topped with cold, crisp coleslaw. I enjoyed this taste sensation and will definitely order it again.
The creamy clam chowder also was scrumptious with the right amount of seasoning, clams and potatoes.
We enjoyed small talk with former Vermont native Walt Pavitt of Mount Dora, who was dining with his wife Joyce. The pair are among the eatery's regulars.
"This is a very nice place to eat and the food is good," says Walt. "We like seafood, especially lobster, and we highly recommend this place."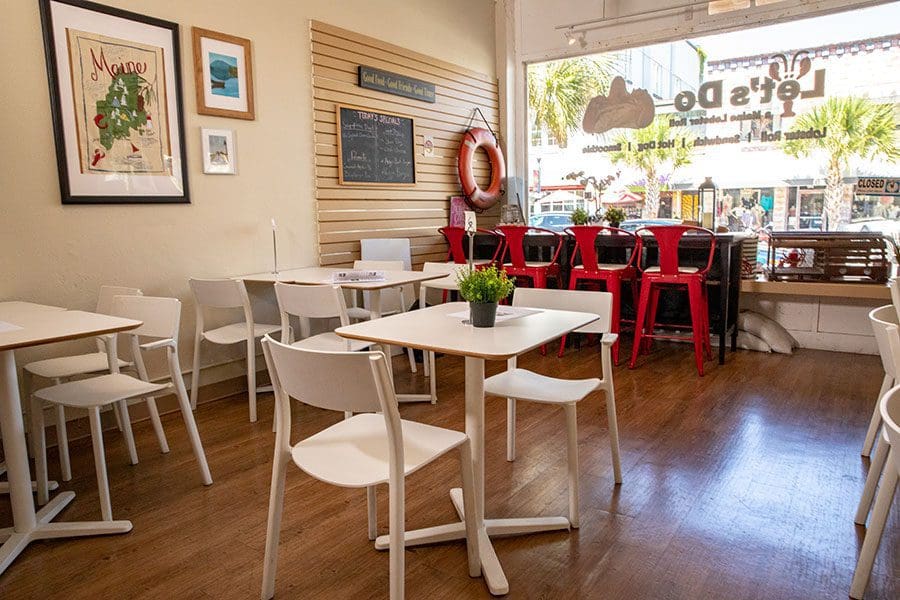 Let's Do a Maine Lobster Roll is owned by Maine native Oscar Londono. He took over the business four years ago from the previous owners, and Oscar says the best compliment is hearing raves from Maine and New England-area natives who love being able to enjoy favorite dishes from home. Oscar also enjoys seeing them become repeat customers.
"We respect the lobster," says Oscar, adding the "overloaded" Maine lobster roll is his favorite menu item. He notes some people come to the restaurant just for the New England-style buns that he gets from Boston. Instead of spreading butter on the outer sides of the roll before it's grilled, Oscar prefers using mayonnaise. It was nice to discover bread grilled with mayo was just as tasty.
The restaurant's warm, grilled New England rolls can be ordered filled with egg salad, chicken salad or tuna salad. Other options are sandwiches on white, wheat or rye bread for grilled ham and cheese, grilled Reuben, grilled tuna melt, bacon, tomato and cheese sandwich, sliced ham or turkey sandwich.
Diners may order several other hot dog combinations besides the chili slaw dog, including a Reuben dog with sauerkraut, 1000 Island dressing and Swiss cheese. Angus beef burgers are available, too, and side dish choices of 3-bean salad, coleslaw, potato salad or potato chips.
Let's Do a Maine Lobster Roll eatery is a wonderful lunch option for those who crave seafood, and chilled lobster on a grilled New England roll or the different hot dog combinations are ideal sandwiches to enjoy in the summer or anytime of the year.
---
Let's Do a Maine Lobster Roll Sandwiches and Deli Cuisine
426 N. Donnelly St., Mount Dora
352.735.3702
Hours: 11am to 3:30pm Monday to Thursday; 11am to 5pm Friday to Sunday
Originally from Anderson, Ind., Theresa worked for The Herald-Bulletin for many years. After experiencing a winter with 53 inches of snow, her late husband asked her to get a job in Florida, and they headed south. Well known in the area, Theresa worked with The Daily Sun and The Daily Commercial prior to joining Akers.
Share This Story!