Local Talent: Free spirit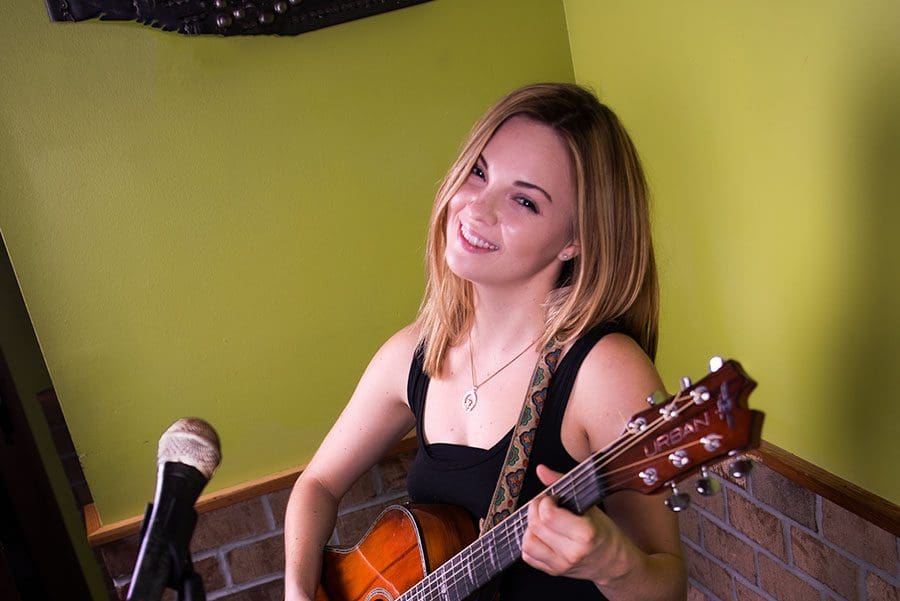 Singer Christina Adinolfi spreads energy through her music.
Spirituality plays a part in singer Christina Adinolfi's performances, and listeners felt that one recent evening as her voice floated from the patio of Magical Meat Boutique to the heavens above Mount Dora.
"What I give out is what I believe other people receive. I feel like everything is about your energy and your positivity and really making a difference in that way," she says. "Purity and love are what I want people to feel in my music."
Christina's voice is pure and clear and easy to get lost in yet packs an emotional punch when needed. She accompanies herself on acoustic guitar and puts her own twist on an eclectic set of pop, rock and country songs by artists ranging from the Monkees to Maroon 5. She also writes original songs, such as "Round and Round," an up-tempo country love song.
While living in Mount Dora the past two years, Christina has performed steadily at venues and community events around Lake County. In November, she landed a "dream job" performing "How Great Thou Art"—a hymn recorded by her idol, Carrie Underwood—before several thousand people at the Light Up Mount Dora holiday event.
"Singing's been a big part of the way I express myself because I feel like music is the universal language," she says. "Music helps connect people and is my way of giving back to others. We all wonder what our purpose is, so I feel like mine is to show my passion for what I do and to bring people together."
Christina has loved music since she was a toddler and received a piano from her grandfather, Bobby Weinstein, who's in the Songwriters Hall of Fame for hits like "Goin' Out of My Head." Her father, Sal, played in a band and introduced Christina to classic rock. Beatles songs like "Eleanor Rigby," "Blackbird" and "I Want to Hold Your Hand" dot her setlist. 
She picked up the guitar only six years ago, teaching herself to play by watching YouTube videos, and now hopes to perform around the country and record an album. But she doesn't need to aim for the stars.
"I don't care to be famous. I mean, I care to be successful at what I do. I'm pushing myself to do well. But as long as I'm doing it, that's all that matters," Christina says. "I feel like this is what I'm meant to do." 
Go to the gigs
See Christina perform throughout February:
2/1 Maggie's Attic, Mount Dora, noon-3pm, 7-10pm
2/2 Pisces Rising, Mount Dora, 6-9pm
2/7 Mellow Mushroom, Port Orange, 6-9pm
2/13 Serendipity, Mount Dora, 6-9pm
2/14 Renninger's Extravaganza, Mount Dora, 10am
2/15 The Frog and Monkey, Mount Dora, 6:30-9:30pm
2/15 Renninger's Extravaganza, Mount Dora, 10am
2/16 Renninger's Extravaganza, Mount Dora, 10am
2/21 Island Wing Company, Orlando, 7:30pm
2/22 The Olive Branch, Mount Dora, 6-9pm
2/24 Silver Palms RV Resort, Okeechobee
2/27 The Frog and Monkey, Mount Dora, 6:30-9:30pm
2/28 Pint Sized Pub, Leesburg, 8-11pm