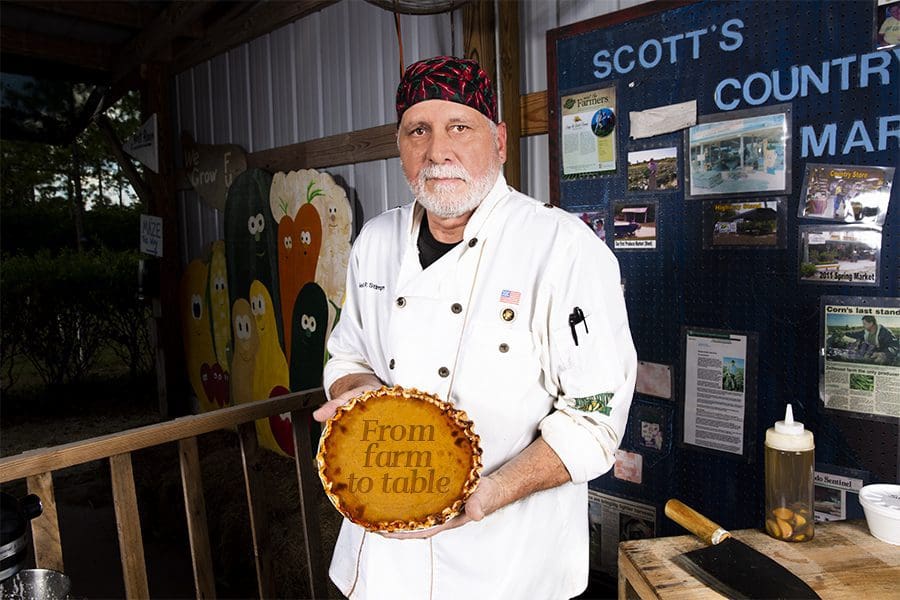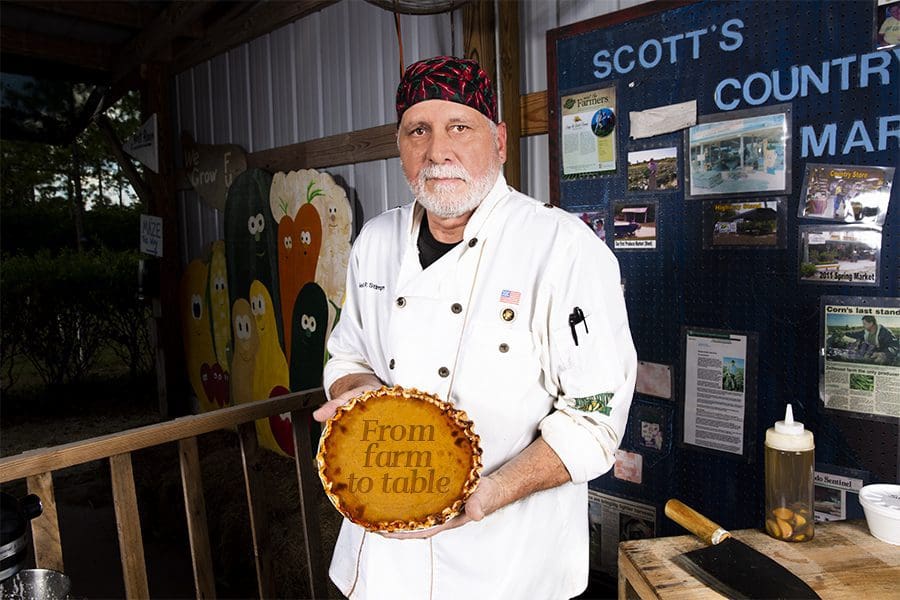 Chef Dan Stimpson: 'The best pharmacy is right out there in the fields.'
Clinical dietitian and retired Disney chef Dan Stimpson, 60, grew up 100 yards from Long & Scott Farms in Mount Dora, where he enjoyed whipping up dishes from foods fresh from the fields.
He still savors the local farm's produce.
"I've been cooking farm-to-table, organic, way before it was a trend," says Dan, who also is a personal chef for five families. "I was doing organic when we called it food and didn't have the name 'organic.' I was very, very specific about not having chemicals in my foods. I want it to be natural, I want it to be the way God intended it to be eaten."
Dan recently led a series of cooking seminars at Long & Scott Farms, creating dishes from fresh pumpkin, corn, Southern greens, pickles, and cabbage.
"The freshness from the farm doesn't get any better because the nutrients are still in it because it hasn't been sitting in some cooler somewhere for two weeks waiting to get to you," he says. "The best pharmacy is right out there in the fields."
Dan's classes center around produce that is currently being harvested. Long & Scott Farms plans to host a Field2Feast Dinner on Feb. 23.
The chef also intends to do some children's cooking classes, including tips on how to use a knife safely in the kitchen.
"I teach a lot of children knife safety because I kind of like my fingers where they are," he says, grinning. "I'm sure their parents would appreciate that, too."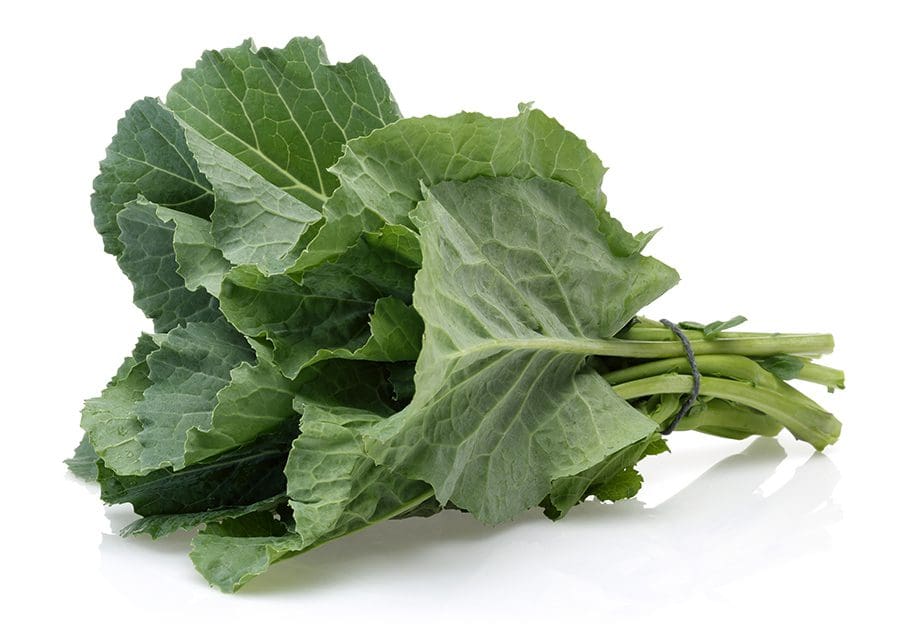 From Long & Scott Farms
Collard greens with beans
Caramelized onions, bacon, and cannellini beans add depth of flavor to collard greens. Serve with a dollop of sour cream and or a sprinkle of Parmesan cheese.
Ingredients:
3 slices bacon, coarsely chopped
1 red onion, thinly sliced
2 tablespoons minced garlic, to taste
5 cups collard greens, stems and center ribs discarded and leaves chopped
¾ cup water, or as needed
1 tablespoon brown sugar
2 teaspoons cider vinegar
1 teaspoon crushed red pepper flakes, or to taste
Salt and pepper to taste
1 (15-ounce) can cannellini beans, drained and rinsed
Directions:
Place the bacon in a large, deep pan with a lid, and cook over medium-high heat, stirring occasionally, until evenly browned, about 10 minutes. Remove the bacon pieces from the pan, and set aside. Reduce the heat to medium-low, and stir the sliced onion into the hot bacon fat. Cook and stir the onion until it begins to brown, scraping the bits off the bottom of the pan, about 8 minutes. Add the garlic, and cook and stir 4 more minutes. Return the bacon to the pan, stir in collard greens, and toss gently until the greens are wilted, about 3 minutes.
Pour in the water to almost cover the greens, and stir in the brown sugar, vinegar, crushed red pepper, salt, and pepper. Bring to a boil, cover, and reduce heat to low, and simmer the collard greens until very tender, 1 to 2 hours. About a ½-hour before serving, stir the cannellini beans into the collard greens and return to a simmer.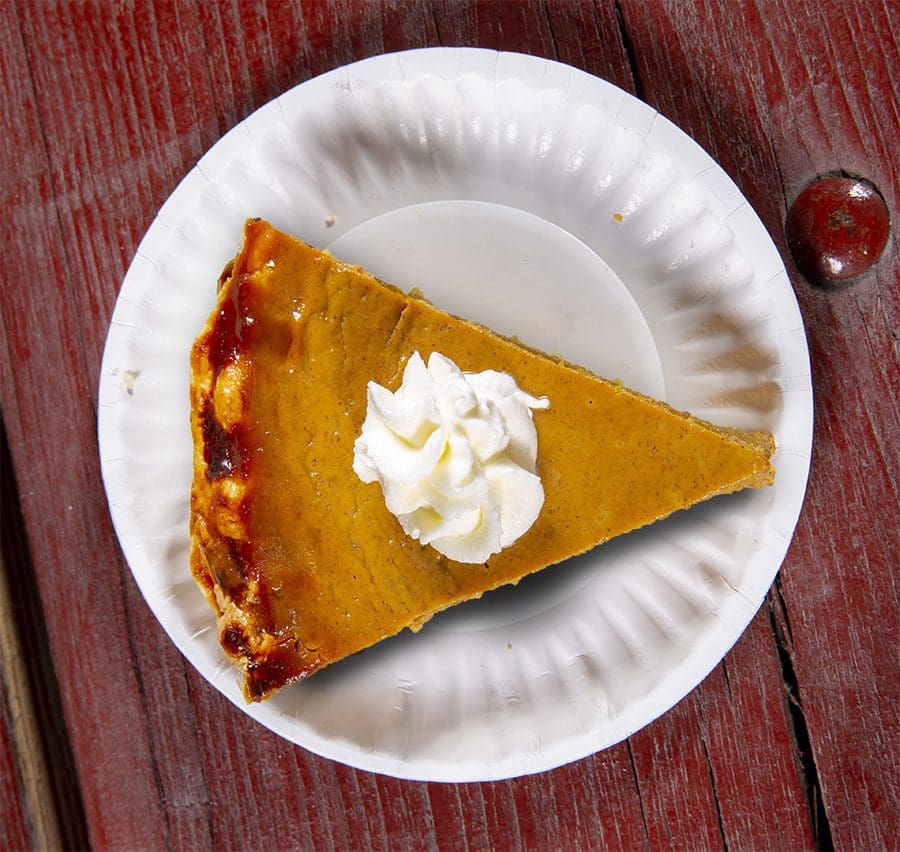 From chef Dan Stimpson
Fresh pumpkin pie
Ingredients:
Dough:
1¼ cups all-purpose flour
2 teaspoons sugar
1/8 teaspoon salt
1 egg yolk
Flour for dusting
Filling:
1 sugar or pie pumpkin (about size of a melon)
¾ cup packed brown sugar
3 eggs lightly beaten
1¼ cups half and half
1½ teaspoons ground cinnamon
½ teaspoon salt
1 teaspoon fresh grated ginger
1/3 teaspoon nutmeg
Directions:
With a small, sharp knife, remove stem from pumpkin, split in two lengthwise. Scoop seeds and stringy pith from cavity. Place cut-sides down on baking sheet and bake at 325 degrees for 40 to 50 minutes until fork tender.
Make dough either by hand or with mixer (not food processor) by mixing together the flour, sugar, salt. Add butter and squeeze mix until butter is pea-size bits. Add 1 tablespoon cold water to form dough ball. Wrap and set in refrigerator for 1 hour to rest.
Mix together wet ingredients, adding eggs at the end to incorporate and not froth. Let sit while you roll out dough larger than pie shell, place in shell, crimp edges. Add the filling mixture and bake at 325 degrees for 1 hour, 20 minutes or until center comes out clean. Cool 30 minutes before serving.
Originally from Anderson, Ind., Theresa worked for The Herald-Bulletin for many years. After experiencing a winter with 53 inches of snow, her late husband asked her to get a job in Florida, and they headed south. Well known in the area, Theresa worked with The Daily Sun and The Daily Commercial prior to joining Akers.
Share This Story!