Attractions: Game changers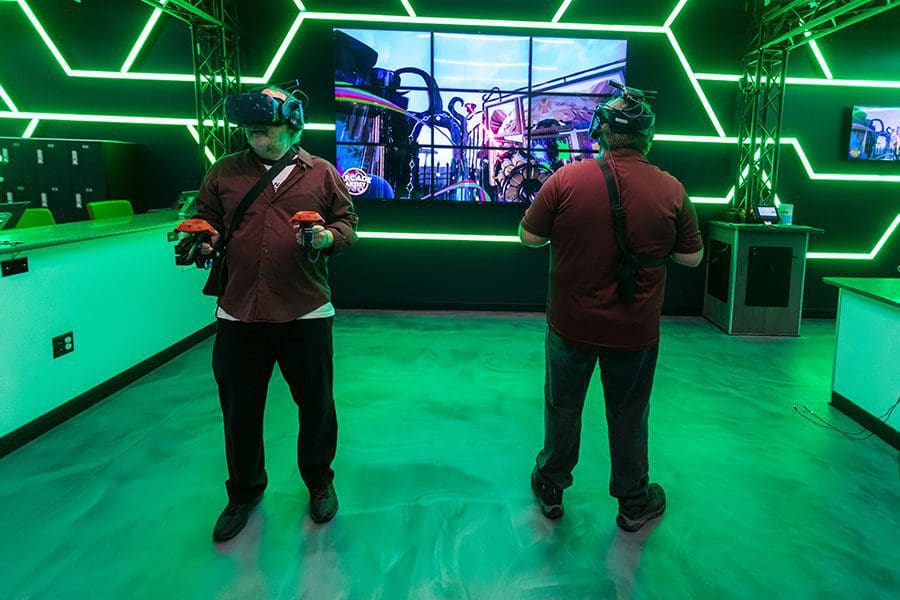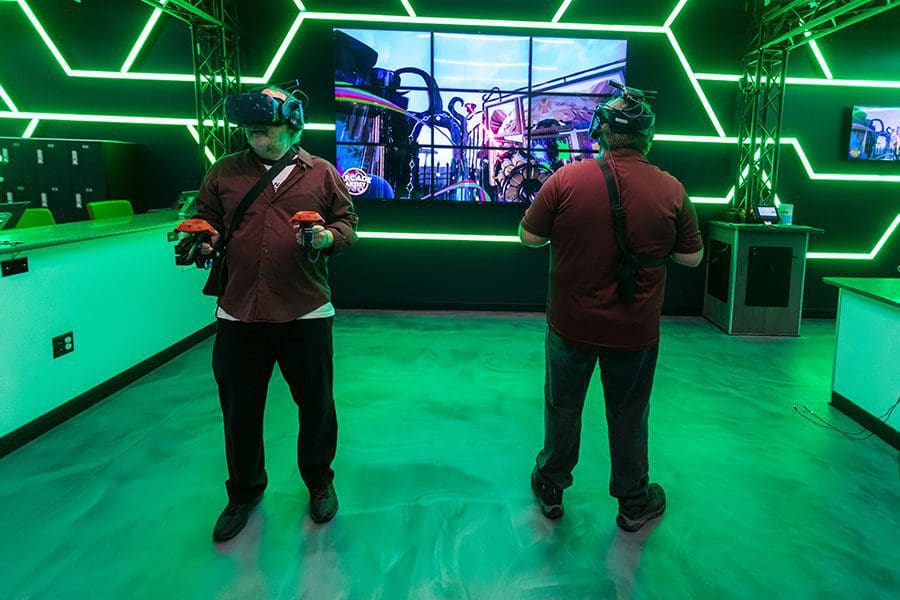 Journalists-turned-zombie killers Chris Gerbasi, left, and James Combs. // Photos by Douglas Tyler
Forget those old arcades of the 1980s. Mind Immersions in Clermont offers a new reality in the gaming industry.
Story: James Combs
Mayhem ensues in the once peaceful town of Clermont. As hordes of blood-soaked zombies lurch through the streets, locals run frantically to avoid being bitten and becoming one themselves. 
Then, the unlikeliest of heroes emerge to save the day. 
Two middle-aged, pistol-packing journalists show up on the scene and confidently draw their weapons. Five zombies come toward them with arms outstretched. 
Bang. Bang. Bang. Bang. Bang. 
Five headshots, five down. They spin around and see four more zombies approaching from their rear. Bang. Bang. Bang. Bang. Their adrenaline pumps. Their hearts race. For the fate of mankind rests solely in their ability to destroy these bloodthirsty monsters. 
Actually, the above scenario is only partially true. One recent afternoon, colleague Chris Gerbasi and I took a break from the real world and received a dramatic introduction to the world of virtual reality gaming. It took place at Mind Immersions, a Clermont company that allowed us to test our survival skills against hordes of the undead. 
It was quite an experience for us old-timers accustomed to playing video games like Pac-Man and Pong on a screen. This technology actually puts you in the game. 
The game we played is called "Time Zombies." We stepped into a spacious battle arena, where general manager Raquel Brumell and team leader Joshua Anderson equipped us with wireless headsets. Once the headsets were secure, they handed us our weapons—one pistol for each hand.
Suddenly, we were immersed in a postapocalyptic courtyard where zombies with glowing eyes and limbs barely clinging to their rotting frames emerged from behind dilapidated structures. It felt very real—so real that the only thing more noticeable than the colorful graphics was our colorful language. 
"Take that you (bleep)."
"Oh (bleep). I've got three coming from my backside." 
On the surface, it seemed like we performed OK. I had 53 kills, while Chris had 47. He managed 30 headshots to my 23. Mad props to him. Those are difficult to achieve when you feel like something is actually coming at you. 
However, despite this being our first experience with virtual reality gaming, Josh wasn't overly impressed when asked how we fared. 
"Not too, too bad," he says with a hint of pity in his voice.
Translation: In the event of a real zombie apocalypse, Chris and I would be dead meat. 
---
Mind Immersions owner finds an alternative experience 
Jesse Domeracki's "day job" is designing the interiors of hospitals. By night, he oversees a world of zombies, space stations, Old West shootouts, car races and kids' birthday parties. Jesse created and designed Mind Immersions Virtual Reality Experience, which opened in Clermont a little over a year ago.
"I wanted to do something fun," he says. "I live in the business world right now. I'm sitting in company meetings, sitting around a table. I needed a change of pace. This is not replacing what I do, but it just adds excitement to the day-to-day."
The gaming center is small in size but as big as the imagination, with 35 stimulating games designed for all ages to enjoy in an eye-catching environment.
"We want the 'Wow!' factor when you walk in," Jesse says.
He says Mind Immersions is the only multi-experience VR facility of its kind, with four single-player bays, five racing/coaster simulator chairs and a battle arena for two players, plus free games on tablets. 
Good news for gamers: Jesse hopes to open more locations and create franchise opportunities in the near future.
---

Not your childhood arcade
Story: Douglas Tyler
The moment you open the front door of Mind Immersions, you can see this isn't your normal arcade. It's something you've never experienced before.
The entire place has this cool, neon-green glow to it that consumes you. Light strips run diagonally, up, down and around the entire place, providing an aesthetically pleasing futuristic vibe you just don't find in Central Florida.
In addition to a main stage and racing simulators, four private rooms for solo gaming experiences offered a lot of games, from running a convenience store to rock-climbing in a canyon. So, I ordered a beer and walked around while deciding on my first virtual adventure.
I always loved Need for Speed while growing up, so I chose to sit in one of the racing simulators. After sitting behind the wheel and placing my feet on the gas and brake pedals, the attendant donned my helmet and I immediately was transported into a new world. I was now inside an Indy speed car, suddenly seeing my arms covered down to my fingertips in protective racing gear, gripping onto the wheel of a car I really felt like I was sitting in. The experience was vividly realistic and completed by the surround sound of the earbuds you wear while driving.
After racing, I decided to try one of the games in the private rooms. I chose to enter the dark side and played a game called Beat Saber, where I was a Jedi knight holding two lightsabers and slashing musical notes as they came flying at me to the rhythm of the music. It was probably the most fun I've had playing a game in years, physically dodging left to right in order to stay alive! It was the most intense experience I had there and one I can't wait to have again.
For my last game, I asked what the most popular game was, and to my surprise, it was Job Simulator, where the player was a gas station attendant. I laughed and gave it a try. I don't remember how long I played but I do know that it was the game I played the longest. It was fun to do something different and so relaxing that I completely lost track of time.
---

Run for your virtual lives!
Story: Chris Gerbasi
Many motorists who commute on U.S. Highway 441 probably have imagined that they're driving a race car. Southerners may favor a NASCAR scenario. This Michigan boy thinks about the Detroit Grand Prix on Belle Isle.
Think again. The Assetto Corsa racing simulator at Mind Immersions is not a Sunday drive, at least not for this beginner. The game requires the player, much like an actual race car driver, to use both feet; the left on the brake and the right on the gas pedal. I drove like I had two left feet.
My only problems were steering, accelerating and braking. Raquel, the general manager, warned that the steering wheel was ultrasensitive, but I failed to grasp that concept. I was all over the place, like a madman at a Demolition Derby.
In my panic, my four limbs started to work independently of each other. I headed full speed into turns and careened from barrier to barrier, then sputtered to a stop by braking too hard. At one point, I found myself slowly rolling through pit lane. But there were no trophies, no champagne, no pit girls.
The "hot lap" of virtual reality was more like the cold slap of reality. I was so shaken up afterward that I needed to retreat to the tranquil environs of the Blu, where I virtually communed with whales, squids and jellyfish. No steering required.
Fortunately, the virtual track was closed to virtual spectators and there were no virtual fatalities, just wounds to the pride. Raquel notes that she sees 9-year-olds master the racing game pretty quickly.
Thanks, Raquel. But let's see a 9-year-old navigate 441 during rush hour.  
---
Mind Immersions: 2410 E. Highway 50, Suite B, Clermont / 407.559.1090 / Hours (vary by season): 3-8pm Wednesday-Friday, noon-8pm Saturday, noon-7pm Sunday; closed Monday-Tuesday // mindimmersions.com.
---