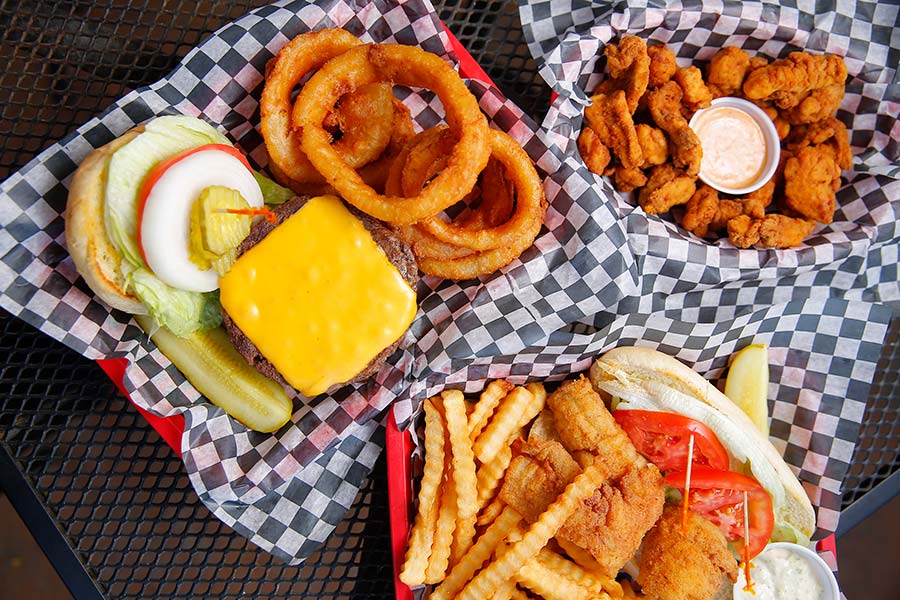 Writer: James Combs Photo: Fred Lopez
---
Fun, sun, and food well done.
A cool breeze coming off the water blows softly on the back of my neck. Palm trees sway gently, while classic rock plays in the background.
Gator Bay Bar and Grill, tucked away off County Road 44 near Haynes Creek, allows visitors to enjoy outdoor dining in a secret oasis. Accessible by automobile or boat, the restaurant features beautiful natural surroundings where, on any given day, you might see native birds flit around while eagles soar overhead.
The dining area is situated under an awning that provides adequate shade from the scorching sun. Guests can choose to sit at a table or venture over to the beer and wine bar for a satisfying drink. There is also indoor seating in a screened room off the bar.
Because the restaurant offers a true Florida outdoor dining experience, I began my meal by consuming bite-sized pieces of the state's most popular rowdy reptile, the alligator. The Southern gator bites did not disappoint. Unlike some restaurants where the gator tail is either mostly breading or overly difficult to chew, the gator tail here is meaty and tender. It is accompanied with a delicious sauce consisting of ketchup, horseradish, and various spices.
The beautiful surroundings also played a role in my entrée selection. I thought it would be appropriate—and I'm sure Jimmy Buffet fans would agree—to order a cheeseburger. After all, there's nothing quite like a cheeseburger in paradise! Served on a special-ordered Kaiser roll, the tender, juicy, and flavorful cheeseburger literally made my mouth water. The onion rings are crisp with a nice crisp breading that doesn't fall off at first bite.
My companions enjoyed the flaky cod sandwich and fish bites with fries, onion rings, and homemade potato salad.
The diverse menu features everything from wings and burgers to steak and cheese sandwiches and flying shrimp. Karaoke is offered on Wednesday from 5-9 p.m. and on Friday from 5:30-9:30 p.m.
Gator Bay Bar and Grill// 10320 County Road 44, Leesburg// Hours: 10 a.m. to 8 p.m. Sunday through Thursday and 10 a.m. to 10 p.m. Friday and Saturday// 352.365.2177