Local Talent: Getting in tune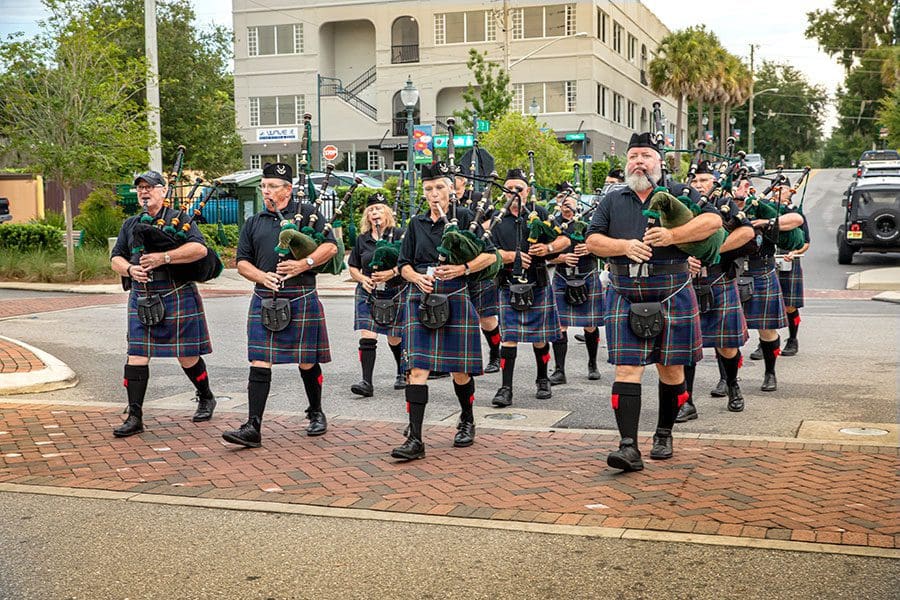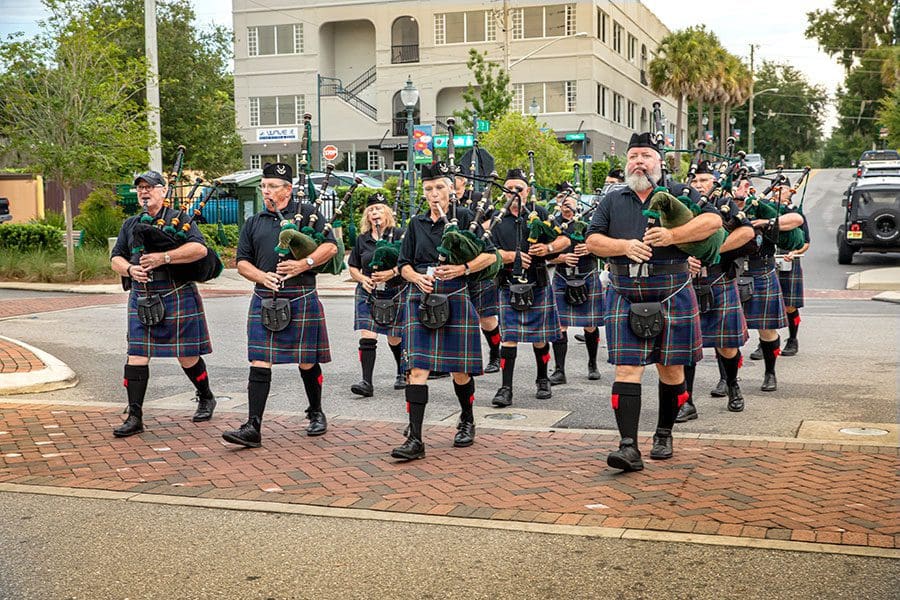 The members of the Mount Dora Pipes and Drums bond over a Scottish tradition.
Photos: Nicole Hamel
Musicians don't have to be Scottish to play the bagpipes but playing the bagpipes might make them feel a wee bit Scottish.
Members of the City of Mount Dora Pipes and Drums have a strong connection to the Scottish culture they represent, regardless of their own heritage, says Joe McKie, the band's pipe major who also happens to be Scottish.
"We get fully immersed at the Highland Games and festivals when wearing a kilt is not such a novelty," Joe says. "But on an everyday basis, we recognize that many of the tunes we play today were written hundreds of years ago, and the skill to play the pipes and drums have also been passed along all those years. So, it is a responsibility, as it were, that we take on the journey of being great pipers and drummers."
The band, formed in June 2017, has quickly become a mainstay at Mount Dora events, including the Independence Day Parade, St. Patrick's Day festivities, Christmas Walk, Spring Show, Craft Fair, and, of course, the annual Scottish Highland Festival, scheduled for Nov. 15-17.
The all-volunteer, nonprofit band also performs at weddings, graduations, memorials, grand openings—dozens of events around Florida each year. Setlists may include patriotic and military songs or traditional favorites like "Blue Bells of Scotland" and "Wearing of the Green."
Mount Dora is a sister city to Forres, Scotland, so organizing a pipe band was a natural idea.
"The Mount Dora Pipes and Drums are not only a great representation of the city but are a great showcase for Mount Dora's Scottish heritage as well as bridging a relationship with our sister city," says Chris Carson, Mount Dora's cultural and special events coordinator.
The band rehearses Monday evenings at the Mount Dora Community Building, starting with instruction for 11 newcomers learning to play Great Highland bagpipes. The group has 31 experienced musicians, many of whom have law enforcement backgrounds and play or formerly played with the Orange County Sheriff's Office pipe and drum band.
For example, Kevin Rowe, of Longwood, served with the sheriff's mounted unit and was part of many ceremonies where the bagpipes were played. He always felt a connection to them and started playing with the OCSO band in 2008. Now, he's the pipe sergeant for the Mount Dora band.
"I like the camaraderie to tell you the truth," Kevin says. "There's something about a big circle of pipers playing a tune that's really powerful. The sum is greater than its parts."
Camaraderie comes not only from playing together in an individual band, but also from meeting other bands with world-class musicians. The Mount Dora band competes at the Central Florida Scottish Games, the Northeast Florida Scottish Games, and the Dunedin Highland Games.
"We don't compete just for the glory," says piper Larry Lockwood, who also is the pipe major for the OCSO band. "We do compete because it makes us a better band, better pipers."
Sometimes, camaraderie is found on the world stage. Pipers Marion Bolton, of Leesburg, and Pete Linnenkamp, of Oviedo, performed with a variety of bands during the D-Day 75th anniversary services in June at several locales across Europe. Marion, who is half-Scottish and half-Irish, has been playing bagpipes for 20 years and is one of only a handful of women in the Mount Dora band.
The band utilizes about a half-dozen drummers, including Mark Triton and Wayne Miller on snare drums. Mark, of Eustis, formerly played in drum and bugle corps but says he had to shake off decades of rust when he joined the band this year. Wayne, of Mount Dora, had primarily done set drumming in the past.
"This is the fourth band I've played in," Wayne says. "This is probably the most laid-back, friendly attitude."
Scott Rayburn, on the other hand, had never played an instrument before he joined the band last year. While the Mount Dora resident is learning the pipe from "very patient" colleagues, they "let" him play the bass drum in parades.
"I'm Scottish and I always wanted to play the bagpipes," he says. "It's just been a really great experience. Learning is lifelong."
Though some members are Scottish, a shared interest rather than a shared heritage unites them. There's nothing quite like the spectacle of a mass pipe band playing at an event like the Highland Games, says Kevin McNeill, of Summerfield. Hometown performances are particularly exciting, fellow piper Jerry Mericle adds.
"The bagpipes are so unique. You don't hear that every day," Jerry says. "When we go downtown and play, people just erupt. That's a great feeling to be downtown and playing and they're going crazy."
Joe, the pipe major, says carrying the bagpipes means carrying on a special tradition: "The sound of the bagpipes is very emotive, and they can take you from the sadness of 'Amazing Grace' played at a memorial to the thrill of 'Scotland the Brave' as massed bands march across a parade ground."

---
For more information on the band, visit cityofmtdorapipeband.com or follow them on Facebook.