Giovanni's Ristorante and Pizzeria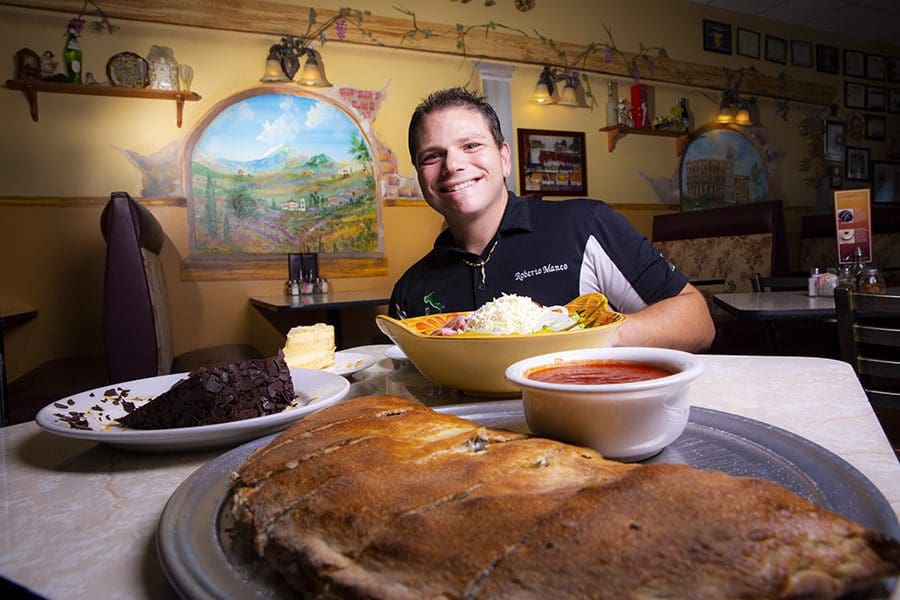 Delizioso!
Authentic Italian cuisine from the Old Country.
There are times when I really love my job. Giovanni's house specialty calzone created one of those divine moments when I relished savoring each bite of a perfectly baked, golden-brown folded pizza. The calzone's tasty crust (made from fresh dough that is handmade daily) was sprinkled with aromatic garlic and filled with the rich goodness of sauce, ricotta, mozzarella cheese, pepperoni, sausage, ground beef, and mushrooms.
It was delicious, or more appropriately, "delizioso," as the Italians would say.
My dining companion oohed and ahhed right along with me. We were enthralled with our lunch from the get-go, diving into tasty garlic knots bread served with a hearty Greek salad of fresh lettuce, tomato slices, onions, pepperoncini, ham, feta cheese, Greek olives, and dressed with light olive oil. We were thankful our friendly and efficient server, Jennifer, who has been working at Giovanni's ever since the restaurant opened 13 years ago at Southern Trace Plaza in The Villages, alerted us to the restaurant's generous portion sizes. We chose to split a "small" salad and calzone in order to be able to enjoy every morsel of two heavenly desserts (the newest offerings recommended by executive chef Roberto Manco): spumoni gelato, which featured three separate refreshingly cool layers of strawberry, pistachio, and chocolate gelato inside a coated chocolate shell drizzled with white chocolate, along with torta al tartufo, a delicious layered chocolate truffle cake that was light and delicate in texture and taste.
Both desserts were the perfect ending to a very wonderful lunch, and we look forward to going back to Giovanni's many more times for a delightful dining experience and flavorful and deliziosio Italian cuisine.
Originally from Anderson, Ind., Theresa worked for The Herald-Bulletin for many years. After experiencing a winter with 53 inches of snow, her late husband asked her to get a job in Florida, and they headed south. Well known in the area, Theresa worked with The Daily Sun and The Daily Commercial prior to joining Akers.
Share This Story!