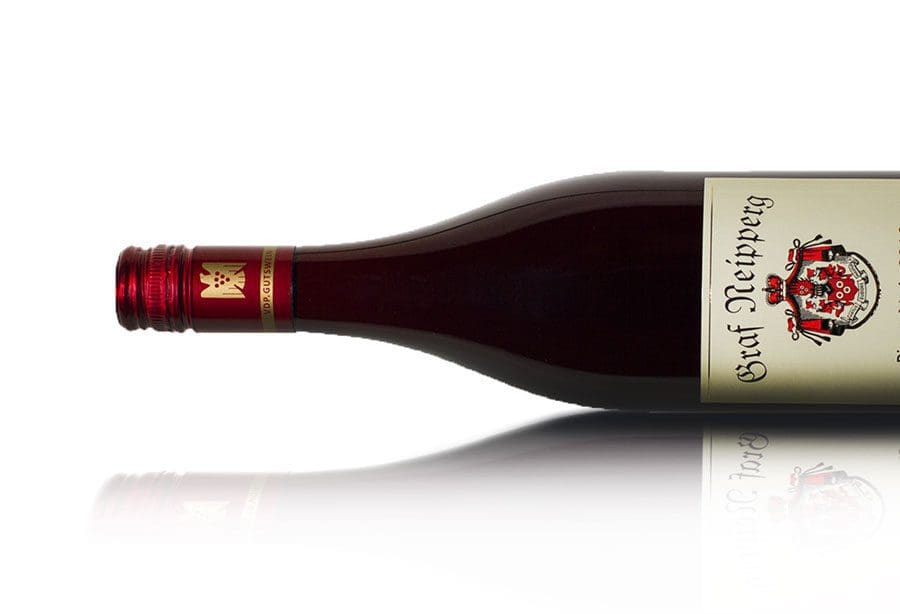 Beer steins will sway during Oktoberfest, but some people will take a lighter approach and celebrate with German wines. 

There is a lot of misconception about German wines. Many people, including me, have spent decades thinking all wine from Germany is sticky sweet. Many of us probably remembered our 1970s encounters with syrupy Liebfraumilch. And then there is the false assumption that the best German wines are white.
Buying any wine can be difficult when you don't know much about the terroir where the grapes are grown or the quality of the producers. Unfortunately, because I vaguely remember those German wines of my college days—like Liebfraumilch and Blue Nunn—I have not spent much time sampling them. Looking through the shelves of German wines was an education, and thanks to a patient wine consultant, I learned a few things.
The Deutschland is indeed known for producing quality white wines, especially rieslings, but I have discovered excellent red wines by German producers. Most recently, a 2016 Graf Neipperg Pinot Noir produced in Schwaigern, Germany, in the Stuttgart region caught my eye in a Lady Lake wine store. Quite frankly, I had to be coaxed into buying this $20 bottle by the wine consultant, who said it was one of his favorites. Germany hasn't exactly been known for its pinot noirs, but today it is the world's third-largest grower of pinot noir grapes, just behind France and the United States. In addition, winemakers in Schwaigern have been making wine a long time—since 799 to be exact. While the region is more noted for rieslings and pinot meunier, Schwaigern has already planted 1,700 hectares of pinot noir grapes.
The Graf Neipperg was an excellent choice to pair with Alaska salmon. It was silky and complex, and if I'd been tasting blind, I would have guessed incorrectly it was from France. Not surprisingly, several wine experts have rated this wine in the 90s on a scale of 100. This is definitely a wine I'll buy again … if the enthusiastic wine consultant doesn't sell it all.
A discussion of German wine is not complete without mentioning riesling, described by many connoisseurs as the "aristocrat" of white wines because of its crisp, juicy and distinctive mineral taste. Rieslings pair extremely well with foods that are not always considered wine-friendly, such as spicy Asian or Cajun dishes, which is the thing I love about them.
Rieslings range from bone dry to dessert sweet, and it is not always easy to know which one you are buying. Check the label for the International Riesling Foundation's (IRF) Taste Profile, which many wineries now print on the back of bottles to help consumers know what they are buying. Wineries determine the degree of sweetness according to a set of technical guidelines and reflect it on the IRF dry-to-sweet scale. If it's not on the bottle label, chances are it will be on the store shelf where you buy the wine.
A wine connoisseur I know recently recommended the Kruger-Rumpf Estate Riesling Trocken 2016 from the Nahe River Valley. The wine had great aroma and was quite citrusy for a riesling, but I caught a touch of peach or stone fruit on the finish. The Kruger-Rumpf was an excellent complement to spicy sausage balls. Highly rated, this estate wine is a bargain at about $19.
Celebrating Oktoberfest often includes raising a stein of dark German beer, but wine can be just as festive and delicious without as many calories. Whatever you are drinking, raise your glass and say, "Prost!" as if you were in Germany. 
---
Tasting notes defined
Trocken
This is the word you want to see on the label if you like dry wine. Trocken is the classification for dry wines on German varietals. An off-dry wine is "halbtrocken" while "lieblich" is sweeter. However, for German sparkling wines, known as "Sekt," trocken can be confusing. It actually indicates a higher level of sugar in sparkling wines than it does for still, or non-sparkling, wines. A "Sekt trocken" is off-dry or semi-sweet; a "Sekt brut" is completely dry. 

---
VDP Gutswein
So how do you know if you are getting a high-quality German wine? Look for the classification symbol of the VDP logo, a stylized eagle bearing a cluster of grapes. The Verband Deutscher Prädikatsweingüter (VDP) is the oldest national association of premium-wine estates, founded in 1910. The eagle logo guarantees the wines are handcrafted from the highest quality grapes in Germany's best wine estates. Currently, only 200 elite producers are granted permission to use the logo on their bottles. Producers are extensively checked every five years, and they can be demoted from the association. Both the Graf Neipperg Pinot Noir and the Kruger-Rumpf Estate Riesling Trocken displayed the VDP Gutswein symbol, which denotes a regional wine good for everyday drinking. Grand Cru wines can receive the higher classification: the VDP Gross Lage.