Guy Fieri's American Kitchen + Bar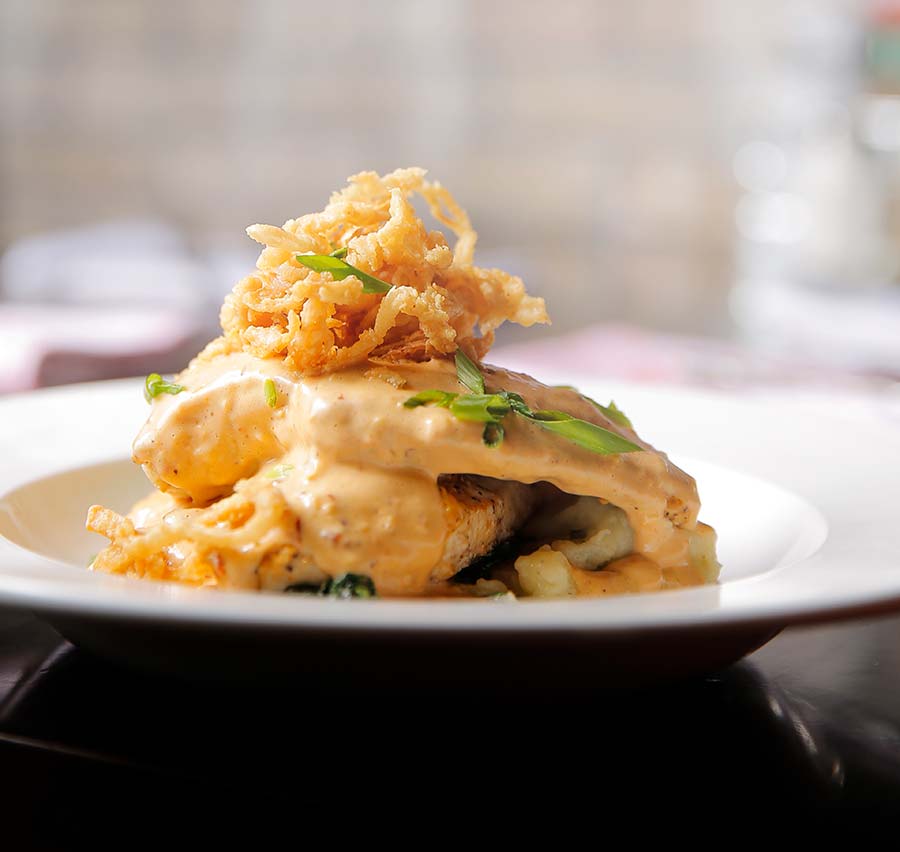 The best worst-kept secret
Guy Fieri's American Kitchen + Bar opened in August in The Villages with little fanfare so management could control the crowds expected at a new restaurant attached to a "celebrity chef" from the Food Network.
That probably was a good strategy. It doesn't take much to send Villagers into a feeding frenzy, and if everyone knew how good the food is at Guy's, pandemonium would reign on Old Camp Road.
So, don't tell anybody that the meatloaf and six-cheese macaroni is exactly what anyone could hope for: a generous portion of juicy beef-and-pork meat with sweet brandied mushrooms and caramelized onions, paired with ultra-creamy mac and cheese. Keep it to yourself that Guy's Bourbon Brown Sugar BBQ Sauce makes the meatloaf even better—yes, I went there.
Guy's holiday secret was a Thanksgiving turkey sandwich unlike any sandwich you've seen. Thanksgiving dinner was wrapped up in one giant hoagie concoction: smoked turkey breast, Swiss cheese, sausage-cornbread stuffing, cranberry jam, lettuce, tomato, kettle chips, and—wait for it—donkey sauce. Who knows where donkey sauce comes from, but it definitely added a kick.
Just between us, the pounded, "panko-crusted" chicken tenders appetizer with three dipping sauces was delicious—must be the panko.
And the mint chocolate chip ice cream in Oreo crust pie topped with whipped cream was as sweet as can be, but don't let that get out.
Keep everything on the down-low. Maybe you'll see Guy, maybe you won't. A hostess says she got a phone call and a man said, "This is Guy." She replied, "Guy who?" Oh, that Guy. Yes, it's that guy from TV and he's brought "Flavortown" to The Villages. Don't cause a panic.
See details for Guy Fieri's American Kitchen + Bar below
Guy Fieri's American Kitchen + Bar // 1045 Old Camp Road, The Villages // 352.633.3018
Hours: 11am-10pm Sunday-Thursday; 11am-11pm Friday-Saturday
FORK REPORT:
Casual dining $$ // Seated promptly (lunch hour) // Wait for meal: 10 minutes
OUT-OF-THE-ORDINARY STARTERS: ($6.95-$13.95): Trash Can Nachos, roasted garlic hummus, pulled pork sliders, sashimi tuna won-tacos, mussels frites, Dragon Chili Bowl.
ALL-DAY MENU: ($7.95-$29.95): variety of chicken wings, bacon mac 'n' cheese burger, hot pastrami reuben, jumbo crab cake, the Big Dipper roast beef, Motley Que pulled pork shoulder, fully loaded chicken pot pie, cordon bleu pasta, ribs, steaks, apricot-jalapeño glazed salmon.
HOW FORK ON THE ROAD WORKS
Our reviewers are objective and unbiased. This is not a paid feature. Our reviewer makes one unannounced visit and we pay for our meals.