In the Kitchen: Hail to the chef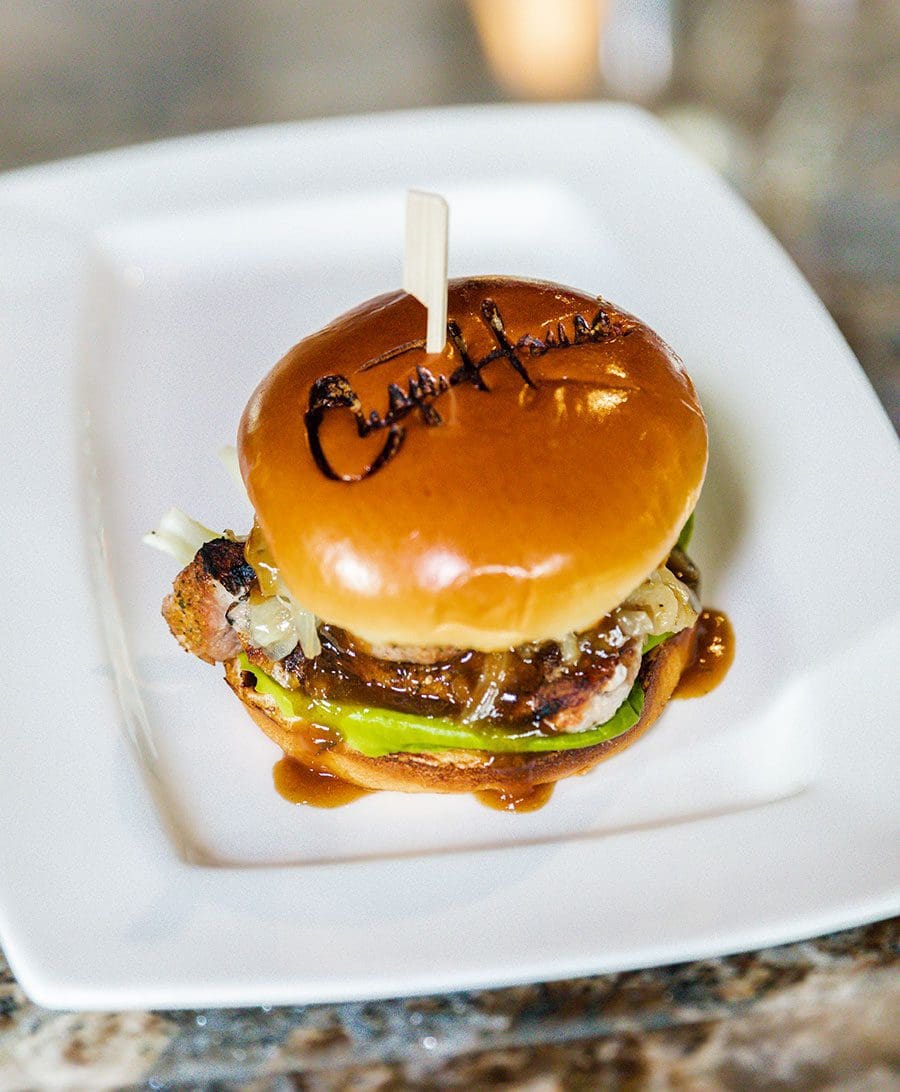 Chop House's Charles Stadmire is a hit with customers.
Judging from the elegant ambience and classy décor of candlelit tables, white linens and cozy upholstered chairs at Chop House at Lake Sumter in The Villages, the head chef/kitchen manager had a hunch the restaurant would become a great place for a romantic dinner for two or a fun party with friends. 
"I knew deep down when we opened the Chop House and I looked at our menu, I looked at our team and everybody who had something to do with it, I knew it was going to be a hit," says Charles Stadmire, who oversees a staff of 20. "Guests love us. We are doing better than anyoneexpected and we plan to be here for a long, long time." 
Before Chop House opened its doors in July 2019 at 1045 Old Camp Road, the building had housed Guy Fieri's American Kitchen, Honest John's and TGI Fridays.
"Many people thought this spot was cursed because the previous businesses kept shutting down and couldn't survive," Charles says. "We own the spot and have made it home." 
Charles worked in several restaurants, starting as a teen busing tables in the Miami area, before he became proficient in the kitchen cooking seafood, followed by gaining management skills. He moved to Ocala in 2016 and later joined Fresh Made Kitchen, owned by Fred Karimipour, a Villages resident. FMK manages seven Villages restaurants, including Chop House. Charles opened Bluefin Grill & Bar in 2018 at Brownwood Paddock Square prior to moving to Chop House.
"The best compliment is hearing overall praise about the service staff, the food, the ambience from walking in the door, the greetings, the management being friendly, the servers," Charles says of Chop House. "I feel pretty blessed to be here." 
He strives to make sure each plate leaves the kitchen looking beautiful—the presentation of food is paramount. 
"People eat first with their eyes, and that is exactly why the food has to look awesome," Charles says. "I'm always excited and wishing I could go out and see people's reactions because when I put food out, I take pride and want to make sure it's exactly the way the customer wants it." 
The goal is to prepare aged steaks, seafood and other entrées to the customers' delight. 
"We want to do what we can to make guests happy and bring them back in, even if it means cutting up a steak in small pieces," the chef says. "Whatever a guest needs, we do the best we can. We do everything in our power to make sure a guest leaves the door happy and comes back. Even if we can't please everybody, we hope to get a second chance." 
Charles is pleased Chop House already has its share of regulars.
"Seeing return customers makes me happy. It means the product you're putting out is worthy, good quality, and people really enjoy it on top of the atmosphere," he says. "This is a place to have a great, nice dinner and enjoy being with your family, friends, and have a nice bottle of wine." 
Chop House's braised lamb shank is a favorite of many diners, along with house specialties such as chateaubriand, pork medallions and slow-braised short ribs. The chef's personal favorite is the roasted half-chicken.
"It's tender, marinated, crispy on the outside and the meat falls off the bone. It comes with our fig reduction, and it's to die for," he says.
The restaurant serves a lot of salmon and healthy foods, too.
"People are very health-conscious, and we try to accommodate those with food allergies and in making dishes without salt," Charles says. "We definitely go out of our way to try to accommodate people. We just want to take care of people, that is our main goal." 
Cheyenne McGowan, a server and hostess at Chop House, says the chef pays attention to people's dietary needs. 
"My whole family has allergies, and he is just amazing with people and an amazing chef. He's kind, caring, understanding," Cheyenne says. "He's not like most chefs. He's not impatient. He's a great chef and works with us really well." 
Dealing with the business side and the personal side of working with employees is "the finest balance," Charles says. He'll ask employees about how they and their families are doing.
"People appreciate that," he says. "I take care of them and they take care of me. We're like a little family. The best part of working here is the people and the camaraderie." 
Charles spends about 50 to 65 hours a week at Chop House.
"I put in enough hours to make sure everything gets taken care of. I work until my job is done. I really enjoy the hustle and bustle, the fast pace. It's a fun, great ride," he says. "I really enjoy making people happy and putting a smile on their face. Food tends to make people happy."  
---
Let's talk food  
The good stuff in Chop House's cheese fondue: Charles says the popular cheese fondue is made with white wine, paprika, coarse kosher salt, shallots and dry mustard, all sautéed down before adding milk and heavy whipping cream, followed by cream cheese and shredded Swiss or mozzarella cheese that is cooked slowly. "It's very simple and the flavors come together so well. People love it," he says. 
Pork and fig sandwich for lunch: "We take pork tenderloin that we cut down to breast medallions," Charles says. "For the sandwich, we put the pork on the grill, season it with our steak seasoning and with Chop House's signature fig jus reduction." The popular sandwich is served with caramelized onions, Bibb lettuce and tomato on a grilled brioche bun. 
The secret sauce: Chop House makes its own bearnaise sauce, starting with a hollandaise sauce cooked over medium-high heat; then add 2 tablespoons of fresh, chopped tarragon. "Tarragon gives the sauce that extra fresh flavor," Charles says. Chop House serves its bearnaise on several dishes, including the seared scallops appetizer, salmon, petite filet and lobster.
---
Chef chat   
What I watch on TV: Food shows on Food Network like "Chopped" and "Diners, Drive-Ins and Dives." I wouldn't want to be on "Chopped," but I do get ideas. 
Foodie at heart: I think about food a lot. I think about meatloaf, ham, yams, collard greens, cornbread—the comfort foods, Southern, home-cooked meals. My mom and my grandmother were the cooks when I was growing up. My mom still cooks to this day when I go down to Miami.
If my mom came to Chop House: I would serve her short ribs or maybe our salmon bearnaise, which is really good and popular.
My guilty pleasure: My first word was "cookie," and ever since then, me and cookies cannot split up. I could have cookies every day: four, five or six and I like so many kinds. Chocolate chip, oatmeal, white chocolate macadamia, and you've got to have cookies with a tall glass of milk. 
Foods I don't like: Delicacies like snails, oysters, they're too slimy. And I've never cared for pudding or Jell-O. I'm more of a texture guy. I like meat. Steak, chicken. 
On my drive home from work: I drive in silence, literally thinking about the day, processing everything. I analyze myself every day to see how I can be better every day. I am the hardest critic on myself. I just always think I want to be better. How can I do better on everything? Because if you don't, then what are you working for? 
I stay thin by: Just walking around Chop House kitchen all day, averaging about two miles a day.
Favorite way to unwind: Kick back on the couch, enjoy TV and a glass of wine. Caymus wine is really good, and I'm not even a wine drinker. 
My life as a dad: I have three kids, Charles, 8; Chad, 7; Chase, 4, in the Miami area. They like it when I cook. They always want chicken tenders. I'm a boy dad.
Future goal: I want to continue to grow and hopefully open more restaurants.
Diners say: The best comment is hearing it was "a 100 percent, all-around wonderful experience at Chop House."
---
If you go
Chop House at Lake Sumter
1045 Old Camp Road, The Villages
352.750.6000
Hours: 11am-9pm Sunday-Thursday; 11am-10pm Friday-Saturday
Originally from Anderson, Ind., Theresa worked for The Herald-Bulletin for many years. After experiencing a winter with 53 inches of snow, her late husband asked her to get a job in Florida, and they headed south. Well known in the area, Theresa worked with The Daily Sun and The Daily Commercial prior to joining Akers.
Share This Story!