Health Pros: Florida Retina Institute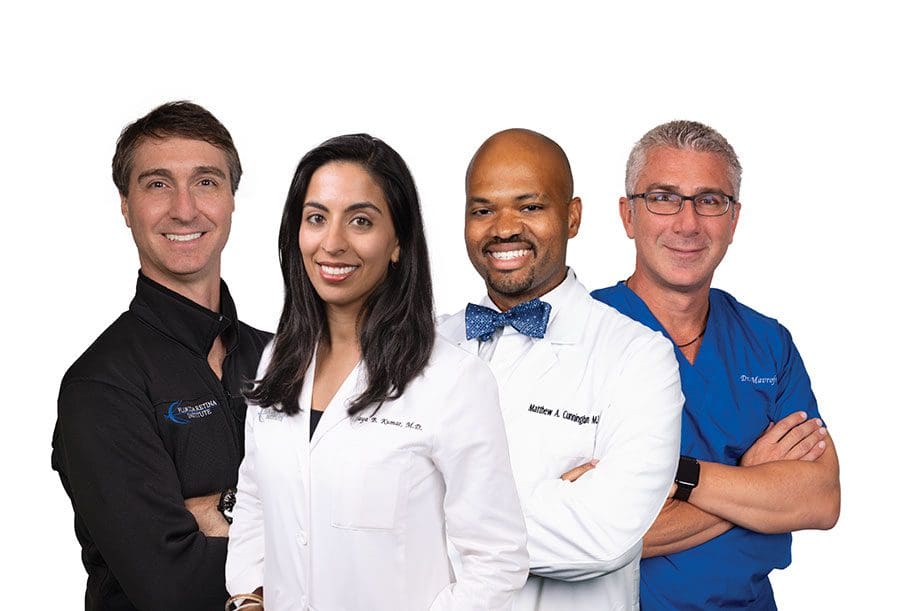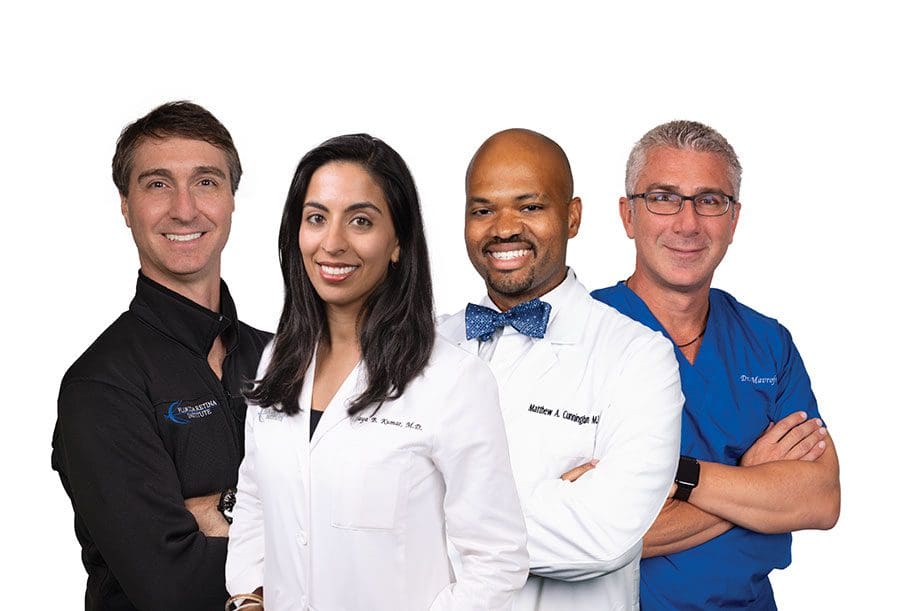 Florida Retina Institute is dedicated to the diagnosis and treatment of vitreoretinal diseases and surgery. Physicians on staff include Elias Mavrofrides, M.D.; Jaya B. Kumar, M.D.; Matthew A. Cunningham, M.D.; and SK Steven Houston III, M.D.

This practice is excelled by the wonderful ophthalmologists who are great physicians and great people," says Dr. Mavrofrides. "We are extremely fortunate to have brought in a group of amazing, talented doctors who work well together."
The main focus of the practice is concentrating on good communication to help patients understand their conditions. Most retina problems are difficult for the patient. Patients need to know that their doctor understands what's needed to ensure they're not only getting good treatment but also know what to expect.
"We do a lot of treatment for macular degeneration, which is a particular area of focus. I've seen where we've transitioned from having very few treatments for wet macular degeneration to doing much more," Dr. Mavrofrides says. "In the past, wet macular degeneration was considered the worst form of the disease, causing severe damage to vision over a short period of time. However, new treatment has revolutionized our ability to control and limit the amount of damage."
Treating wet macular degeneration is done with injections in the eye over a period of several weeks.
"Eye injections are the perfect example of what I was talking about before. They're not fun to go through and they create anxiety for patients," Dr. Mavrofrides continues. "Our job is to make sure they're not painful and they're very effective, and we try to manage some of that anxiety. That way, we can take what could be a bad experience and turn it into something very positive."
Dealing with anxiety is a major part of treatment at Florida Retina Institute. Dr. Mavrofrides says many people are extremely tense and apprehensive until they receive their first injection. "We help them realize it's not as bad as it seems it's going to be."
He and the other physicians on staff are proud of their ability to have a positive impact on patients.
"Many people just look at us as eye doctors. But, in reality, the ability to see is so valuable. When you think of being able to take care of yourself and being able to drive, independence is a big issue," he says. "Having the ability to help patients function at a high level, do the things they want to do, and add quality of life is important to us. And it makes it rewarding at the end of the day."
---
877.357.3846
floridaretinainstitute.com
790 US Highway 27/441, Lady Lake