Health Pros: Precision Integrative Medicine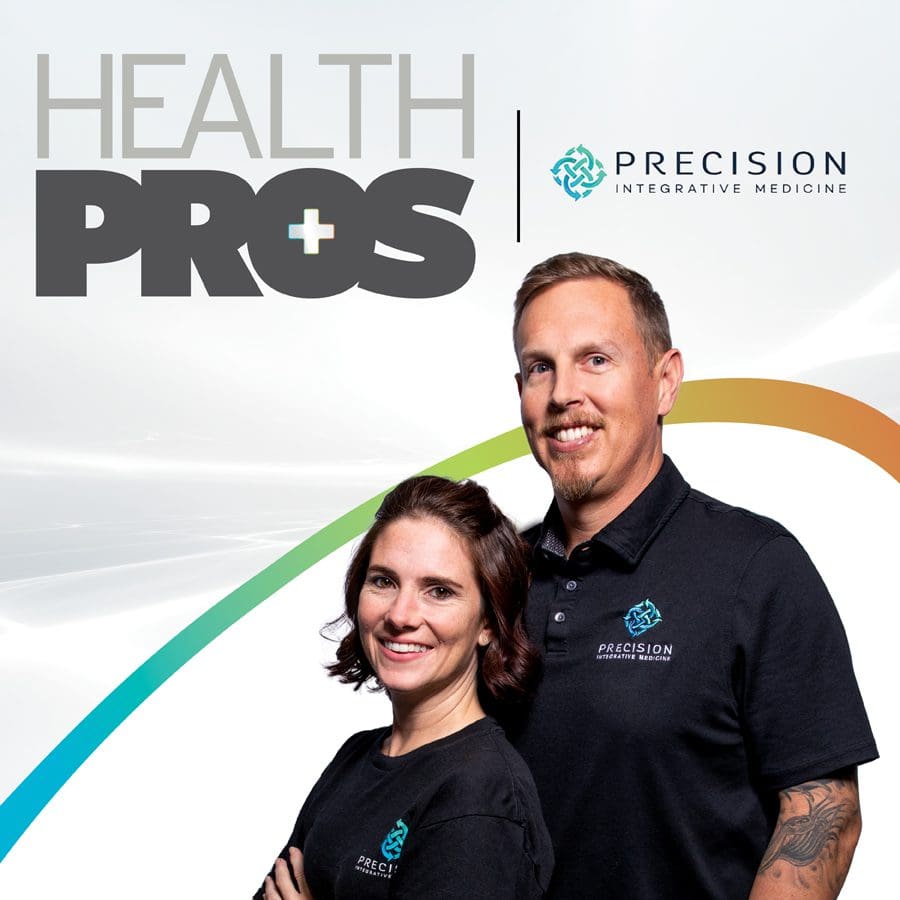 Precision Integrative Medicine
Your partner in the journey to wellness.
As a firefighter, EMT and paramedic, Dustin Vaughan spent over 13 years confronting the worst scenarios in emergency medicine. The Florida native also competed at the highest level internationally in the grueling Firefighter Combat Challenge and in CrossFit–before it became trendy.
He retired early from the fire service to attend medical school to practice integrative medicine. He wanted to combine Wester and Eastern medicine and better assist patients on all stages of their wellness journey. Having sustained his fair share of injuries as an athlete and an adrenaline junkie, he knew firsthand about treatment and recovery. 
"As a firefighter, and paramedic, I got tired of treating symptoms and 'putting a band aid on it.' It's one thing to save a life in an emergency, but just 'applying band aids' doesn't fix chronic or ongoing problems," says Dr. Vaughan. "My goal is to treat the problem and hope the symptom goes away, rather than treating the symptoms and hoping the problem goes away, which is what most people expect."
At Precision Integrative Medicine, Dr. Vaughan's experience provides an effective holistic, healing-oriented approach to health.
Rather than simply treating symptoms by prescribing medication, the goal is to uncover the root cause of the problem.
Once this is determined, an individualized treatment plan is created for the patient.
The practice emphasizes the musculoskeletal and nervous systems as key to general wellness.
"I use natural and holistic remedies to combat most any inflammatory condition," says Dr. Vaughan.
What is integrative medicine?
"First and foremost, integrative medicine is a partnership with the patient and their health goals–and how we can help achieve those goals," explains Shauna Vaughan, practice manager and Dr. Vaughan's wife. 
To accomplish this, Dr. Vaughan also partners with other practitioners, whether in Wester medicine or complementary medicine such as chiropractic, etc. The human body truly benefits from this open-minded, non-exclusionary approach.
After thorough examination and review, he'll lay out a treatment plan and recommendations. It's then the patient's choice as for how to proceed.
"Everyone is on an individual healing journey, which is why we provide individualized care." 
Some patients come in to get a second opinion. Others come wanting to reduce pain because they have surgery scheduled and need help managing pain or improving their quality of life in the interim. Pre- and post-surgical therapies assist with recovery. In these cases, Dr. Vaughan works directly with each patient and their other doctors to navigate their path to wellness.
Treatment and relief
Afraid of needles? Don't worry! Needle-free treatment modalities are also available, including a needle-free alternative to acupuncture.
"Wester medicines and pharmaceuticals originally came from plants. Everything today is synthesized and comes with side effects, but Traditional Chinese Medicine (TCM) still comes from plants," explains Dr. Vaughan.
"Because of TCM, we have herbal formulas that help with everything from strengthening the immune system to bone remodeling and much more."
 TCM is still medicine, but each formula is typically only prescribed for a short time, and usually the formulations change as the patient heals. Treatment protocol is customized to each patient and their individual needs.
 "Everything prescribed out of our office is a natural, herbal, homeopathic, or nutraceutical — nothing pharmaceutical," says Shauna.
For example, Precision Integrative has a natural alternative to cortisone shots that works incredibly well.
"Cortisone over time actually degrades the joint and ligaments, but the natural alternative doesn't cause this," says Dr. Vaughan.
Not just athletes 
Thanks to his background, Dr. Vaughan loves the sports medicine side of his practice, but emphasizes that one doesn't have to be an athlete to benefit from "sports medicine." It's truly for anyone with pain on movement or mobility issues. Many patients come for general wellness or a specific problem.
In addition to helping patients recover after injury, and post-surgery, the professional team at Precision Integrative Medicine helps patients improve and maintain health to prevent illness and injury.
People often lose their independence because of pain. When you stop moving and become sedentary because you're hurting, your overall health declines, which can usher in a variety of problems.
Simply put, "movement is medicine."
"Movement is important to health, so preventing injury and helping people keep moving is crucial," says Shauna.
Adults aren't the only ones in need of integrative medicine. Dr. Vaughan is well-versed in pediatrics, so the practice is open to patients of all ages and fitness levels.