Healthy Inspiration: Lifesavers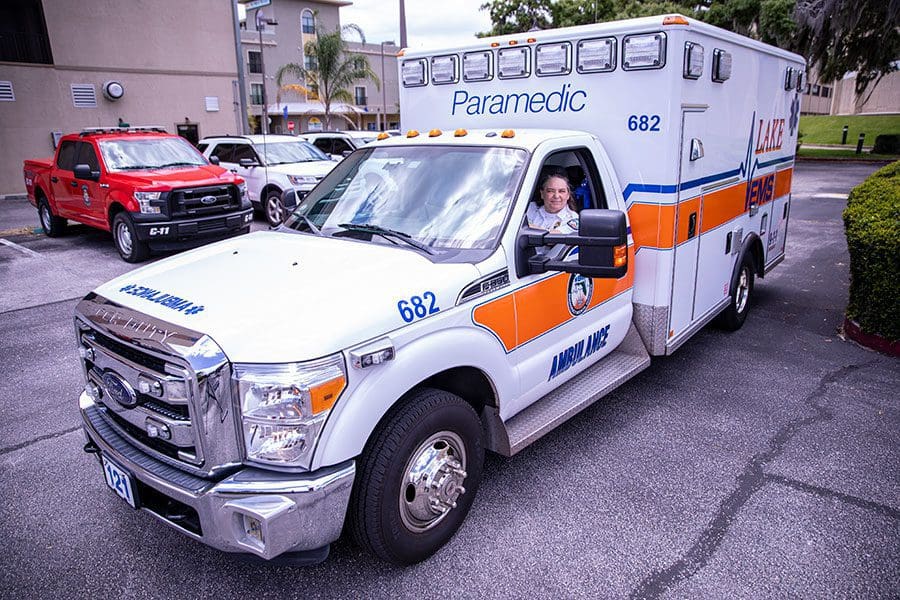 Tyler Van Alstine and Ginger Jacobs earn praise for aiding a child during a trauma call.
Lake EMS paramedic Tyler Van Alstine and emergency medical technician Ginger Jacobs were dispatched to a two-car, head-on collision on a dark, rainy afternoon Nov. 8, 2019, and the pair had a bad gut feeling when they got the call.
"I was thinking to myself this isn't going to be good," Ginger says.
Once at the scene, the first responders found a 12-year-old girl who was the most critically injured among the group, lying next to a vehicle that had major damage.
"She didn't look good," Ginger says.
"I could tell instantly she was critical and needed immediate care," Tyler says. "And you could see the love and fear in the family during the call."
The child needed trauma support, but the bad weather prevented air transport by helicopter. Tyler and Ginger drove the patient to Arnold Palmer Hospital for Children in Orlando with assistance from personnel from the Leesburg Fire Department.
"They performed several lifesaving maneuvers along the way. Everyone did what they were trained to do, and because of it, the patient is alive today," Dr. Donald Plumley, chief of pediatrics trauma surgery at Orlando Health's Palmer Hospital, says in a news release.
Lake County commissioners recognized Ginger and Tyler, who has since left Lake EMS, for their lifesaving work on the child, and Orlando Health representatives presented awards to them.
"The most memorable part after the call was receiving the amazing news that the patient was going to have a successful recovery," Tyler says.
"I am so glad we were able to help her and she had the outcome she did," Ginger says. "I remember doing a lot of praying."
Tyler and Ginger are quick to say they're not heroes but were part of a team that saved the girl.
"Everyone involved performed at the highest level," Tyler adds.
"Thankfully, we work for a company that does an awesome job with training for all situations we come across," Ginger says. "We all worked as a team and that is what we are supposed to do … just dedicated to taking care of the community and its visitors."
Originally from Anderson, Ind., Theresa worked for The Herald-Bulletin for many years. After experiencing a winter with 53 inches of snow, her late husband asked her to get a job in Florida, and they headed south. Well known in the area, Theresa worked with The Daily Sun and The Daily Commercial prior to joining Akers.
Share This Story!