In The Villages: He's an old cowhand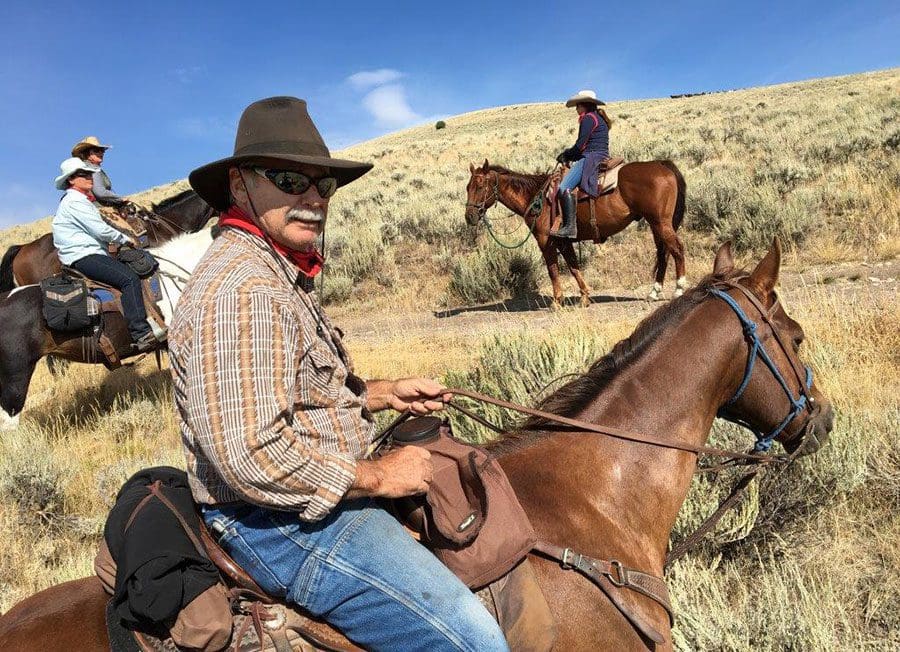 Villager Bob Oburn time-travels back to the great American West.
Story: Joe Angione
Villagers' recreational activities are as varied as the 3,000 clubs they've organized to help enjoy them. But these clubs don't represent what Hacienda North resident Bob Oburn, 67, does for fun and exercise.
From April to October, Bob lends himself out for a couple of weeks as a trail hand on a cattle ranch somewhere in Wyoming, New Mexico, Kansas, Idaho or Arizona.
These aren't "dude" ranches but working ranches that raise and move thousands of cows, and horses, to market. They want physically fit, highly capable riders who know what to do on a horse in rugged country. They also must be prepared to do the risky things that keep herds together.
"When a cow wanders down a rocky ravine, the trail boss must be sure you know that, if the cow got down there, your horse can get down there, and you better be able to stay in the saddle and bring the cow back home," Bob says.
Bob grew up on a small Pennsylvania farm where he became an excellent rider and learned to love the rural life.
"Being a cowhand lets me return to the past and assist ranches run by hardworking, patriotic American families," he says.
Bob isn't paid for his work. He pays for the privilege of participating in the lifestyle of the people who built the great American West. He also covers the costs of his travel to and from the ranch and medical bills, should he get hurt. But his food, hearty chuck-wagon fare, is free; so is sleeping out in a bedroll or a chilly trail tent.
There is no time for sightseeing. Bob is responsible for herding, sorting, branding, vaccinating, fixing fences and moving cattle to spring or fall pastures. Cowhands frequently work at high elevations where it gets very cold. And they work in sun, rain, snow and sleet.
Ranches call for volunteers, stipulating 70 as the maximum age, but they make exceptions based on your physical condition and experience.
Bob spent years in the federal government as a helicopter maintenance test pilot—another risky occupation—and then worked in federal agencies in the Washington, D.C., area. He also played arena polo for the Navy War College. No wonder he's an excellent horseman.
His longtime travel partners include another excellent horseman from The Villages and one who lives in Pennsylvania. This year, Bob will return again to the great American West.