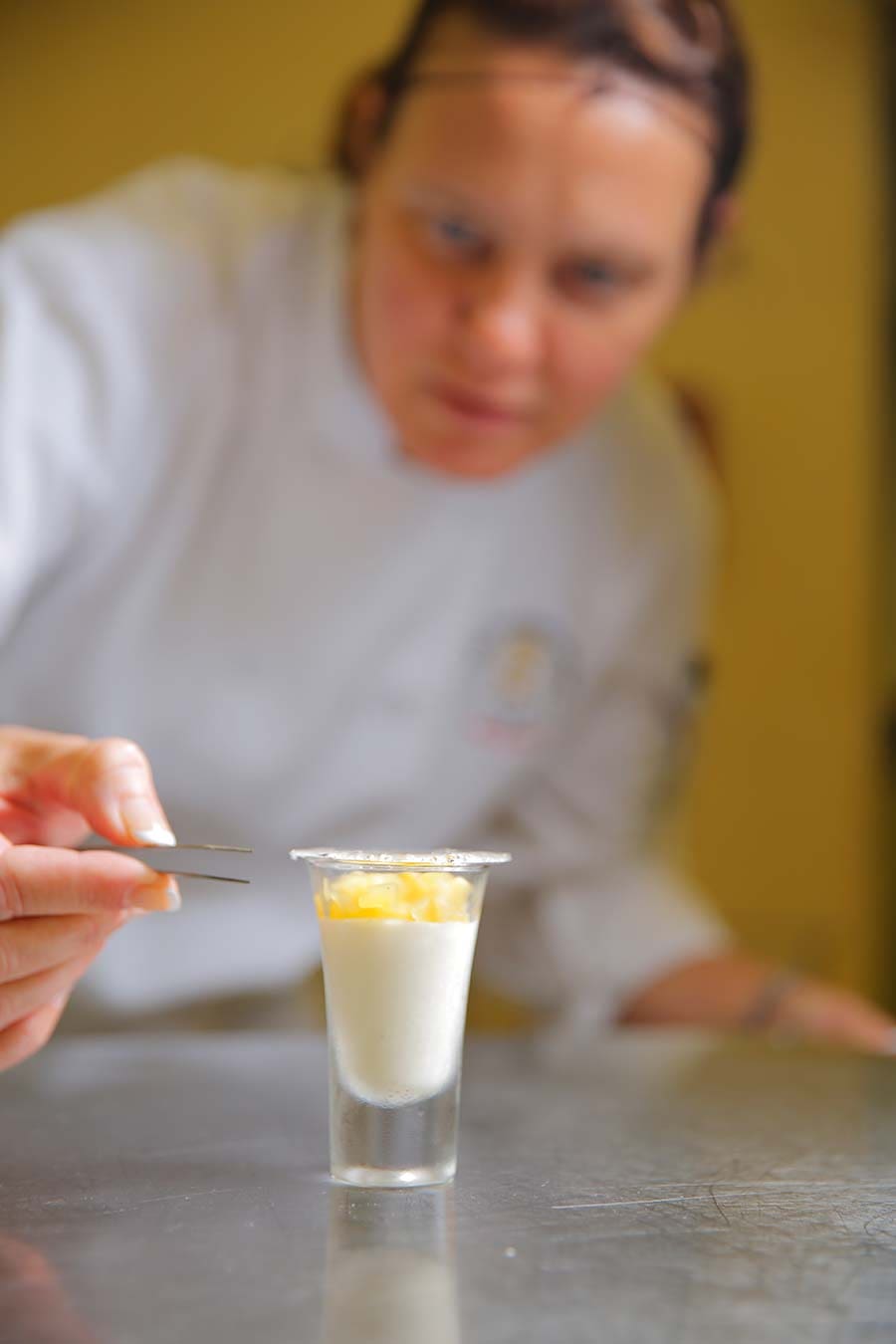 Culinary students are trained on state-of-the-art equipment at Lake Tech, an American Culinary Federation-accredited school in the heart of Eustis. 
Chef Kenneth Koenig, department chair of culinary arts/commercial foods at Lake Technical College, and his staff teach students how to create gourmet masterpieces and make fancy ice carvings with the latest appliances and gadgets.
"When we get new tools, we are like kids in a candy shop," says Kenneth, who has been teaching at Lake Tech for 22 years. "The students have to know how to use them and understand how they work. They are expecting us to share our knowledge, and we have to keep up with the technology because when our students leave here with one-year experience, they are going to walk out of here as certified culinarians."
Lake Tech's culinary arts program is 1,200 hours (about 40 weeks). "Being accredited by the American Culinary Federation, we are one of the few schools that has exemplary status," the chef says. "This year, we were ranked the eighth-best culinary school in the state of Florida."
Other schools with top rankings were universities with degree programs, he says, adding the only other technical school with a high ranking was Sheridan Technical College, north of Miami.
By helping students master advanced culinary prep skills and operate commercial equipment, Kenneth says it makes them more employable to work in the kitchens of restaurants, resorts, hospitals, amusement parks, and cruise ships.
The chef is proud of the success of many of his students, including area high school culinary instructors who graduated from Lake Tech or were in his apprenticeship program.
"I love to see my students over the years. I've had students come back to me and say, 'Chef, I just opened my third restaurant,' or 'Chef, I'm now an executive chef or a sous chef,'" he says. "It's wonderful when they come back. I always like seeing what they are doing after five years or 10 years."
He enjoys showing off Lake Tech's large kitchen, which was remodeled a few years ago with the latest upgrades. New appliances and tools have since been added.
"This is a clinebell machine used for ice carvings," Kenneth says, showing a special freezer that freezes large blocks of ice that stand 40 inches tall, 20 inches thick, and 10 inches wide. The chef and his students often create ice sculptures of swans, eagles, and hearts with sharp chisels and a chain saw. (A cordless chain saw is on his tech wish list for next year).
"I can do the same piece in about 30 minutes, but with the students, learning it takes them about a couple of hours. We do an average of 20 a year," he says of the ice sculptures. "Most of the people in town who do this, I probably trained them."
He's pleased by the foods baked in the kitchen's mini Baxter oven, which has rotating racks to aid in evenly baked breads, pastries, and cakes. He loves making hard rolls and breads in the appliance.
"Once I put my loaves in here, I can set it for 30 or 40 seconds of steam. It injects steam into the oven, so for the first eight minutes on 450 degrees with steam, I can get that nice crust, and then you can turn it down the rest of the way and have the most perfect bread," he says. "In Central Florida, I don't think another place has one of these."
However, he notes larger Baxter ovens can be found at Disney World and Universal Studios.
Chef Lynette Evans joined Kenneth in showing the new portable, countertop energy-efficient induction heat ranges that can be moved anywhere in the Lake Tech kitchen.
"They are really reliable for us and we have fun with it," Lynette says, pleased that water boils in three minutes, half the time of other ranges, and the range has the ability to make candy and cheese at constant temperatures.
An Alto-Shaam is the newest appliance in the Lake Tech kitchen. It has a patented Halo Heat design to slow-cook food efficiently and reduce shrinkage so more portions can be served, and the chef enjoys the kitchen's combi oven, where ribs are first steamed for 30 minutes and then finished cooking with dry heat.
One of the new teaching programs at the school, "Sous Chef," is also a valuable high-tech tool. In the culinary world, sous chef means second in charge of the kitchen.
Kenneth says if students are making a puffed pastry from scratch and are confused about how to roll out the dough for trifolds, they can access the program to read and watch a "how-to" video and then come to the kitchen to practice.
"We have to give them as much education as we can, cram as much as we can, and still let them have a life," the chef says. "We try to use programs that they can do here and they can do at home in their spare time. We're using technology so we are advancing along with them, and the technology is changing all the time. Every class changes; it's never the same."
Many of the culinary students are eager to create new things, including one female student who made a cake with a shiny glaze resembling a mirror.
The chef believes learning the latest culinary trends serves students well.
"There are some restaurants around that you end up paying $400 a person to go and have a dinner, and they do a seven-course meal using this new modern technology," he says. "It's fantastic."
The chef also delights in teaching students ways to create memorable dining experiences. He's made many of his own as a personal chef on a yacht, and also while serving as a banquet coordinator. He began his culinary studies under the wings of one chef while they worked in California, New Orleans, and New York. Kenneth went on to receive more training at Southeast Institute of Culinary Arts in St. Augustine.
"When you go on a cruise, you don't take a picture of the roast beef. You say, 'look at the fruit carvings, look at the ice carvings,'" Kenneth says, noting the design of roses carved from watermelon makes fruit visually appealing.
"We eat with our eyes," he adds. "All of a sudden, the potato salad is better on the salad bar or the fruit salad tastes better."
In the culinary world, the chef says developing new dishes or ways of serving items is often desired. He tells his students the goal is to create foods that people will talk about and will make them want to come to their restaurant.
"A chicken is still a chicken," he says. "I tell my students that it doesn't matter where you go with that chicken if you teach me what to do with that chicken."
Recipes from the Lake Tech kitchen: 
Open Range Cowboy Cookies
Ingredients
2 cups all-purpose flour
½ teaspoon baking powder
1 teaspoon baking soda
½ teaspoon salt
½ cup margarine (room temp)
½ cup vegetable oil
1 cup packed brown sugar
1 cup sugar
2 eggs
2 cups quick oatmeal
1 cup chocolate chips
½ cup pecans
½ cup coconut
Directions
Cream together in a mixer the margarine, oil, brown sugar and white sugar until smooth.
Beat in the eggs one at a time.
Sift together the flour, baking powder, baking soda and salt, then gradually add to the bowl until well blended.
Add the oats, chips, nuts and coconut until mixed in. (not long at all)
Bake 10 to 12 minutes at 350 degrees until edges are golden. Do not over-bake!
Cookies should rest a few minutes.
Poppy Seed Salad Dressing
Ingredients
¼ cup white wine vinegar or champagne vinegar
¼ cup sugar
1 small shallot
1 tablespoon poppy seeds
½ teaspoon salt
½ teaspoon ground mustard
2 teaspoons mayonnaise (optional for a creamier dressing)
½ cup extra virgin olive oil
Directions
Whisk the white wine vinegar and sugar until the sugar is mostly dissolved. Peel the shallot and grate it on a microplane grater or the smallest holes on a box grater directly into the bowl. Add the poppy seeds, salt and ground mustard; then whisk to combine.
Whisking the dressing steadily, pour the olive oil into the dressing in a slow stream. Continue whisking until completely combined.
Transfer to a covered container and store in the refrigerator. The dressing will keep for several weeks, separating as it sits; shake to recombine before using. Makes 1 cup.
Originally from Anderson, Ind., Theresa worked for The Herald-Bulletin for many years. After experiencing a winter with 53 inches of snow, her late husband asked her to get a job in Florida, and they headed south. Well known in the area, Theresa worked with The Daily Sun and The Daily Commercial prior to joining Akers.
Share This Story!