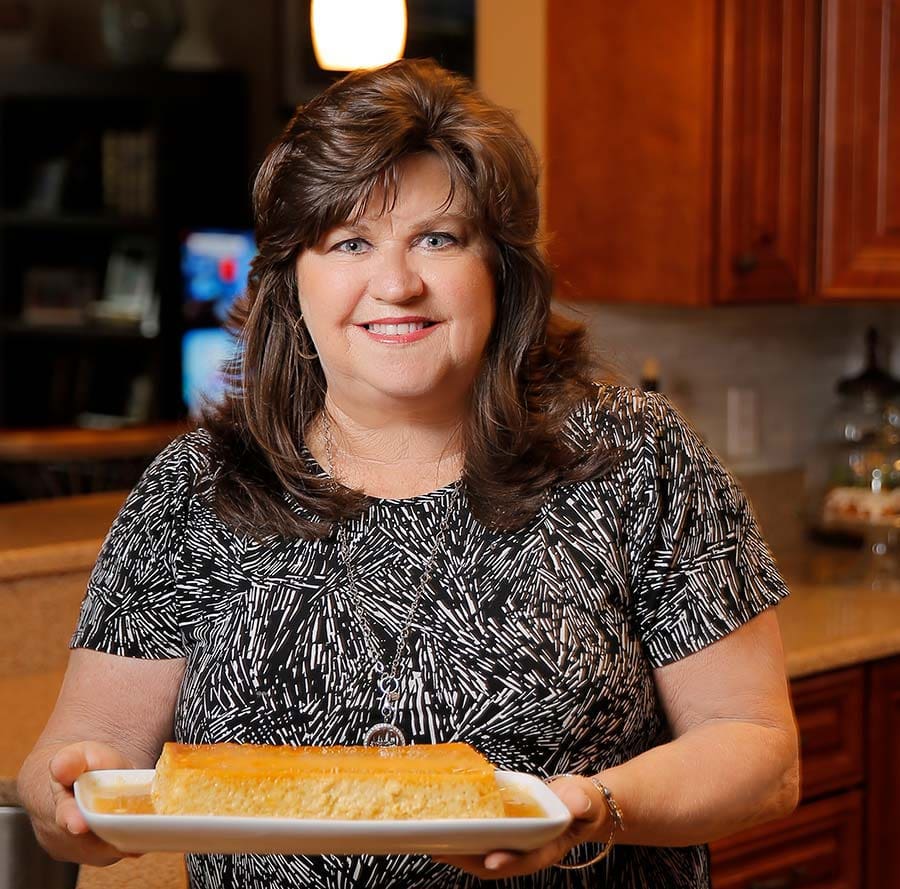 From whipping up favorite dishes to planning fun get-togethers, these families celebrate Christmas in their own special way. 
Puerto Rico native Magdalena Zapata, who works as Lake County's creative services supervisor, enjoys making favorite dishes of her homeland for the holidays, including pavochón, which is turkey cooked and seasoned like a pork roast.
"For La Navidad, or Christmas, we eat lechón a la varita, which is cooking a pig on a spit. We really eat this all year long, but that's especially true during the holidays," she says. "If we're cooking for a smaller crowd, we would make a pernil, which is the pork shoulder, and make it in the oven."
She also loves drinking coquito, a coconut rum punch, which can be made traditionally or infused with other flavors, including chocolate or almonds.
"The states have eggnog, but we have coquito," Magdalena says.

From Magdalena Zapata
Coquito
Ingredients
2 egg yolks, beaten
1 (12 ounce) can evaporated milk
1 (14 ounce) can cream of coconut
1 (14 ounce) can sweetened condensed milk
1/2 cup white rum
1/2 cup water
1/4 teaspoon ground cloves
1/2 teaspoon ground cinnamon
1 teaspoon vanilla extract
Directions
In the top of a double boiler, combine egg yolks and evaporated milk. Stirring constantly, cook over lightly simmering water until mixture reaches a temperature of 160 degrees F. The mixture should be thick enough to coat the back of a spoon. Transfer mixture to a blender, and add cream of coconut, sweetened condensed milk, rum, water, cloves, cinnamon, and vanilla. Blend for about 30 seconds. Pour into glass bottles and chill overnight.
Tammey Rogers, community services director for the city of Tavares, relishes her family's out-of-the-ordinary Christmas meals, and she loves that the gatherings generate laughs and memorable moments.
"On Christmas Eve, everyone comes to our home in their pajamas," she says of the tradition that has been part of Christmas for more than 18 years. "Even if you're not a family member, but a family friend, you have to wear your jammies, and this is when we eat breakfast for dinner, exchange gifts, and watch 'National Lampoon's Christmas Vacation.' We giggle like hyenas as though we have never seen the movie before!"
Tammey delights in seeing her 81-year-old mother, Delores Hicov, laugh until she cries watching Clark Griswold (Chevy Chase) as he strives to host a perfect Christmas, which quickly goes awry.
Tammey makes sticky buns for the "upside down Christmas Eve dinner," and on the evening of Christmas Day, her clan of about 14 people returns to her home to eat one giant cheeseburger, which tips the scale at 17 pounds when condiments are added.
"We play games, sing a little, and finish off with a white elephant gift exchange," Tammey says, adding that a build-your-own-banana-split bar is always a fun Christmas dessert.

From Tammey Rogers:
Sticky Buns 
Ingredients
12 tablespoons (1½ sticks) unsalted butter, at room temperature
1/3 cup light brown sugar, lightly packed
1/2 cup pecans, chopped in very large pieces
1 package (17.3-ounces/ 2-sheets) frozen puff pastry, defrosted
For the filling: 
2 tablespoons unsalted butter, melted and cooled
2/3 cup light brown sugar, lightly packed
3 teaspoons ground cinnamon
1 cup raisins
Directions
Preheat the oven to 400 degrees F. Place a 12-cup standard muffin tin on a sheet pan lined with parchment paper. In the bowl of an electric mixer fitted with the paddle attachment, combine the 12 tablespoons butter and 1/3 cup brown sugar. Place 1 rounded tablespoon of the mixture in each of the 12 muffin cups. Distribute the pecans evenly among the 12 muffin cups on top of the butter and sugar mixture. Lightly flour a wooden board or stone surface. Unfold 1 sheet of puff pastry with the folds going left to right. Brush the whole sheet with the melted butter. Leaving a 1-inch border on the puff pastry, sprinkle each sheet with 1/3 cup of the brown sugar, 1½ teaspoons of the cinnamon, and 1/2 cup of the raisins. Starting with the end nearest you, roll the pastry up snugly like a jelly roll around the filling, finishing the roll with the seam side down. Trim the ends of the roll about 1/2-inch and discard. Slice the roll in 6 equal pieces, each about 1½ inches wide. Place each piece, spiral side up, in 6 of the muffin cups. Repeat with the second sheet of puff pastry to make 12 sticky buns. Bake 30 minutes, until the sticky buns are golden to dark brown on top and firm to the touch. Be careful—they're hot! Allow to cool for 5 minutes only, invert the buns onto the parchment paper (ease the filling and pecans out onto the buns with a spoon), and cool completely.
Vance and Anita Hinebaugh, of Lady Lake, celebrate Christmas with a smorgasbord of holiday food favorites for up to 30 people, and Anita notes the meal wouldn't be complete without lumpia (egg rolls) and flan from the Philippines homeland of her mother, Elisa Lourdes Hart, 92, who lives with them.
"In 2004, Mom suffered a stroke. She spent several weeks at our home for rehab," Anita recalls. "It was during that time I asked Mom to share her recipes in case she was no longer able to make them for our holiday gatherings."
Her mother always made the dishes from memory, so there were no recipes until Anita took time to watch and measure the ingredients and also jot them down to share with her family.
"I took step-by-step pictures as well. We even had an egg roll-wrapping party one day with two nieces and one of my granddaughters so they could learn how to do it," she says. "I laminated the recipes and sent them to all my siblings and children, so no matter what, someone in the family will bring lumpia and flan to Christmas Eve dinner."
Anita says she purposely keeps a platter of lumpia in the oven and off-limits until she gets a group family photo at the Christmas gathering. "It works every time," she says, noting she has to put up with her bunch wanting to do a crazy photo first.
From Anita Hinebaugh
Grandma Elisa's Lumpia (pronounced loom-pee-uh)
Ingredients
2 tablespoons vegetable oil
3 scallions (green onions), chopped
1/2 to 3/4 cup finely chopped onion
1 to 1½ pounds ground beef
1/2 teaspoon garlic powder
1/2 teaspoon black pepper
1 teaspoon salt
7 cans bean sprouts, drained
1/2 cup Kikkoman soy sauce
Spring roll pastry sheets, enough to make 50 egg rolls (we use TYJ Spring Roll Pastry, which comes frozen, 25 per package). These are rarely found in grocery stores, but most Asian stores have them. Let thaw for one hour before using.
Directions
Heat oil in large wok or skillet over medium-high heat. Add both kinds of onions and sauté together for about 2 minutes. Add meat and next three ingredients; cook and stir until meat is no longer pink. Add drained bean sprouts. Mix well. Add soy sauce and stir again, heating it for only 2 to 3 minutes. Remove from heat. While meat/bean sprout mixture is cooling, separate thawed pastry sheets, then cover with a towel to keep from drying out too much. Using a slotted spoon, transfer the meat/sprout mixture to another bowl, leaving the remaining juices in the skillet (this prevents the egg rolls from getting too soggy). Wrap in this manner: Place one heaping spoonful of meat mixture about 3 inches inside one corner of the spring roll. Turn that corner up and over the meat mixture. Fold up the right corner towards the center, then the left corner, and roll almost to the last remaining corner. Using the meat juices, moisten the remaining corner to seal. Place sealed egg rolls on wax paper-lined cookie sheets and freeze, uncovered, for about an hour. Transfer to zipper-type freezer bags, about 10 per gallon-size bag. One can immediately cook the egg rolls, but we prefer to cook them from a frozen state. Heat about 1/4-inch oil in a large skillet. Over medium to medium-high heat, cook egg rolls (seam side down) until sides appear golden brown (2 to 3 minutes). Using a spatula and tongs to prevent tearing, turn each egg roll over and cook 2 to 3 minutes more. Drain on paper towels. Best if allowed to cook 10-15 minutes before eating. (Hint: For a party, you can cook these several hours earlier, then heat in the oven. Microwave heating has a tendency to make them soggy).
Originally from Anderson, Ind., Theresa worked for The Herald-Bulletin for many years. After experiencing a winter with 53 inches of snow, her late husband asked her to get a job in Florida, and they headed south. Well known in the area, Theresa worked with The Daily Sun and The Daily Commercial prior to joining Akers.
Share This Story!