In the Kitchen: Holiday treats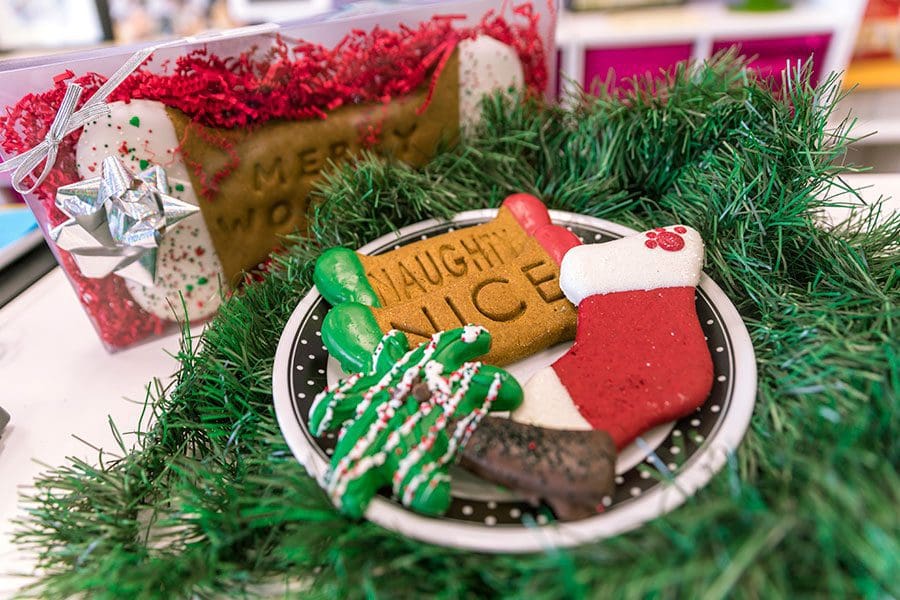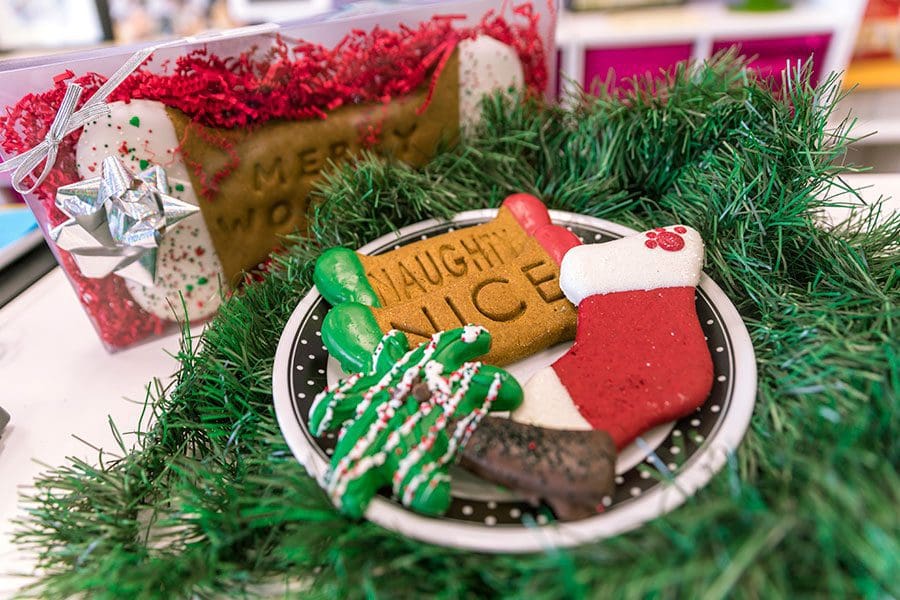 Karen Egert offers Dog Nog for your pooch, while Sandi Vanderwall makes cookie ornaments to eat or hang on the tree.
Whipping up special treats for the holidays can be fun to do—for some people, you might say it's a pet project.
Karen Egert, of Karen's Canine Kitchen in Leesburg, says her dogs come running when she gets out her blender. Sadie, a beagle mix; Bear, a Labrador mix; and Godiva, or Diva, a chocolate Labrador, recognize the whirring noise of the appliance and they eagerly lap up Dog Nog, which Karen makes with natural ingredients.
She began making dog treats years ago after being concerned about food allergies in a former pet. Her crunchy treats, like Nutter Butter, became in demand among friends, at a craft fair and farmer's market events, which led Karen to open a downtown pet bakery/shop in 2011. She recently relocated to a larger store in Palm Plaza in Leesburg and she's working toward her certification as a clinical pet nutritionist.
"I have customers coming in all the time and they are telling me that there is a lot of stuffing going on with their dogs. The bottom line is, proper nutrition is the foundation for good health in any creature," Karen says, adding one in three dogs reportedly is diagnosed with cancer. "I decided to better educate myself in order to better serve my customers and be a knowledgeable source of information."
Karen is a sought-after speaker at canine nutrition seminars, and her recipes feature nutritious ingredients.
"You can find goat's milk in health food stores and specialty stores like mine," she says. "I have frozen goat's milk, and goat's milk is excellent for dogs. It has tons of probiotics and it helps the skin and it has anti-inflammatory properties, anti-cancer properties."
---
Doggy 'ice cream'
Ingredients
1 cup nonfat plain Greek yogurt
1/2 banana
1/2 cup natural, creamy peanut butter without
salt or sugar
Optional items:
1 tablespoon honey
1 tablespoon coconut oil
Directions
Mix it all up and the mixture can be put in ice cube trays to freeze it.
*Do not use peanut butter with xylitol, Karen says. "It's a sweetener that is in some peanut butter without calories that is fine for humans, but it's toxic for dogs and some manufacturers are putting xylitol in peanut butter," she says.
---
Dog Nog
Ingredients
1 cup raw goat's milk
1/2 cup of canned, plain pumpkin (not pumpkin pie filling)
Optional items:
1 tablespoon honey
1 tablespoon coconut oil
Directions
Put all of it in a blender and mix it up. The recipe makes about 1 1/2 cups of Dog Nog.
* "This is really good for dogs and you can sprinkle a little cinnamon on top and that won't hurt. Just no nutmeg," Karen says.

Artistic holiday cookies
Sandi Vanderwall, aka Kooky Kutter, makes custom-made, decorated sugar cookies covered with royal icing, which she often decorates with pretty airbrush designs on top. Her creations look like time-consuming works of art.
"To me, it's fun," says Sandi, of The Villages, as she shows Christmas-themed creations she's making for the holidays. "I make everything from scratch from a basic sugar cookie recipe, but I might change up the spices a little bit. I don't put anything on them that's not edible."
Her cookies can be savored or made with a hole poked in the top so they can be hung on the Christmas trees as ornaments, like the 150 she once made for her church's ornament exchange.
"When I was doing each ornament, I was praying that whoever received it would be blessed by it," she says. "I always try to think of the customer I am going to be giving the cookies to and how can I enhance it and make it better."
Sandi began making custom-designed cookies about four years ago. Her first order was 100 cookies for a wedding in The Villages, and it snowballed from there. Many of her customers have found her through Facebook.
"I had no intention of doing this as a business or selling them," says the retired Nordstrom personal shopper who delights in creating cookies that generate a "Wow!" factor. "Everybody says my cookies are too beautiful. They don't know whether to eat them or frame them."
She works on cookies daily.
"It's a process of baking one day, then letting them dry. The second day (is) to ice them and dry overnight," Sandi says. Then each one is topped with airbrush designs and other decorative touches from her airbrush station in her kitchen. Each order, whether it's six or 20 cookies, takes about three days to complete.
"When I personalize cookies, those are big sellers," Sandi says. "And people love it when I put their dog's name on a cookie, too."
Sandi says her cookies will stay fresh for about two weeks in a plastic bag and up to three months in the freezer. "They may last longer, but these times are for best results," she says.
---
Sugar cookies
Ingredients
2 cups granulated sugar
2 cups (4 sticks) salted butter, softened
2 large eggs
2 teaspoons vanilla
zest of one large or two small lemons (optional)
6 cups of flour
Directions
Using a stand mixer with the paddle attachment, cream together butter and sugar until incorporated. Add eggs, vanilla and lemon zest. Mix at low speed until fully blended. Then add flour, 2 cups at a time, starting on low speed and then increasing if necessary. You will know your dough has been mixed enough after all the flour has been added, when it pulls away from the sides of your bowl and clumps around the mixing paddle.Roll out to 1/4-inch thickness. You do not need to chill dough, unless you preferred chilled dough for using cookie cutters of your choice. Use parchment paper on baking sheets to keep cookies from burning or spreading. For ornaments, make holes for hanging. Bake at 350 degrees for 10-15 minutes, until cookies have turned golden brown around edges. For best results, bake similar-size cookies on the same cookie sheet. Makes an average of 3 dozen cookies, depending on size.

---
Royal icing
Ingredients
4 cups confectioner's sugar
3 tablespoons meringue powder
1/3 cup warm water
Directions
Combine all ingredients together in mixing bowl. Beat on low speed with whip attachment until combined then increase speed to medium high and beat for 5-8 minutes, adding 2-3 tablespoons more warm water, as necessary. Icing should be stiff enough to hold a peak when tested. Use royal icing immediately. Keep icing covered with a damp cloth or plastic wrap to prevent drying. Decorate as you wish.

Originally from Anderson, Ind., Theresa worked for The Herald-Bulletin for many years. After experiencing a winter with 53 inches of snow, her late husband asked her to get a job in Florida, and they headed south. Well known in the area, Theresa worked with The Daily Sun and The Daily Commercial prior to joining Akers.
Share This Story!